365 Ways To Wellbeing – 316th Way
Magazines are full of advices on how we should eat and what's a healthy diet. You easily get dizzy and end up wondering what should I choose to get it right.
I stand for a diet that has lot of veggies but also a bit of everything else too. I want my nutrients to be in balance. I try to go local and organic, whenever that's possible. Real, natural and colorful food is what I like because I've seen how good it does for my wellbeing and my health.
When I was thinking how our family diet has changed during last years I realized an important thing. It has changed to the direction I've always wanted it to. We now eat lots of veggies, in soups for instance. Also porridge is often on the menu. They have become part of our everyday diet which I'm really happy for! We do eat meat too. We emphasize on fish, mainly what my husband has caught. Chicken and red meat are on the menu about once or twice a week. Oh! And berries of course! But you already knew that 🙂
Pealed veggies on the picture – what a surprise! 🙂 But what you gona do – that pile made me smile this day! I cooked some oven roasted root vegetables, swede cubes and made mashed veggies for Liilia. Finally I put aside some carrots to eat just like that. Yummy!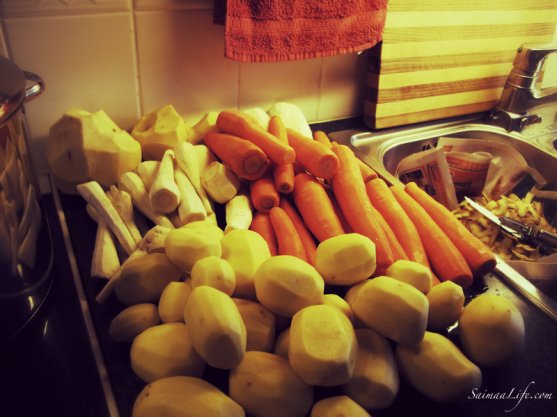 Read more about my "Wellbeing Challenge 2013 – 365 Ways To Wellbeing".