365 ways to wellbeing – 108th way: Make oven roasted root vegetables
Simple and healthy. Those have been the magic words in our family`s kitchen during this winter.
Oven-roasted root vegetables have been one simple dish that we have made many, many times. Another my and Unna's favorite have been vegetable soup.
Here´s the recipe for my oven roasted root vegetables:
Peel around 1 kg root vegetables, like carrots, beetroots, parsnips, swedes, potatoes and onions
Chop all vegetables (If you have the time slice them thin. I don´t have, so I`ll make thick ones.)
Mix 1/2 dl olive oil, 1/2 dl organic honey, 2 tbsp dried herbs (thyme is my favorite), 6 cloves of pressed garlic (I´ll say the more garlic the better!)
Mix up oil mixture with root vegetables
Put the root vegetables on the oven pan
Bake in 200℃ for about one hour
Serve with Turkish yogurt – My simple way 😉
This day it was oven roasted root vegetables that made me happy. Real food with lots of nutrients. That´s my kind of food!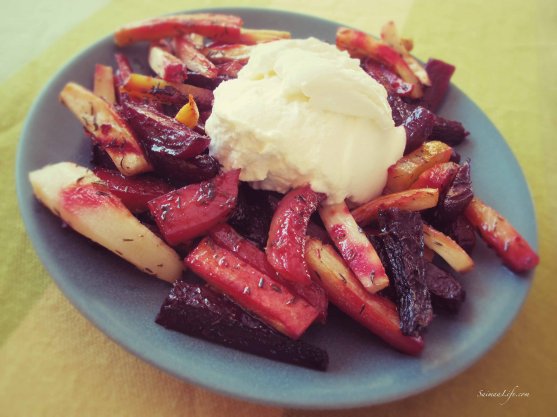 Read more about my "Wellbeing Challenge 2013 – 365 ways to wellbeing".