Shinrin = Forest, Yoku = Bathing
Shinrin-yoku is a stress relieving and recovering method that gently yet deeply brings healing and therapeutic effects of the forest to your body and mind. As a simple, yet efficient practice it is a great self-help tool to the challenges of our modern everyday life such as stress, haste, fatigue, pressures, and problems with concentration and mental health.
Forest bathing – shinrin-yoku in Japanese – was born in Japan in 1980's, but its background extends much further to the history and the nature connection of Japanese. Shinrin-yoku is science-based; study results of the health benefits of nature are at the bottom of it. Studies were made in Japan, but also in many different countries, like Finland, German, and UK. Japanese shinrin-yoku is also at the bottom of forest therapy where the leader of guide training is The Association of Nature and Forest Therapy in the USA.
I found shinrin-yoku when my intuition told me to take a step into nature with another kind of attitude than before while I was seeking a way out from my exhaustion, anxiety, and depression. Shinrin-yoku helped me to heal, and nowadays it's one of my TOP wellbeing ways in my everyday life. I've graduated from Japan as shinrin-yoku nature trainer, and happy to be able to teach this valuable method and the skills to others.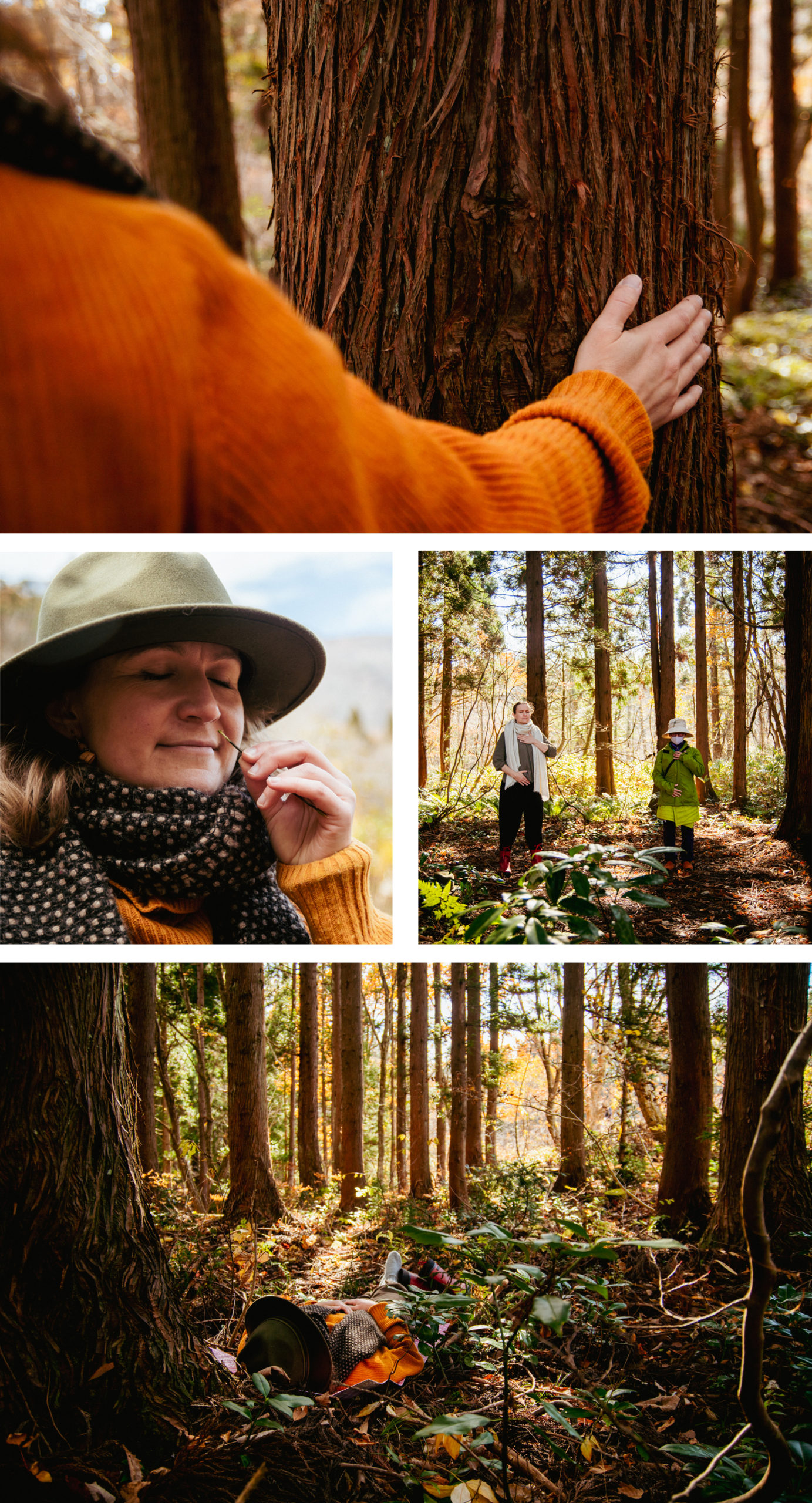 A Science-based Method with Diverse Health Benefits
The heart of shinrin-yoku is our five senses and seeking connection with nature by looking, listening, feeling, smelling, and tasting. Besides senses, rhythm and attitude are important in it. Shinrin-yoku has physiological, psychological, and social health benefits. Among other things, it balances our nervous system and hormone production and increases feelings of balance, clarity, and attention.
Your physical and mental health, relationships, and work benefit from practicing shinrin-yoku.
Shinrin-yoku takes place in the forest and nature, but just like practicing yoga, when you go further with your practice, it can grow as a mindset. At its best, shinrin-yoku shapes over time your way of thinking and life making your being and living easier and more balanced and natural.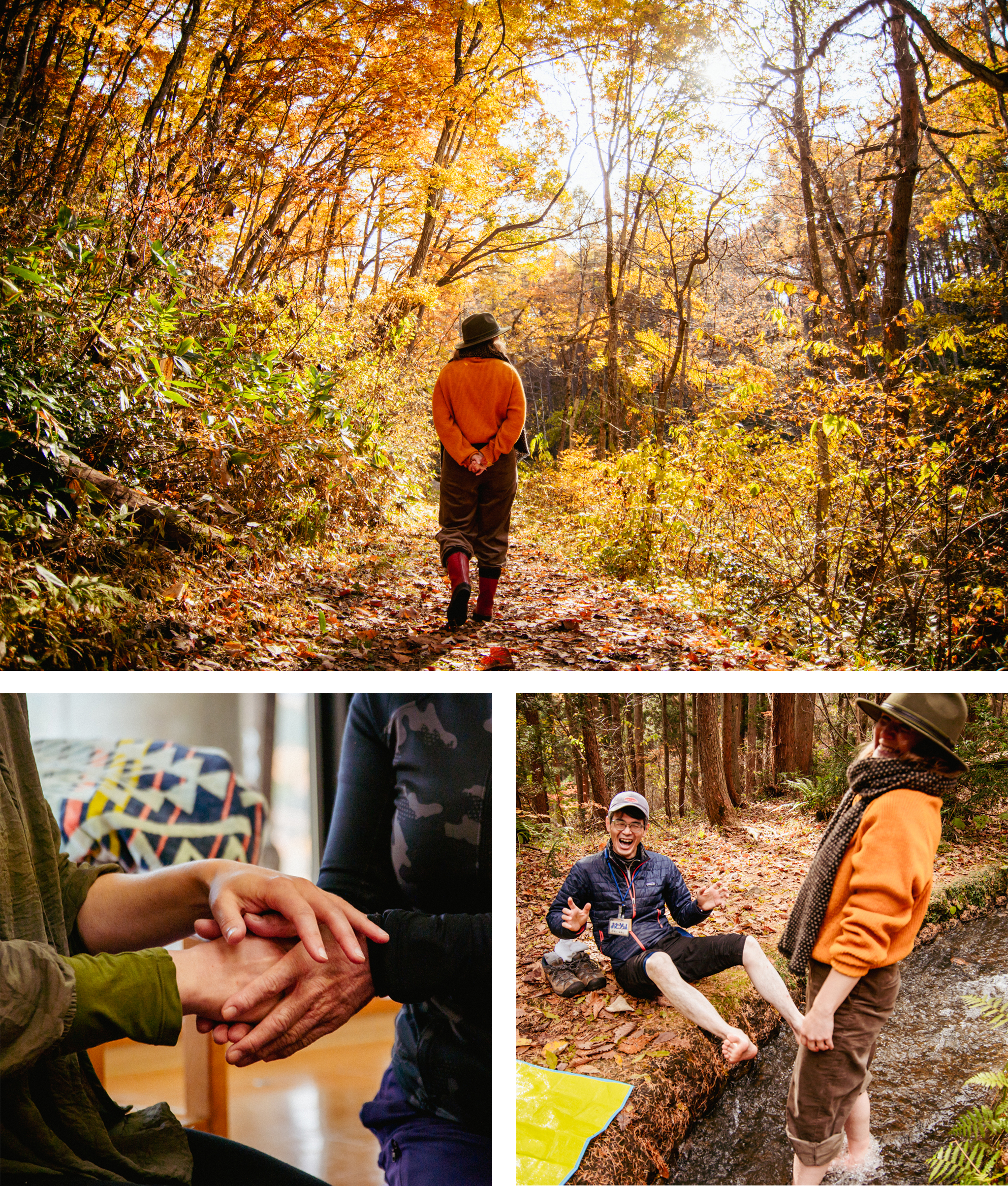 Certified in Shinshu Shinanomachi Healing Forest in Nagano, Japan
Shinanomachi in Nagano is where they conducted the first in Japan medical research and studies on the therapeutic effects of the forest. Shinshu Shinanomachi Healing Forest is one of the first healing forests in Japan. Woods-Life Community not only continues to do research and studies but also coaches shinrin-yoku trainers and guides customer groups. Also, when new healing forests are established in Japan, they consult in its planning.
I was honored to be the first foreigner to graduate from Shinshu Shinanomachi Healing Forest as shinrin-yoku nature trainer. In Shinanomachi I realized my personality and experience were a great fit with the features of a good nature trainer. I felt even stronger that I "came home to myself" through shinrin-yoku studies. It was a meaningful thing personally but brought also deep joy and gratitude knowing I could in the future help better other people by combining the lessons of my own life and studies in Finland and the knowledge received from my shinrin-yoku teachers in Japan.
Japanese Shinrin-yoku with a Finnish Experience in the Beauty and Peace of Saimaa Lake Nature
As a trained mental health expert and certified shinrin-yoku nature trainer, it's my pleasure to deliver the skills of shinrin-yoku forward. There are many kinds of forest bathing available. Each trainer naturally has their own touch, story and style.
My SaimaaLife workshops are based on the Japanese shinrin-yoku methods of Woods-Life Community in Shinanomachi. To Japanese wisdom and methods, I combine the elements of Finnish culture and Saimaa lake nature. Because my personal strengths are in mental health, learning to calm down and practize your mind is emphasized in my shinrin-yoku trainings and other workshops. In the main roles are you, nature, and the connection between you two. I teach you method and simple techniques you can use independently in your everyday life to relieve stress and achieve better balance and wellbeing.
Depending on our four seasons in Finland, the same SaimaaLife workshop feels and looks different. Primarily, my workshops take place in Punkaharju Nature Reserve and Punkaharju Research Forest. Upon request, I run workshops and lectures elsewhere.

Welcome to SaimaaLife Nature Inspired Workshops by Mari
I'm happy to be your trainer. You can read more about my workshops here. If you have any questions, feel free to contact me.