Guest post by Mari Tynkkynen
Can food be fast to make and still bring you good energy? Yes it can – smoothie.
Do your kids like to eat vegetables and salad? Smoothie is a great way to get everyone to eat berries, salad, vegetables and seeds. Ingredients are everything that are good for you and your family.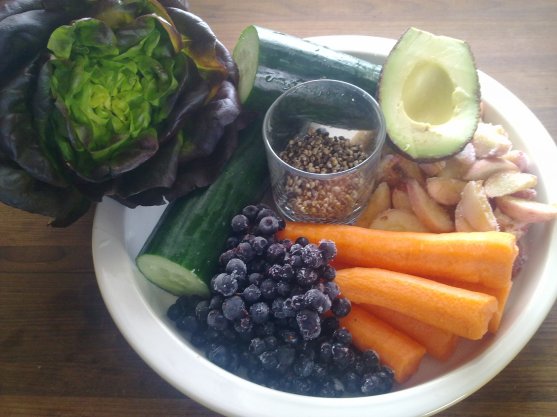 1. Most important thing is to use a lot of berries so that the smoothie tastes like berries. I used blueberries, which are from near forest, but all edible berries are good for smoothie.
2. This is a good place to hide vegetables. I recommend starting with a small amount of vegetables so you and your family will get used to it. Then add more and more vegetables, like I did – one cucumber and few carrots. Both are grown in Finland.
3. After vegetables, you hide salad in the smoothie. The greener the better.
4. Seeds are a great way to get fiber, good fatty acids and minerals. It is very important to soak seeds in water couple of hours before using. Throw away the soaking water. Soaking helps your body to take advantage of seeds. You can also use peanuts or almond instead of seeds. I used Finnish hempseeds, because they are one of my favorites.
5. Avocado brings creamy texture into the smoothie and adds good fatty acids. It also helps to keep hunger away for long time. Avocado was the only ingredient which was from a foreign country.
6. In autumn I but apples in the freezer so those are ready for smoothie. Fruits are a great way to bring sweetness and good taste to the smoothie.

Mari Tynkkynen – Mari is a woman behind Terapiaperhonen Oy. She is occupational therapist. Besides that she does also nutrition coaching, which is based on functional medicine, FLT Ravintovalmentaja – Pro Health®. (Links only in Finnish)
Mari thinks that everything is linked to everything. That's why we need to think widely and explore the world. The most important thing is to listen to our own body and mind.