365 Ways To Wellbeing – 239th Way
Internet is full of beautiful blogs with amazing pictures.Perfect pictures where colors are in balance, there's a golden ratio in every single picture and all is obviously well though out beforehand. This summer those blogs and pictures have made me unsure, I have to admit. I´ve been thinking am I total fool of showing things how they are? By photographing and telling about our real life, real me? If I try to catch the beauty of everyday life in my pictures could I inspire other people to see that beauty in their own lives too?
This picture made me think about authenticity. There I'm standing without my make-up, four fish in my hands. During this summer I've been writing so many fishing posts already (like this, this, this, this, this, this and this!!!) Should I write something else even though fishing together as a family and as a couple has been a REAL thing for me?
I can´t help it. I like this picture. I think it´s beautiful. This is my life and this was one happy moment for me. It´s not a perfect picture but it´s a real picture. Of course in the long run I want to develop my photographing skills but do I want to forget about authenticity? No! Being perfect is not my cup of tea. Being authentic is. Both in my pictures and in my life. Realizing it, really realizing that fact, was the happiest moment of my day!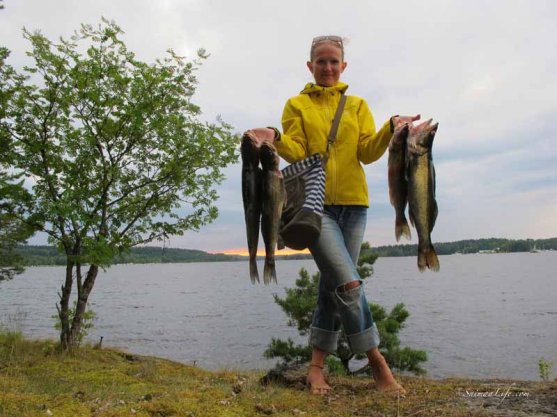 Read more about my "Wellbeing Challenge 2013 – 365 ways to wellbeing".