365 Ways To Wellbeing – 259th Way
This day started a new era in our family. Unna had her first day at daycare. From now on she's in part-time daycare, 7 hours, three times a week so that I have more time to work.
I have bad conscience about Unna´s daycare even though Unna herself is really happy about her possibility to spend more time with children of her age from now on. "Mom is boring. I want other playmates!" , that is what she said to me already last winter.
Because my parents were farmers I´ve been able to grow up at home before I went to school . That´s why I`ve no experience about daycare. That´s why for me it´s just weird that someone else takes care of my child. I feel that I should raise my own children even thought I know that it´s not possible to combine my work and childcare in the same way as it was in a farm.
I´m sick and tired of having a bad conscience! As a woman I´ve felt bad conscience about eating, like creamy ice-cream, for my whole life. And when I´ve become mother, my bad conscience has only grown. You don´t even know how guilty conscience I've had about my Minna Parikka´s high heels even though I thought about buying those for over 5 years! And my Minna Parikka´s bag – I felt bad conscience about that too even thought it was a gift from my husband!
After Unna´s first daycare day we had homemade berry pie together. Unna was so excited when she told me how nice time she had at daycare. At that very moment I made the decision; I will stop having a bad conscience about things that are good for our family. And Unna´s part-time daycare is! It was a good decision. I know it's going to be difficult, but I hope it helps me to avoid having a bad conscience in the future a little more often 🙂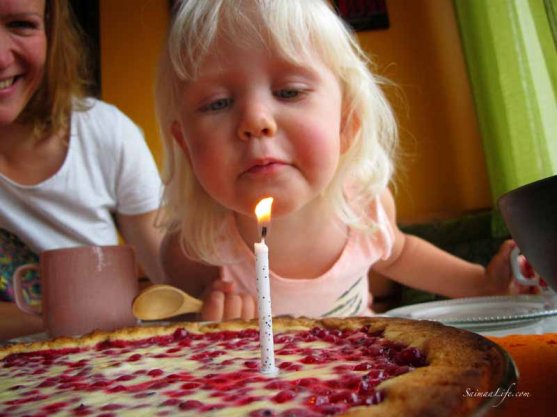 Read more about my "Wellbeing Challenge 2013 – 365 ways to wellbeing".