Take a risk
When I visited Globe Hope in the beginning of March I experienced love at first sight. It was the women´s winter jacket from Globe Hope`s Winter collection 2013-14. When I saw the jacket I knew that I wanted to build my blog´s front page photo series for winter 2013-14 around that jacket.
The jacket, the snow, the sunset, Saimaa and the photographer. I knew that those were the things that I needed.
Easy to arrange? Not necessarely. Not if you are able to have the jacket only in April. In April the snow may be already gone… But I wanted to have that jacket so I took a risk.
This day we drove from Helsinki to home – with the jacket. The same morning I saw the weather forecast and the day should be sunny. But only that day. The next day, and days after that, would all be cloudy and VERY warm.
I called to my husband from the car and said that we need to take the photo series TONIGHT!
Couple of hours before the sunset me and my husband were ready on the snowy rock to take the photos. Unna was with her grandparents and Liilia was sleeping in the car. My husband had a camera and I had a vision of what kind of photo series I would want.
It was a close call before the snow melted but it was worth to take a risk! I was very happy with the photo series that we took. Wait and you´ll see the results next winter in my blog's front page…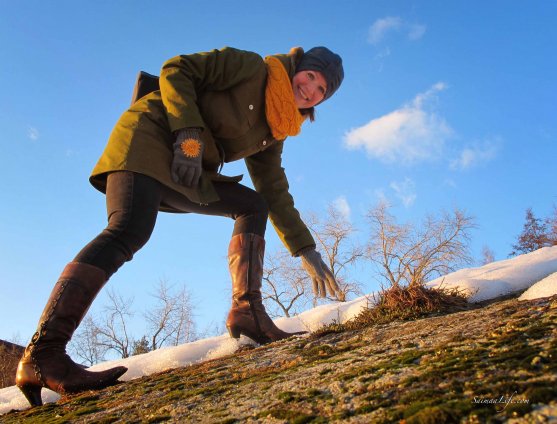 Read more about my "Wellbeing Challenge 2013 – 365 ways to wellbeing".