The circle is full. And I´m so happy about it! That´s why I wanted to take this photo of me and Anja Tuohino, Development Manager in Centre for Tourism Studies.
What do I mean by that? Well, let me tell you.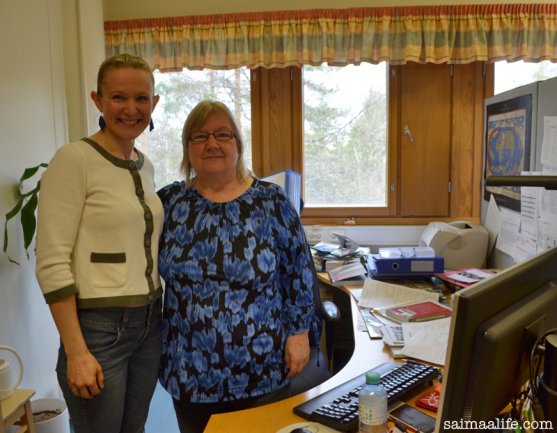 Sometimes you have to go far to see close
My first employer after the graduation was Finnish University Network for Tourism Studies (FUNTS) in Savonlinna. The one that is coordinated by Anja´s employer, Centre for Tourism Studies. And the one where I also studied tourism as a student of University of Eastern Finland. I was hired to finish the survey about the status of tourism research in Finland. My work didn´t last long because soon I was asked to work in the Ministry of Trade and Industry. I was excited about my opportunity to work for Finland´s Tourism Strategy 2020. After my Helsinki year I wanted to work on private sector and managed to get a job from Holiday Resort Järvisydän. After the years there I still had time to work as project manager in Mikkeli University of Applied Sciences before Unna was born.
Even thought I loved all my work on tourism industry I felt more or less constantly that I didn´t do my work wholeheartedly. It bothered me. I had originally applied to University to study human geography. My dream was to work for the regional development of the Finnish countryside. Or promote sustainable development in some way there. I felt that I had drifted towards tourism partly accidentally just because my first summer jobs were related to that.
As a project manager my job was to promote the co-operation between tourism and creative fields. Because it was only one-year project, there were bot much results. But the project inspired me to really look for the most suitable place for me in the working life. All those creative entrepreneurs helped me also to broaden my horizons. They were concrete examples of the people who had made their passion to be their work. And who felt good partly because of it. They made me to want the same.
Then Unna was born and I thought about my strengths and weaknesses, my past and my dreams. I asked myself over and over again "What do you, Mari, want THE MOST as a grown-up?". Wellbeing was the topic that always came to my mind but for long I abandoned my thoughts. No, I can´t change the field totally. Besides I´ve been good at what I´ve done. And there are so many aspects in tourism that I love. I explained to myself.
Then my ex-employer called from Mikkeli University of Applied Sciences. She asked me if I´d like to teach there. She asked about wishes and I told about my personal interest in wellbeing. I ended up to teach wellness tourism with Anja Tuohino. And I loved my work! I realized that I was on a right track to find my place in the working life. Finally!
A while earlier I had my first thoughts about my blog. I thought about its name and theme for a year. And I read a lot about blogging to get a realistic view about it. Then I decided to do it. I decided that my blog would be about my biggest passion, wellbeing. And I decided to do my blog with all my heart and knowledge for at least 3 years. After that I would decide whether to continue or not.
From the beginning it was clear to me that I would tell about my everyday life and wellbeing sources I find from lake nature of Saimaa. I had already found the lake Saimaa to be my biggest source of wellbeing.
But something didn´t match. The tourism piece in my blog puzzle didin´t find its place. In the beginning I thought its should be all clear to me. Then it wasn´t. I wanted tourism aspect to be there but I didn´t know how. All the time I felt that I was close. That my thing was somewhere between wellbeing and tourism, even thought I didn´t know exactly where.
Then came my Wellbeing Challenge 2013. During it I reached my limit. At some point I felt that my work on tourism was done. Forever. I felt that I had been naive by trying to combine my past and passion. I thought there´s no point on trying to do so. It would be better to choose either or.
However, that feeling went away. It was time to start my way back home. The Recipe for Natural Wellbeing started to form in my head. I realized simple living close to nature to be the heart of all natural wellbeing. And I realized them to be the natural part of self-knowledge and growing to be who you are. Of course, that is the most natural way to be well; To be yourself! I said and laughted.
I was stunned when I realized that the heart of natural wellbeing was actually in my Finnish roots. As a farmer´s daughter I had grown to live simply and close to nature. From my mother´s milk I had inherited my skills to utilize the products of nature and use nature as a place to stay connected to myself and learn to know myself better. I just needed to find the 21st century way to live simply and naturally to be well and balanced . I had to find a lifestyle that would combine the best features of my parents and grandparents way of life to the best features of the modern time so that they would support the wellbeing of mine in the best possible way.
I also realized that the most of the Finnish people share the same roots with me. Even thought we live modern life in Finland nowadays, it's not far back when all Finnish were pretty much countrymen and lived simple countryside life. Nowadays the urban areas rule, but because we still have so much nature around us, most of us Finns still live very close to nature. Nature that inspires to simplicity. Yes, my home country is known about the simplicity and nature. Those things have worked as an inspiration for many Finnish artists and companies. Marimekko, Moomins, Iittala… And they still do. Just like they work for me as an inspiration for better natural wellbeing.
The circle was full. I had found my place between my past on tourism and my passion on wellbeing. I added the words "A story from Finland…" to my blog description. They were there already in the beginning, but now the meaning was totally different for me. I knew exactly why I wanted to tell that my story is from Finland in my blog description.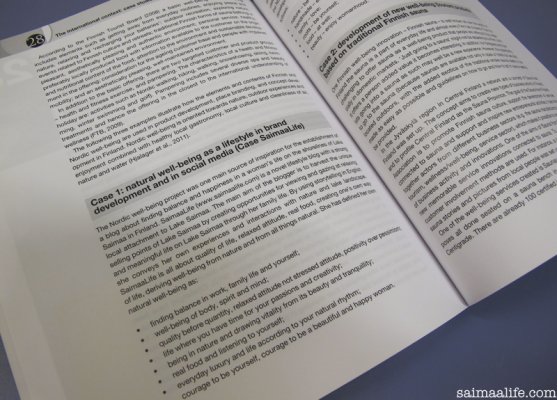 Combination of inner journey and traveling far
Another reason why I wanted to take a photo of me and Anja was that she has a special place in my SaimaaLife blog journey. Anja has supported me with my blog from the beginning. When I was taking my first steps with it Anja asked me could she use my blog as one case in the new edition of the book "Health, Tourism and Wellness" (Melanie K. Smith & Laczlo Puczko). I can´t even describe how much it meant for me that someone like her believed in my blog at the time when I was still very uncertain about it!
It was so nice to meet Anja again! It was so inspiring to notice that the knowledge that we both have about wellbeing gives us bot some new ideas. We are a great Finnish wellbeing team! (Not to mention about other tourism and wellbeing professionals in Centre for Tourism Studies in Savonlinna of course.)
Anja worked as a researcher in wellness tourism already when I started my university studies. She has travelled all over the world and networked with the other researchers. She has so vast knowledge about both tourism and wellbeing. I highly appreciate her! While Anja has traveled far I´ve made inner journey to wellbeing and to the roots of Finnish wellbeing. I don´t have expertize in wellness theories like Anja does, but I do have some strong knowledge about wellbeing in practice.
I don´t know what the future will hold to our team but I have a good feeling that it will be something great!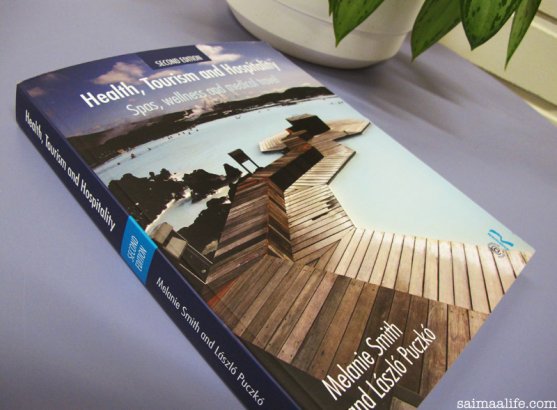 Sometimes in life you need to go far to see close and find what you´re looking for. The journey that I took ended to the same place where I started. But by making the journey I found my place.
As I´ve said, wellbeing is a broad concept. Work is one part of it. We all spend a lot of time at our workplace during our lives. It does matters what work you do. In your work you either strengthen or weaken your wellbeing. That´s why it is so worth to use time and effort to look for the right place for You in the working life. A work that brings the best out of you and helps you to be well.
Two years ago I published my first post. Am I going to write my blog only 3 years or continue longer? Definitely longer! These first two years have been years of extremeties, full of happiness and joy but also full of challenges and tiredness. (In other words normal life for a working mom with two small children). Everything that I´ve experienced and gone through have taught me a lot about physical and mental wellbeing of a human being.
Most of all, my first two SaimaaLife years have been a wonderful adventure. The adventure that I´ll definitely want to continue. Besides, I´ve just found my place -and myself- so what´s the point to quit now? Now when my life has just started to get more interesting.