If you´re becoming a mother and want to make sustainable and eco-friendly choices, cloth diapers are probably one thing that has come to your mind during your pregnancy. You may not feel ok when thinking that all your baby´s disposable diapers decompose in your nearest landfill for next 500 years. So could washable cloth diapers be your thing?
I decided to use cloth diapers when I was expecting our firstborn in 2010. I´ve heard many mothers giving up on cloth diapers right in the beginning because they´ve found it difficult and laborious to use them. I almost did too but survived and got over my "learning period".
This post is about my experiences using cloth diapers with our children for 3,5 years now. It´s not all-inclusive but I hope it encourages you to continue discovering the world of cloth diapers. After all, it feels damn good to make a favor for this Globe by saving a little bit of its precious natural resources!
Find the right cloth diapers for your baby
First and foremost you need to know that cloth diapers come in different forms and with different features. No one wants leaky diapers, so the key is to find the right diapers for your baby. What are the right diapers, depends on your baby. Always test before buying. Take advantage of cloth diaper rentals and ask if you can borrow some from other moms. When you buy, prefer used ones. You´ll find lots of used cloth diapers from flea markets specialized in babies clothes and equipment.
Our children have used mainly three kinds of cloth diapers.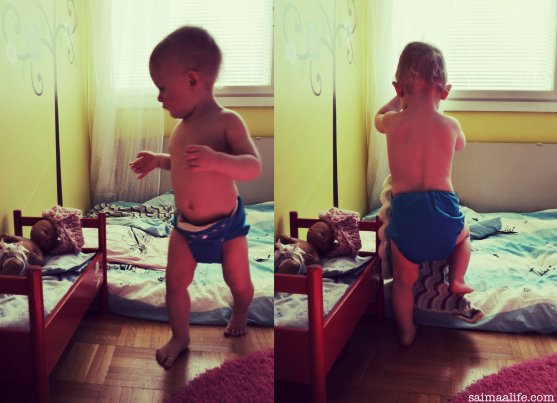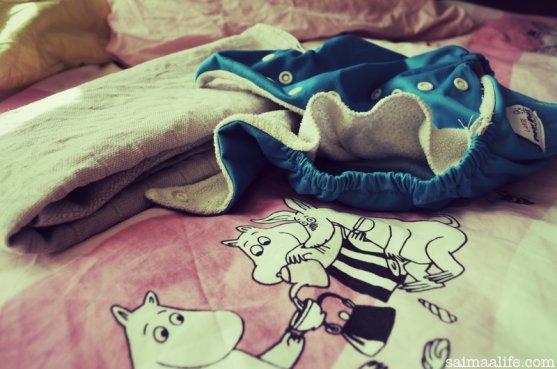 I´ve found that pocket cloth diapers are the best. This type of diapers have waterproof exterior and a pocket where you put the insert (also called soakers). For example Fuzzi Bunz cloth diapers are good. How much inserts you need to use depends on how heavy wetter your baby is and how absorbent your inserts are.
Inserts are made from different kind of materials. The Natural Baby Co. has a good article about the common materials used in cloth diapers. I´ve used a lot of cotton (like baby gauze), hemp and bamboo. Hemp and bamboo are naturally resistant to bacterial growth and incredibly absorbent. That´s why they are excellent fabrics for diapering. You can also make inserts easily by yourself from old cotton towels.
For my Finnish readers: I´ve bought some cloth diapers from Kestovaippakauppa (Link only in Finnish).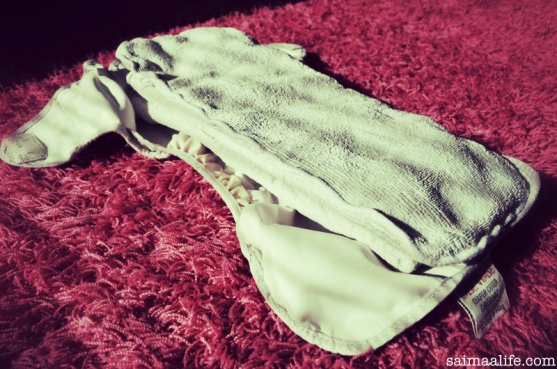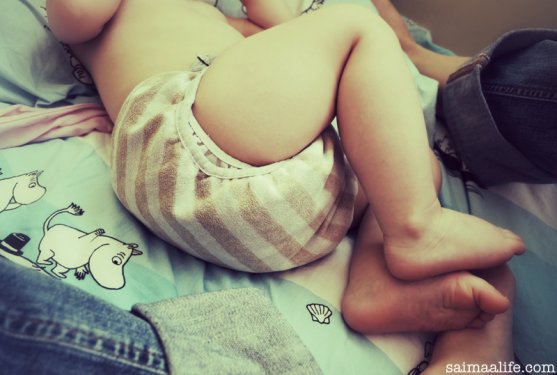 Diapers with PUL cover and inserts have been the second most used diapers in our family. That´s because the same inserts go with PUL covers and pocket cloth diapers. You can also use fitted cloth diaper (see the photo below) with wool pants as an insert. PUL covers that I´ve used are from ImseVimse.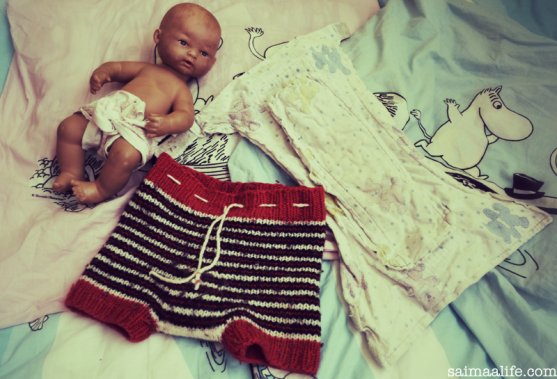 Our girls have used diapers with wool covers and fitted cloth diapers inside during the wintertime. If your baby´s skin is very sensitive, wool is the best option. It's the most natural material for cover. I´ve found wool covers too warm during the summertime. I´m also lazy with hand wash laundry, so that has limited the usage of wool covers in our family a bit.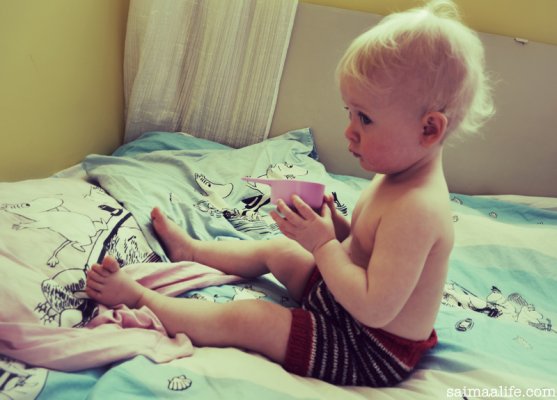 There are also other kinds of cloth dipers, like all-in-one diapers (AIOs). I found them unpractical because it takes forever for them to dry up. Inseparable insert and cover make them thick.
Many brands offer "one-size" diapers that will fit after the newborn stage until potty training. With one-size diapers you can save more money than buying cloth diapers in many different sizes. I´ve used mainly diapers in different sizes but that´s only because I´ve been able to buy used ones.
Snap diaper or velcro diapers? That´s a question many mothers think. I´ve found diapers with snap closures better because I´ve noticed that velcro closures wear out sooner.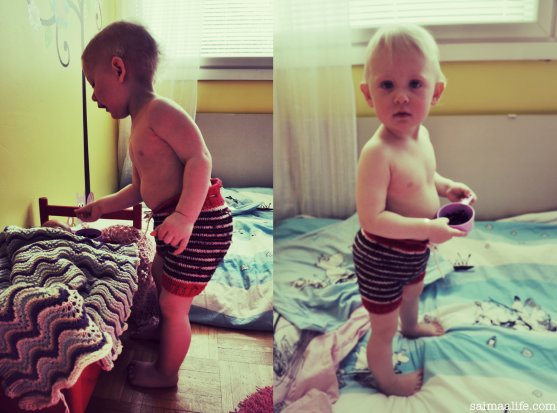 Find your way to wash cloth diapers
Yes, using cloth diapers on your baby means more work for you. And yes, it means also working with smells that are not so comfortable. BUT… You can make your work easier with good routines. And you also get use to smells. When you have the baby in your house, you need to deal with different kinds of smells anyway.
Here´s how I wash cloth diapers in short.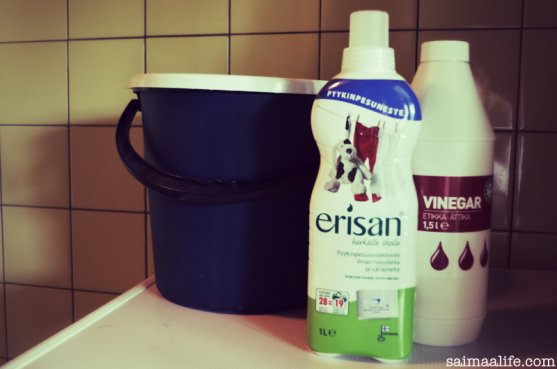 If you want to do this my way you need a pail or a bucket (or two) with a lid to store the dirty diapers. Then you need laundry detergent and vinegar. You use vinegar like a fabric conditioner. It´s a natural option to take away the smell from your diaper laundry. There are special fragnances/scents for this too but I haven´t found any need for using them. Vinegar has worked well enough for me.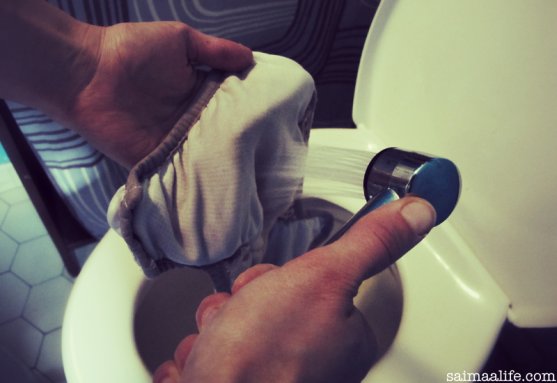 Some parents prefer to rinse out all diapers before placing them in a bucket. However, that´s not necessary. If there´s only urine in the diaper, I put the diaper straight to the bucket. If there´s poop, I shake of the poop into the toilet bowl, wash the diaper, squeeze it, and place it in the diaper bucket.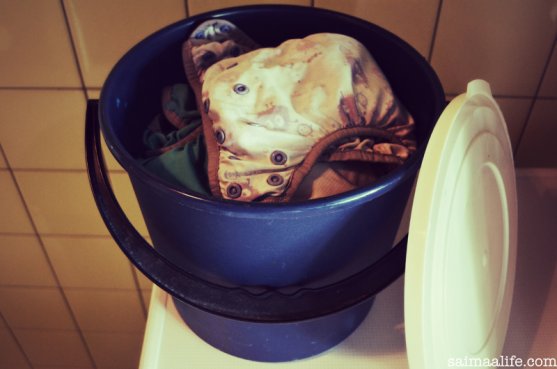 Never leave dirty diapers unwashed for more than 3 days. I´m used to wash dirty cloth diapers every 2 days. Some parents keep the dirty cloth diapers in water in a bucket. I´ve found it unnecessary.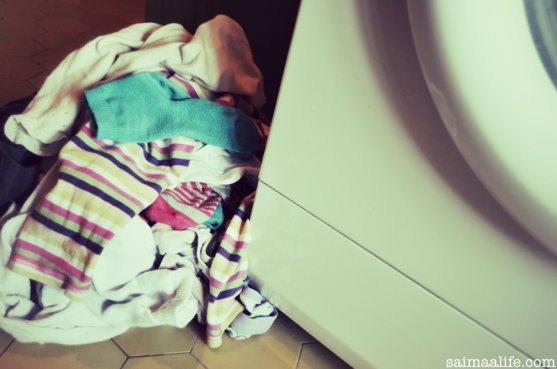 Some mothers would never wash cloth diapers with other laundry. Some say that they do it all the time. Opinions are many. I didn´t wash cloth diapers with other clothes during our firstborn. With the second child I tried once, noticed that it´s totally OK and changed my ways. It´s more eco-friendly to wash as much as possible in a one go. I wash cloth diapers usually with socks and pants.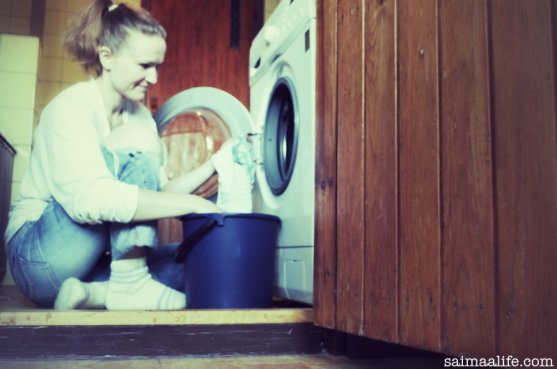 Filling up the washing machine is the smelliest part if you wash the diapers like I do. But as I said, you get used to it. When you do it often enough, even cleaning the air trap is not a problem for you. 🙂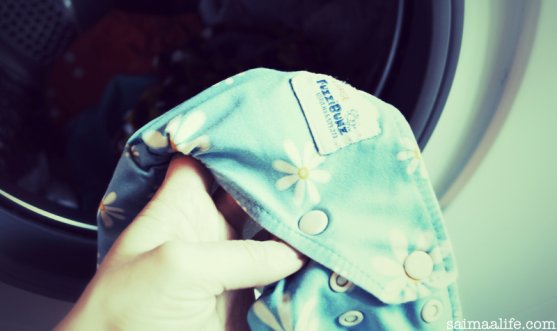 Remember to close snaps before washing. That way they don´t break up in the washing machine.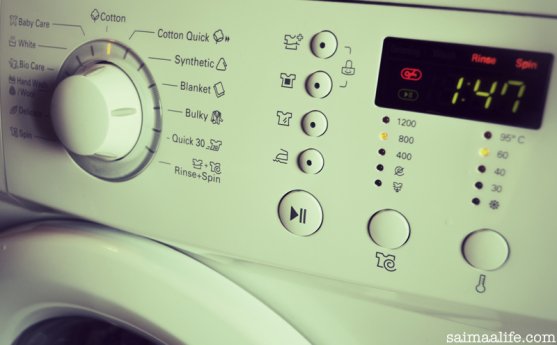 Wash dirty cloth diapers in 60° and every once in a while in 90-95°. I do the latter about once per month.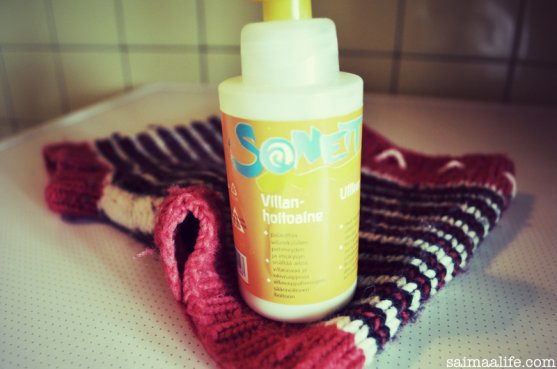 Wool covers need to be hand washed. You also need to add lanolin every now and then to make them water proof. Lanolin (wool wax, wool grease) was a mystery for me in the beginning but it really makes wool pants water proof!
After washing, air dry the covers and inserts. You can also use the dryer, but this is more sustainable way.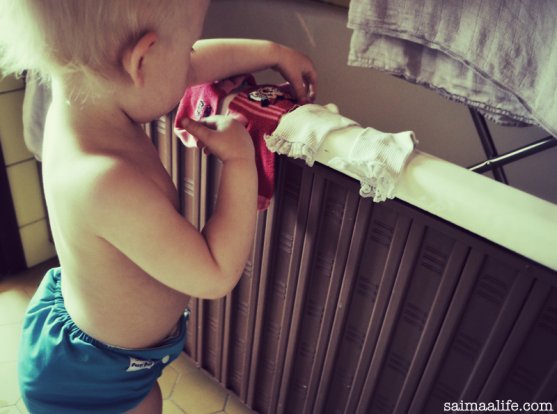 Find the right routines with cloth diapers
As I´ve said, routines rock in motherhood. It's the same with cloth diapers. Especially when you start to work more and you´ll have more children, you don´t want to invest your time in diapers any more than what's necessary.
How do I use as little time and energy as possible working with diapers? Well, I've got a working system to clean cloth diapers. I´ve done it so many times that I don´t need to think about it anymore. I´ve learned to know what works in our family and with my children and what´s not. Secondly, I´ve got a storage system for cloth diapers. I find all the different kinds of diapers and inserts easily and fast.
Then I´ve got this kind of a small morning routine. It takes a couple of minutes.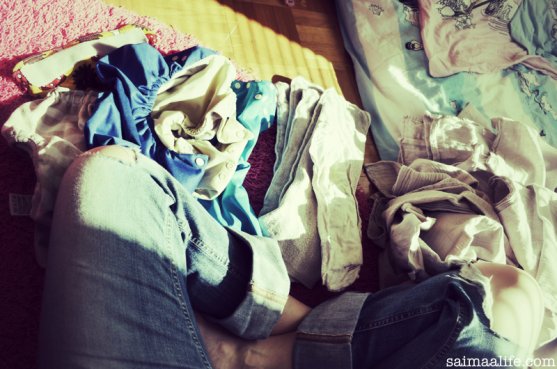 I choose the amount of diaper covers and inserts that our youngest one needs for the day.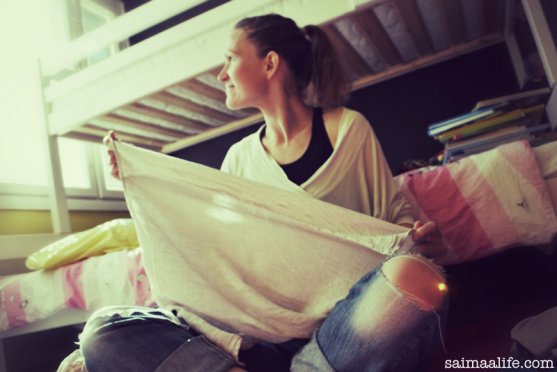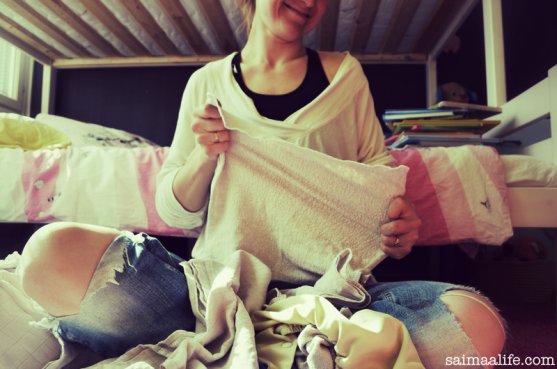 I sat down and I stretch all inserts. When you use baby gauzes for many years they loosen their softness. This happens also to other fabrics, hemp especially. You can make them soft again by stretching. Strecthing also makes the fabric more absorbent.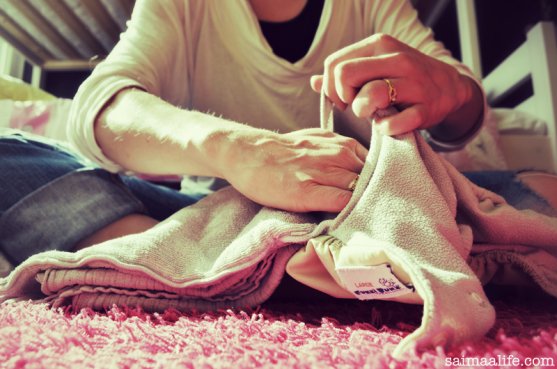 Then I put the inserts into pocket cloth diapers so that the diapers are ready to use. Then I can just easily grab some with me if I'm going out. Btw, it´s always good to have a small plastic bag with you for dirty cloth diapers. It´s annoying to be in a Cafè`s nursing room and notice that you don´t have anything to put you dirty cloth diaper in.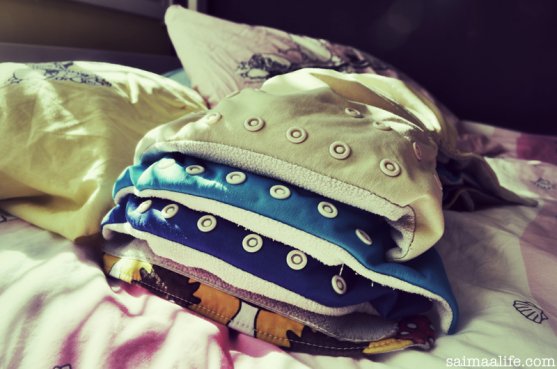 3 advices to remember about cloth diapers
Here´s 3 advices that I see important to keep in mind when using cloth diapers:
Be patient: Learning a new thing takes always some time. You don´t need to start using cloth diapers right after your baby´s birth. It´s often also impossible because baby´s legs are so thin. I used eco-friendly disposable diapers with our children for a couple of months. There are so much more important things after the birth. Focus on them and start to test cloth diapers when you have enough energy and routines with the baby are running smoothly.
Use common sense: Using cloth diapers is not "either-or" question. Remember that the main thing is your baby´s and your wellbeing. Don´t take a stress about diapers and ask help if needed. And remember that it doesn´t make you a bad mother if you don´t use cloth diapers. Even using cloth diapers occasionally is better than no cloth diapers at all. I know many moms who use cloth diapers at home and disposable diapers outside the home. With our firstborn maybe 90 % of her diapers were cloth diapers, with our second one maybe 80 %.
Don´t let other´s doubts to discourage you: People have strong opinions about motherhood and baby care. Also about cloth diapers. Just for example, I´ve heard people saying that cloth diapers prevent your baby to move because they are thicker than disposable ones. And that cloth diapers are uncomfortable for babies to wear. From my own experience I can say that it´s not true. Cloth diapers haven't slowed down our girls at all and I haven´t noticed any difference in their mood while using cloth or disposable diapers! Listen to those parents who are really experienced with cloth diapers, not those who talk a lot but know a little about the topic in practice.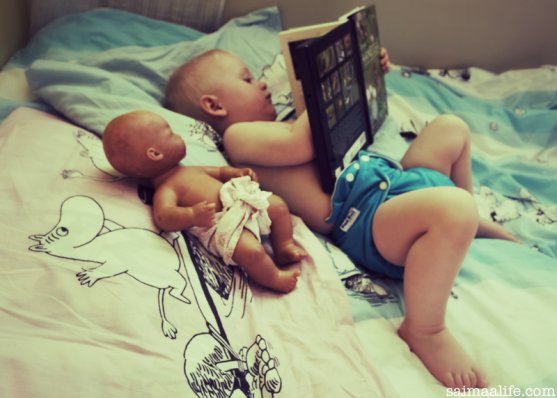 In the beginning of this post I wrote that I almost gave up on cloth diapers in the beginning. How did I managed to get over that challenging beginning when I felt that all cloth diapers leak? With the help of my mother friends, Leila, Riikka and Anne-Mari. That´s my answer.
Leila, who had used cloth diapers with her children shared her valuable knowledge about the topic with me when I was expecting our firstborn. Riikka´s mental support meant also worlds to me. She was in the same life situation and having her firstborn after me. Riikka and I bought used cloth diapers together, learned to use them with our babies and shared all the disappointments and successes with each other. From Anne-Mari, Riikka and I were able to get a big bunch of different kinds of used cloth diapers. Besides diapers, hearing about Anne-Mari´s experiences encouraged me to continue a lot.
For these three amazing ladies I´m forever grateful for all the help and support! It´s incredible that some cloth diapers, that me and Riikka were able to get from Anne-Mari are still good and totally usable. Our youngest one is now the 5th child who is using the same cloth diapers. After Liilia, same diapers go to Riikka´s youngest one, so he´ll be hte 6th then. That´s sustainability, I would say!
PS. This post has been all about diapers. But you know what the babies love the most? BEING WITHOUT DIAPERS. Whenever it´s possible and you have spare time, let your baby's skin air dry. It´s good for your baby´s skin and they love to practice moving without diapers.