365 ways to wellbeing – 142nd way: Make mushroom soup
During springtime dirt cellar is getting emptier and berries from the freezer are eaten. Cooking during this time takes a little bit more thinking 'cause we can't use our own ingredients so much anymore.
We still have some dried mushrooms. We realize it this day when we were planning our lunch. Homemade smoked reindeer soup with funnel chantarelles is a dish that our whole family likes. It´s easy, healthy and delicious!
This soup made my stomach happy this day 🙂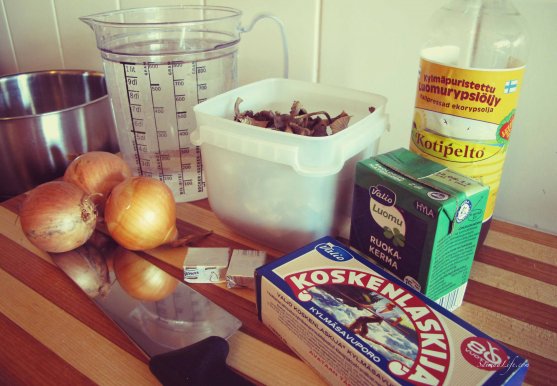 Recipe for smoked reindeer cheese soup with dried funnel chantarelles
Ingredients
2dl dried (and crushed) funnel chantarelles
250g processed cheese (smoked reindeer flavor)
3-4 onions
1tbl vegetable oil
1l water
2dl cream
2 vegetable stock cubes
Chop 3-4 small onions. Sauté them on a kettle.
Add 1 liter of water.
Bring to a boil and add vegetable stock cubes. Stir.
Add mushrooms, cream and cheese. Stir well.
Cook for half an hour while stirring every now and then.
The more water you use the stronger is the taste of mushrooms. Feel free to vary the amount of cheese, cream and mushrooms to find your own favorite taste.
Here's a tip! You can throw in some rye bread pieces. They taste delicious after sucking in all the goodness of the soup.
Bon Appetit!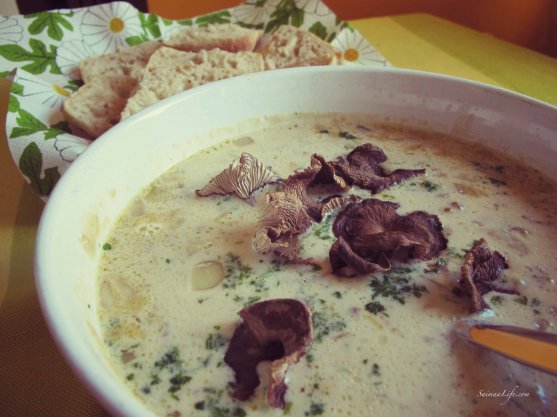 Read more about my "Wellbeing Challenge 2013 – 365 ways to wellbeing".