Learn to fight with your loved one
Here´s a picture about me and my husband´s temperament.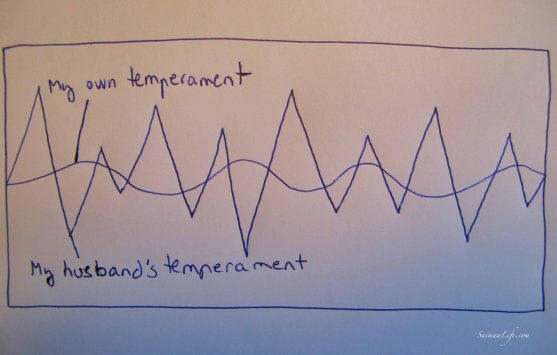 My temperament is very stable. My husband's is not.
Guess whether these differences have caused problems in our marriage or not? 😉
What I´ve understood, we are not the only couple with quite different temperaments.
During the first years in our relationship we've had a few big fights. The first signs of a fight may be on the air on Monday. The pressure keeps on rising until Wednesday. Thursday we fight. Friday and Saturday is all about sulking. Sunday is for kiss and make up. After exchanging apologies it still may be that the atmosphere is tense throughout next week. After that there is peace again.
We fought badly because we didn´t know how to fight well with each other. We didn´t know because our ways to fight were so different partly because of our different temperaments.
Now it has become a rule that every half a year we have a fight. The kind of a fight that afterwards I always think "How is it possible that this marriage could last till the day we die?!?".
This day we had that kind of a fight (no wonder after this kind of a month…) Did it last as long as normally? No. It was a big one as usual but from the very beginning till the very end it lasted less than a day!! It started around lunch time, exploded around coffee break, apologies were said before dinner and air was totally clean before going to the bed. For the first time in this relationship!
Guess which one of the ways to fight is better for the relationship and wellbeing of both spouses in the long run?
This day I was so proud of us. We had learned to fight with each other in a better way! There is a chance after all that this marriage lasts till the day we die, I thought. 🙂
Read more about my "Wellbeing Challenge 2013 – 365 ways to wellbeing".