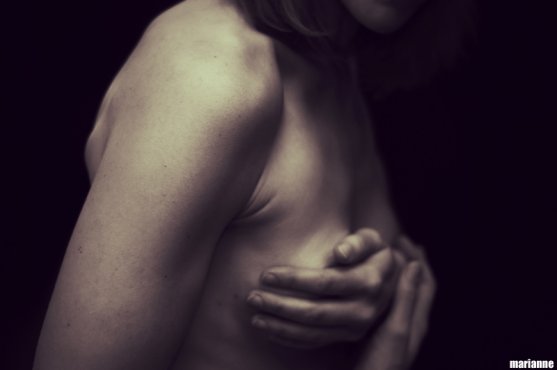 Lahjoita rintaliivisi, tuet rintasyöpään sairastuneita
Se voi kohdata ketä tahansa meistä. Suomessa siihen sairastuu joka kahdeksas nainen jossain elämänsä vaiheessa. Rintasyöpään.
Jos emme itse ole sitä vastaan taistelleet, monien meidän tuttavapiirissä on heitä, jotka ovat sen joutuneet tekemään. Niin minunkin. Siksi vastaukseni oli selvä, kun sain pyynnön osallistua Kanssasi-kampanjaan rintasyöpää vastaan ja kannustaa myös lukijoitani tekemään samoin kirjoittamalla aiheesta.
Luulen, että jatkuva stressi ja väsymys sai aikaan rintasyöpäni. Lauseen lausui entinen työtoverini vuosia sitten minulle.
Jotkut lauseet pysäyttävät, pistävät sinut miettimään elämää pintaa syvemmin. Toimivat alkuna muutokselle. Kyseinen lause on omassa elämässäni yksi sellainen. Työtoverini lause herätti minut miettimään syvemmin omaa sen hetkistä työstressiäni. Se sai minut myös ottamaan selvää jatkuvan stressin ja väsymyksen kielteisistä terveysvaikutuksista ihmisen hyvinvointiin. Ja etsimään pois tietä elämäntavasta, jossa kehoni ja mieleni elivät jatkuvan stressin ja väsymyksen alaisina.
Työtoverini selvisi ensimmäisen taistelunsa, mutta hänen voimansa uupuivat vuosia myöhemmin seuraavassa.
Pidän omasta hyvinvoinnistani huolta. Sen lupauksen antamista itselleni työtoverini edisti, ja siitä olen hänelle kiitollinen. Sen lupauksen toivon myös mahdollisimman monen naisen tekevän itselleen. Ja myös pitävän.
Muista siis rintojesi säännöllisen tarkkailun tärkeys ja osallistu rintasyöpäseulontoihin, kun sinulle tarjotaan siihen mahdollisuus!
Autetaan ja tuetaan toisiamme. Ja pidetään huolta niin rintojemme kuin koko muun ruumiimme ja mielemme hyvinvoinnista!
Ohjeet Kanssasi-kampanjaan osallistumiseen
Vuosittain lähes 5 000 naista saa Suomessa rintasyöpädiagnoosin, joka pysäyttää elämän. Hoidon rinnalle rintasyöpään sairastunut tarvitsee myös muuta tukea. Tieto sairaudesta luo alakuloa ja saattaa masentaa. Vakava sairaus voi tuoda mukanaan myös taloudellisia huolia. Sairastunut kaipaa apua, ymmärrystä ja tukea.
Kanssasi-kampanjan avulla tukesi antaminen rintasyöpään sairastuneille on helppoa ja maksutonta; Sinun tarvitsee vain lähettää rintaliivisi postin kautta Kanssasi-keräykseen.
Rintaliivit lähetetään postin vastauslähetyksenä. Lähetys on maksuton.Kuoreen merkintä:
Roche Oy
INFO KANSS
TUNNUS 5006103
00003 VASTAUSLÄHETYS
Itse lähetin omat rintaliivini tänään, tee sinä samoin huomenna!
Kerätyistä liiveistä syntyy tilataideteos, jolle luovat muodon rintasyöpään sairastuneet naiset. Tilataideteos kiertää Suomea kesän ja alkusyksyn ajan.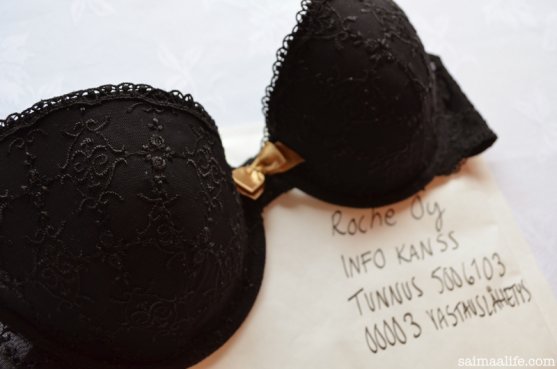 Saimaalife.com encourages Finnish women to participate in breast cancer campaign
There's a good reason why I'm writing this post also in Finnish.
I got an invitation to participate in campaign against breast cancer called "Kanssasi" ("With You" in English). Now I'm encouraging my finnish readers to do the same by writing about the subject in my blog. I'm more than happy to do this. Eventhough I haven't been forced to fight against breast cancer myself, I know many who have.
"I think constant stress caused my breast cancer", my former colleague said to me years ago.
Some things stop you and make you think. They function as a catalyst for change. That sentence was a wake up call for me. It made me to really think about my stressfull job. It also made me to seek up more information about the negative impacts of a constant tiredness and stress on wellbeing. I begun searching the way out of the lifestyle that was making my mind and body ill.
My colleague won her first fight. She didn't survive the second.
I will take care of my wellbeing is a promise I've made to myself. I'm gratefull for my late colleague for encouraging me to make that promise. I hope that all woman will make that promise to themselves. And also keep it.
There's a chance that any one of us is going to have breast cancer some day. In Finland about eight of the women will be diagnosed in some part of their lives. Annually that means nearly 5000 women. Breast cancer puts your life on hold. It may cause depression and financial troubles too. That's why treatments only are not enough. Women with the disease need also mental support – comfort, care and understanding.
"Kanssasi" campaign challenges all finnish women to support women with breast cancer by sending one of their bras to campaign organizers. Later, women with breast cancer are going to create an artwork out of all the bras collected. That piece of art will be visiting cities all around Finland for the next summer and autumn.
Remember to feel your breasts and consult a doctor in case of any worrying changes.
Let's help and support each other! And take care of the wellbeing of our breasts!