Cleaning, packing and working. That´s what the last month has been in our family. We've had a long list to do before we're able to move to our boat home. By the time you read this post we´re already on lake Puruvesi. My husband is already started his holiday and I, hopefully, get all my work done by the beginning of July.
Buy the books Thrive and Quiet to read on a boat. That has been on my To do -list. Why exactly those books? Well, here's shortly why.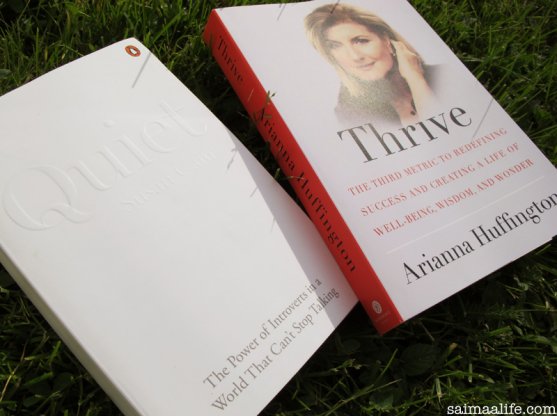 I found Thrive by Arianna Huffington already on last Christmas holiday.
I read the Huffington Post article "So Long, FOMO – Here's Why 2014 Will Be Year Of The JOMO (Joy of Missing Out"). The one that inspired me to start to write my On the way to Simple Living post series. That's how I found Thrive.
"That is exactly a kind of a wellbeing I'm talking about in my blog!!!!". I remember thinking when I had barely started Arianna's book. Quality of life, meaningful life, work-life balance…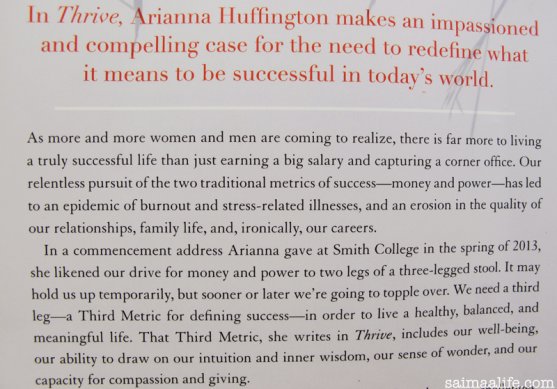 It was very clear that Thrive would be one of my boat books during this summer. I'm so looking forward to read it!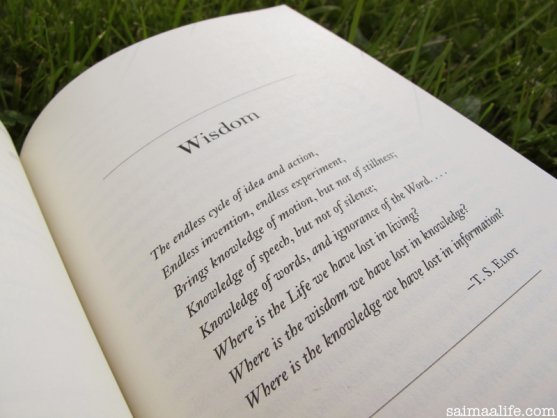 Susan Cain's book Quiet found its way to me later in the winter. I've had some conversations about the basic human qualities and features. The idea of humans being introvert or extroverts fascinated me and I decided to search some books about the topic. And I found Quiet, the bestseller about the power of introverts.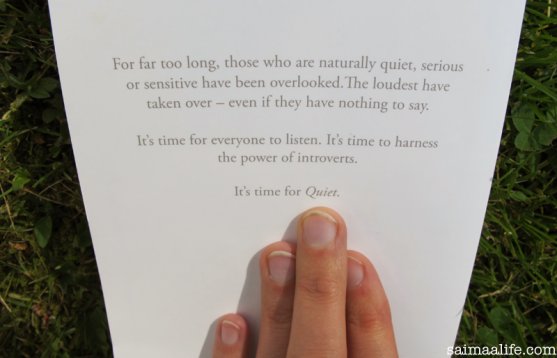 I only needed to read the introduction and the first pages from Amazon when it struck me. I felt I had found the answer for so many questions that had bothered me for long: Why do I feel myself so tired after been social for a whole day? Why did a job, in which I had to be extra social, make me so anxious? Why do I become quiet in a big crowd? Why do I love to be home with the children? Why do I love my boring life so much today? Why do I want to have a job where I can mostly work alone at home?
Because I am an introvert. Not totally, but there are A LOT more introvert in me than extrovert. I like being with other people but I need a lot of time just by myself or with my family too. I'm talkative but I'm at my best in peaceful face-to-face conversations. It is just more natural for me to talk less and think more. Seek wellbeing from peacefulness and not among big amount of people. Not surprising for a woman who is from countryside, in the middle of the fields and forests.
Before children, I had been exactly a kind of a person Susan is talking about in her book. A person who pretends to be an extrovert. I had learnt to be extrovert because -as we all know- a social and outgoing personality is so highly valuated in today's world. Especially in working life. By pushing myself to be more social than I naturally am I started to feel bad and tired. And like many my kind of people, I felt that I'm somehow inferior or lesser person. That I´m a wrong kind of a person. For a long, I felt ashamed of my quietness.
Now I've gone a long way in accepting my introversion. It has been a big thing for my wellbeing to understand that I'm just as good as everybody else. And that there are A LOT of naturally introvert people like me out there. I've also realized that like all human features, also introversion has its good sides. I'm looking forward reading more about it from Susan's book. So that I can accept my natural personality better and learn to see my quitness as my strength. And make me even stronger in my life.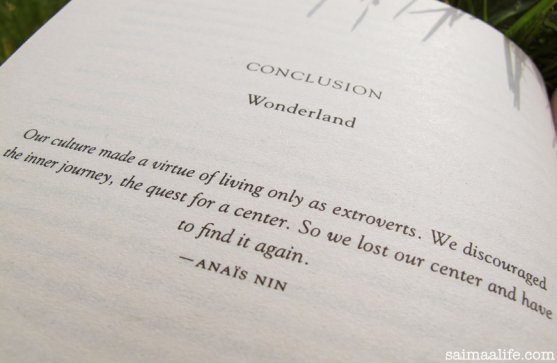 So, with these books, my inner journey continues. When I've read the books, I'll make a post about each of them and tell you more what I liked about them and what kind of thoughts they awoke in me.