365 Ways To Wellbeing – 337th Way
It´s time for Christmas shopping! Many of us are thinking at the moment what to buy for Christmas and where to buy it.
My advice for Christmas shopping is: Favor local products and small entrepreneurs! Why? Because it's sustainable choice, and sustainable choices make you feel good 🙂 It also supports local economy and reduces the ecological footprint of products.
This autumn in my home town Savonlinna two woman entrepreneurs moved under the same roof. Their companies are Nopsupopsu and Lapsille.com (Links only in Finnish). I was happy about it because I had visited both of them to buy presents for our girls and godchildren already for a couple of years .
You see the yellow hat that I´m wearing in this photo? IT'S GORGEOUS! It´s handmade by Nopsupopsu company´s entrepreneur Sofia, who is in the photo too. This day I visited Sofia because she is also going to make yellow tube scarf for me (I have an idea for my blog´s cover photo for the winter 2014-15…)
My new hat makes me smile every time I put it on. One reason for that is that it´s just so beautiful and makes me feel myself beautiful. Another reason is that I know where it's made and who made it. Both reasons that make me feel good about my purchase.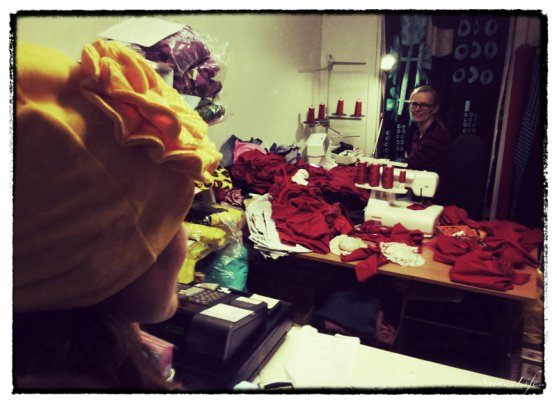 Read more about my "Wellbeing Challenge 2013 – 365 Ways To Wellbeing".