Mari, blogger and now also wellbeing instructor
My last post was about facing new. Well, this is going to be a new thing in my life. I´ll start to instruct yoga based stretching and relaxation lessons in Kruunupuisto in Punkaharju. I´m so excited!
Wellbeing has been my hobby already for two decades. A few last years it has also been my biggest passion. I´ve taken a journey into making my passion my job. On a mental level I now feel that the transition is over. A piece of my heart will always belong to tourism but I feel that my deepest expertise lies in wellbeing. In natural wellbeing that is.
With this post I'll invite all of Finnish readers living close to Kruunupuisto to come to my class. But I want you to know that I have plans for You who're not able to come to Kruunupuisto. Plans that would make it possible for you too to have some guidance in wellbeing under my instruction in English in the future. To give you a hint, those plans involve a video camera and words "online courses" written in our saimaalife.com five-year plan. Lots of things need to be done and learned before our plans see daylight. But hopefully they will come true some day. I promise to do everything I can for them 😉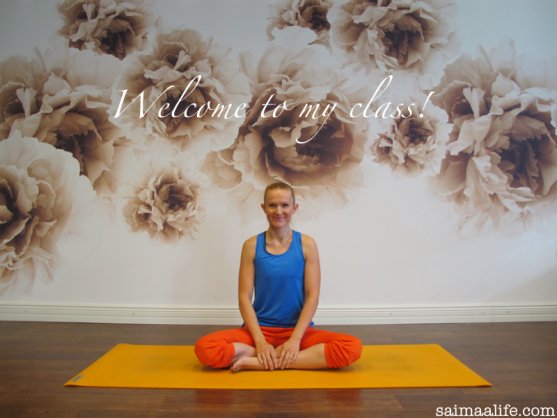 Olen niin innoissani! Hyvinvointi ja terveys on ollut harrastukseni teini-iästä lähtien. Jo kahden vuosikymmenen ajan olen arkielämän aallokoissa opetellut hyvinvoinnista huolehtimista. Oppinut paljon, tehnyt virheitä, oppinut niistä ja jatkanut käytännön tietotaitojeni syventämistä hyvinvointiin liittyen.
Viimeiset vuodet olen työstänyt rakkaasta harrastuksestani työtä itselleni. Nyt tunnen, että siirtymä on tehty. Pala sydäntäni tulee aina kuulumaan matkailulle, mutta oman syvimmän asiantuntijuuteni tunnen olevan hyvinvoinnin alalla. Luonnollisessa hyvinvoinnissa. Tunne on käsittämättömän hieno!
Kireydet pois ja rentoutta tilalle kehoon ja mieleen
Hyvinvointibloggarin työ on jo itselleni tuttua. Nyt alkaa matkani hyvinvointituntien ohjaajana, sillä ensi viikon torstaina alkavat ensimmäiset syvävenyttely- ja rentoutumisharjoitustuntini Kruunupuistossa, Punkaharjulla. Jippii!
Keskeistä tunneillani tulee olemaan fyysisen ja henkisen rentoutumisen, rentoutumista tukevan hengittämisen sekä oman kehon ja mielen kuuntelun harjoittelu.
Kruunupuiston tämän syksyn tuntieni tavoitteena on, että jokainen löytää oman kehon jännitteitä parhaiten avaavia liikkeitä ja mieltä rentouttavia tekniikoita. Taitoja, jotka auttavat lisäämään hyvää oloa ja vähentämään stressiä arjen keskellä.
Olen suunnitellut tunnit niiden käytännän kokemusten pohjalta, joita olen itse saanut harjoiteltuani viiden vuoden ajan syvävenyttelyä, joogaa ja rentoutumista. Jokainen tunti sisältää syvävenyttelyharjoitussarjan, jossa käydään läpi koko keho. Liikkeet muuttuvat osin joka tunti. Jokaisella tunnilla on myös eri teema. Niistä kerron tunnilla sanasen ja niiden tarkoitus on auttaa syventämään omia taitoja rentoutumisen suhteen. Jokaisella tunnillani opetellaan myös arkielämään sovellettavissa oleva pieni rentoutumisharjoitus. Tuntini päättyvät rauhoittavan musiikin saattelemaan loppurentoutukseen.
Tuntini eivät edellytä aiempaa kokemusta ja ne soveltuvat kaikenikäisille niin naisille kuin miehille.
Olet lämpimästi tervetullut tunneilleni Kruunupuiston kauniiseen ruusujen koristelemaan Vellamo-saliin!
PS. Ensi vuoden alkupuolella Kruunupuistossa alkavat myös ohjaamani saunajooga-tunnit. Pistä ne myös jo korvan taakse tässä vaiheessa!