Globe Hope`s Arctic City Autumn/Winter Collection 2013-14
"The name of the Globe Hope Autumn Winter Collection 2013–2014 summarizes its theme. During the creative process fashion designer Piia Hänninen was inspired by the relationship between nature and city life. The connection and collision between untouched wilderness and urban surroundings framed the basis of the collection."
I smiled when I read this from the press release concerning Globe Hope new Arctic City autumn/winter collection 2013-14.
The Globe Hope´s new collection is made for a + 30 working woman like me! For a woman who wants her clothes to suit her outdoor lifestyle and look beautiful both in a city and nature, at work and during free-time!
Can´t wait to see more I was thinking!
Well, this day I was able to see more when I visited Globe Hope in Nummela. I got a chance to try on this Arctic City collection. And I was right. I found SO many beautiful pieces of clothing that matched my style! Let me show you some of these treasures…
If you´re interested to know what recycled or other sustainable materials is used in each clothing, click the name of the clothing. Globe Hope tells the story of their each item so well and beautifully so I couldn´t do that any better!
But now about the Arctic City…
Villinki jacket (℅) and Viikki turban-like model hat (℅). Love these!! During the winter you´re going to see me wearing these in so many occasions!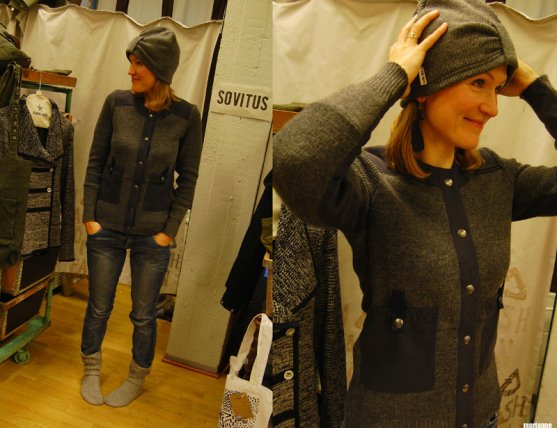 Can you believe that this Koskela winter jacket (℅) is made of an old army green tent cover, military leather ankle straps and the deadstock fake fur!! I was so honored to have this on my blog´s winter cover photos with Viikki hat. Thank you Globe Hope!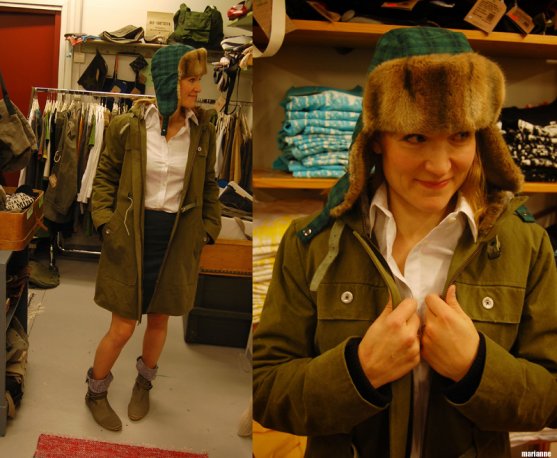 And these vintage dresses… Brick red Eira dress (℅) and green Kamppi dress (℅) were such a big surprises for me! Both so feminine, well-fitting and full of beautiful details.
Can´t wait to style Eira dress with my other clothes, like jeans and some high heels… And Kamppi dress – well you´re going to see more photos about that soon 😉 A beautiful dress for little Christmas parties or fancier New Year Eve´s party!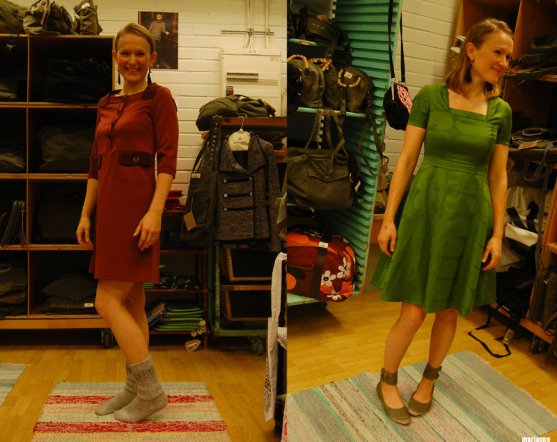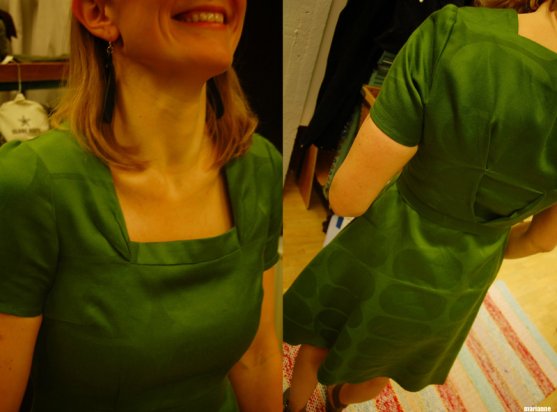 If I´d have more business meetings, this Alppiharju jacket would definitely be one of my choices to wear. With Sintti earrings the jacket is just perfect!
Note! I publish a Christmas giveaway about Sintti earrings 1st of December… Stay in tune!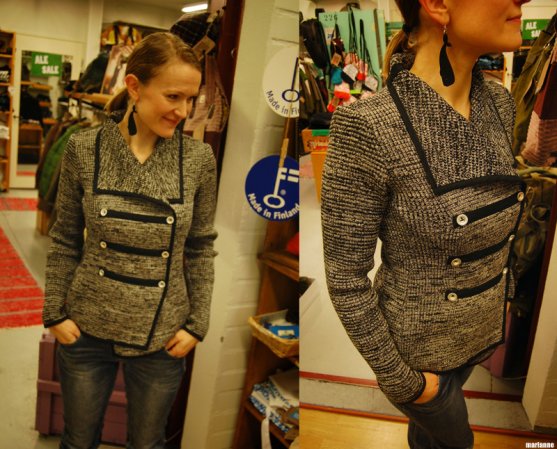 In Globe Hope´s last Spring/Summer collection it was Tiira skirt that I fell in love with. Now it´s Puistola skirt (℅). I´m convinced now! Globe Hope definitely knows how to make stylish and well-fitting skirts!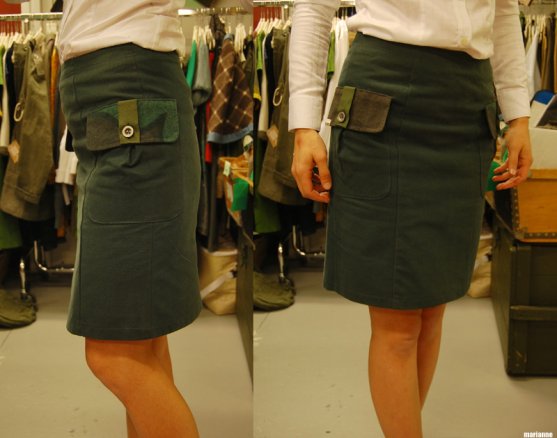 Vuosaari trousers are the first Globe Hope´s trousers on me. Looking forward to see more of them on forthcoming collections!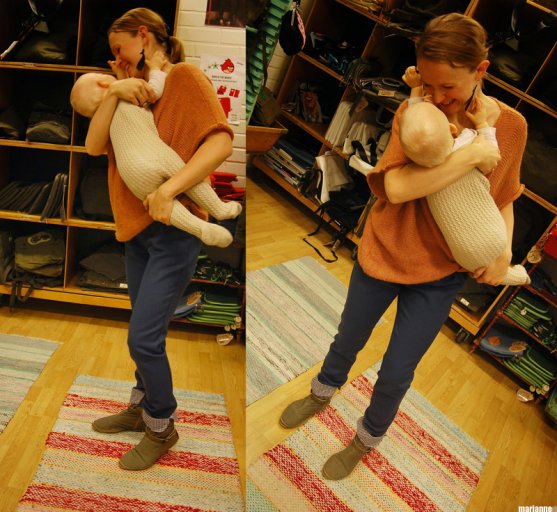 Btw, next year I´m going to start writing (and photographing of course) more about sustainable fashion. About user experiences, materials, special features etc. What ever ideas I'll get! Click here to receive my blog updates by e-mail!