Four friends in the kitchen together. What can be more fun? Or when can be better chances to burn something 'cause you just have too much fun together? Rye is the thing of us, Finnish people. Here's the super simple recipe of Finnish rye cracker -"Näkkäri"- designed by our dear friend Paula.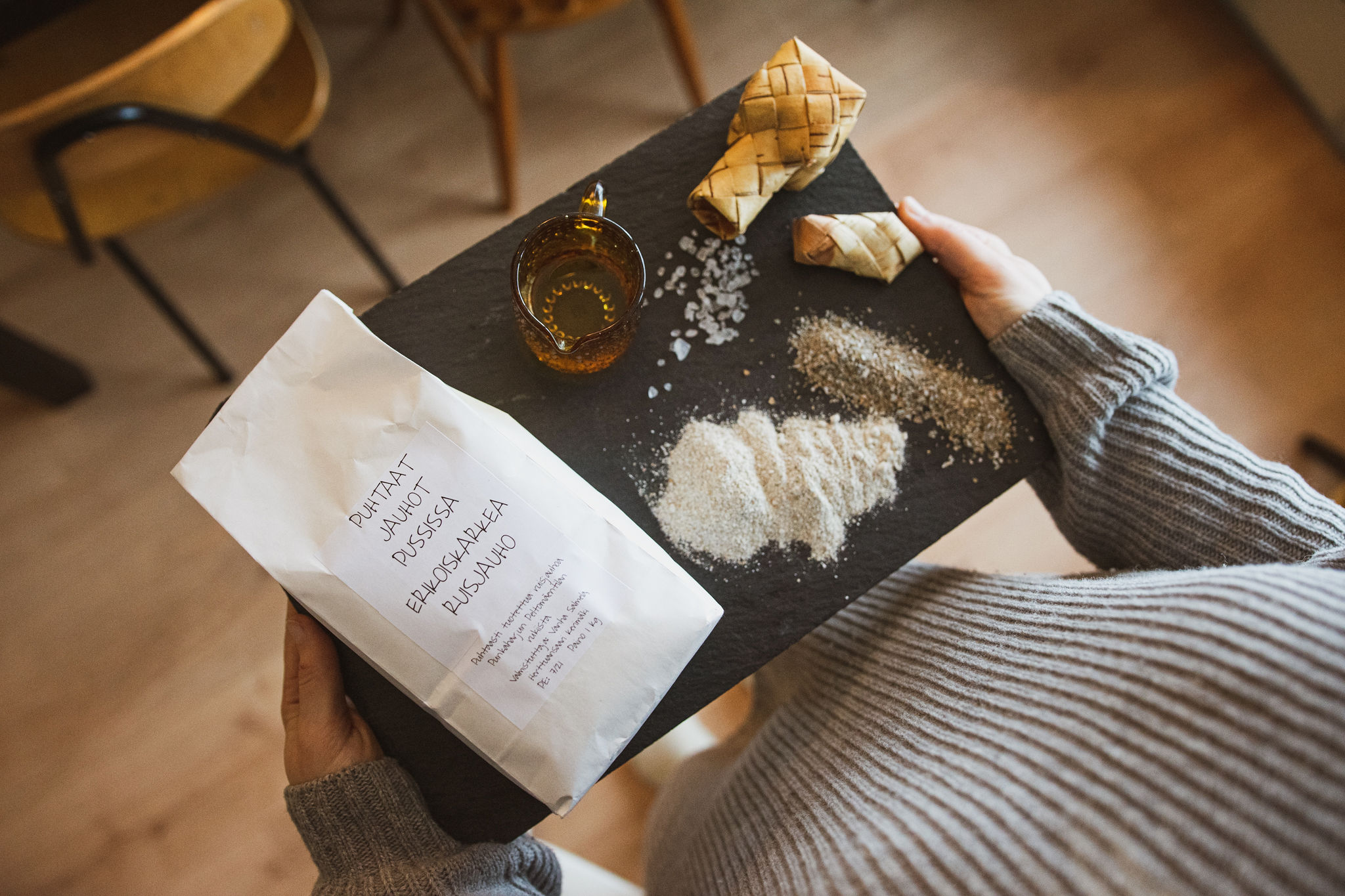 Here's our new recipe for you:
Super Simple Recipe of Finnish Rye Cracker – "Näkkäri"
(Amount of one roaster)
1 3/4 dl water
1 dl Rye bran
1 tsp salt
About 4 1/2 dl rye flour
0,5 dl oil / 25 g butter
(Outside Finland, you often find rye flour in special stores. If not, you can also order them from Suomikauppa -"Finland store"- which is an international online store of all kinds of Finnish foodstuff and products.)

Baking this cracker is super simple:
Melt butter and mix it OR oil with water. Blend rye brans and salt and add them to the liquid. Let the mixture swell for a moment.
Add rye flour bit by bit and after it knead the dough with your hand. The dough is ready!
Roll the dough on top of baking paper. Thickness about 2 mm. Use (wheat) flour for rolling to make it easier.
Bake the cracker in the middle of the oven at 225 °C for about 6-10 minutes – until the cracker is LITTLE brown. Note! Don't call or chat with your friends during it – especially in the end 🙂
Let the cracker cool down without covering it.
Enjoy rye cracker with warm soup or with tea, coffee, whatever. Cracker works pretty much everywhere!
By the way, to keep the cracker good, store them in a paper bag and in a dry place.



In case you're interested; A word about the history of "Näkkäri"
Crispbread or cracker -"Näkkileipä" / "Näkkäri"- has originally come from Sweden to Finland. It is typical Nordic countries' hard bread which is usually baked out of whole-grain rye and water. Schools and the army are serving rye crackers a lot because they can be preserved long. Because of its lightness, it is easy to carry with you as well.
When Finland was battling Winter and Continuation War against Russia, Finnish women –Lotat– made rye crackers for Finnish men to get energy in the battles.
Here in the North cracker is eaten as everyday food by many but outside the Nordic, cracker is considered as health food.
And healthy it is so it's good to eat rye cracker!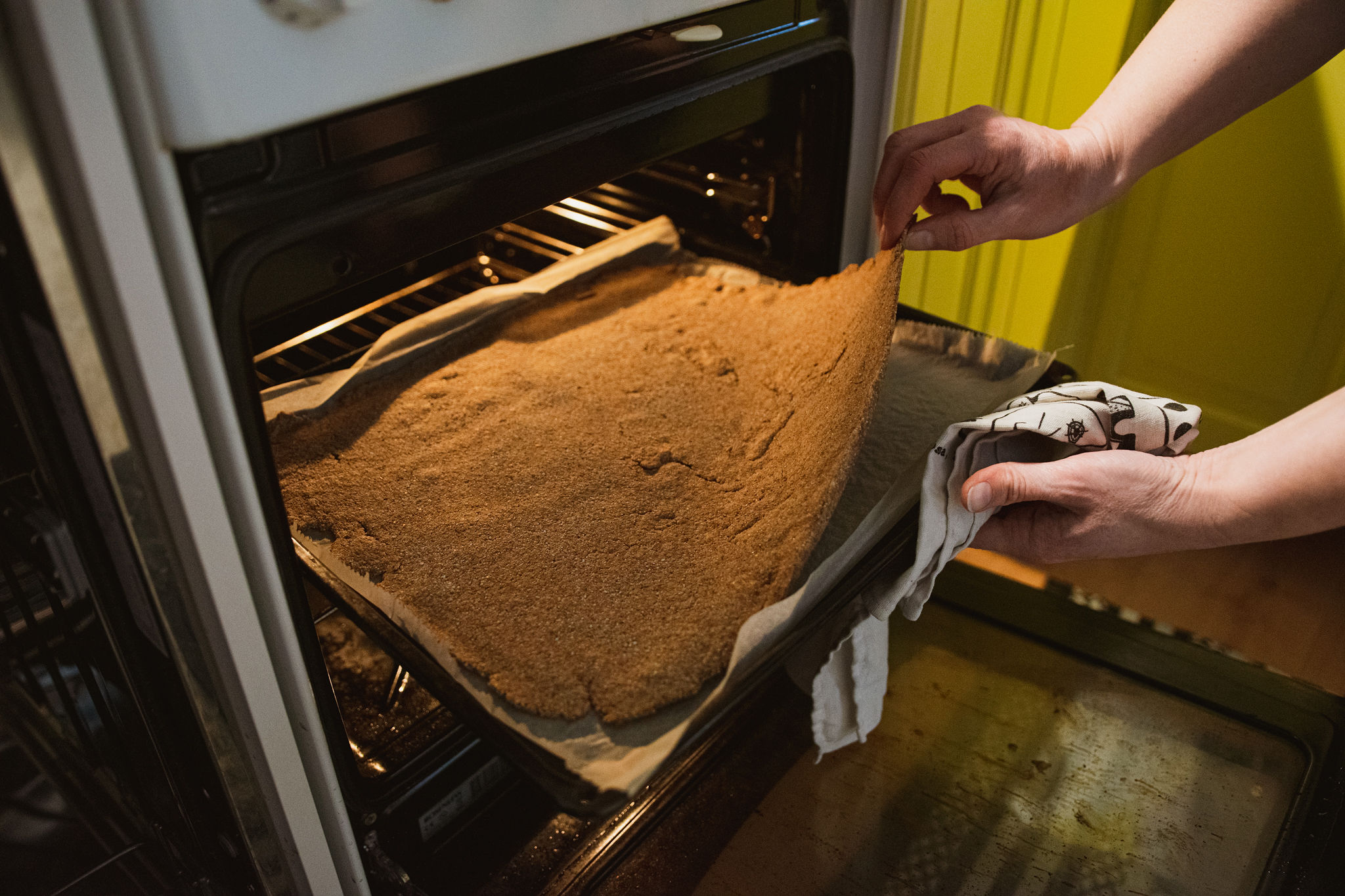 Three companies lead the global cracker markets; originally Swedish -nowadays- Italian "Wasabröd", Finnish "Vaasan" and English "Ryvita".
Nowadays you can find also spelt cracker from Finland made by Finnish "SunSpelt" and "Leipomo J Martin".
Rye is a super healthy grain but so is spelt as well. It is an ancient grain widely recognized for its many health benefits. We recommend looking for and trying spelt too -besides rye!
Join our ladies' baking for a moment through this 360° video. In the video, you also hear where our rye flour "Puhtaat Jauhot Pussissa" is coming from. Their roots are actually too both in Punkaharju and Kerimäki. Thanks, Vanha Salmela for the flours!
To watch this 360° video, tap on this link https://youtu.be/N01fM9KDWQw in your Youtube app. In Youtube app you can watch the video also with virtual reality headset. Remember to turn on HD to get better quality!
I have to say still one thing about Paula. I like to develop my own recipes, but Paula does that too – and she makes it beautifully! For example, she has developed a delicious seed porridge recipe for Hotelli Punkaharju's breakfast. Also last year she developed Christmas mushroom cookie recipe that includes candy cap mushroom! Wow!
Anyhow, I recommend trying the rye cracker. As I said, they work with many things – try for example with our warm apple drink.
With love from Saimaa,
Stiina (& Mari)