You can use mushrooms for so many things, including grilled skewers. The barbecue season is at its hottest so we decided to one of our favorites, recipe for grilled mushroom skewers, with you.
In this recipe for grilled mushroom skewers, I use champions because when we took these shots for the recipe the mushroom season had not yet begun in Finland. In the spring I did collect false morels, but they don't really fit into this recipe.
Wild mushrooms like white sheep polypore ("lampaankääpä"), tooth foncus ("orakas") or cep ("herkkutatti") go well with this barbeque dish too.
If you are lucky you can also find champions growing in yard! It is called wild champion ("kuusenherkkusieni").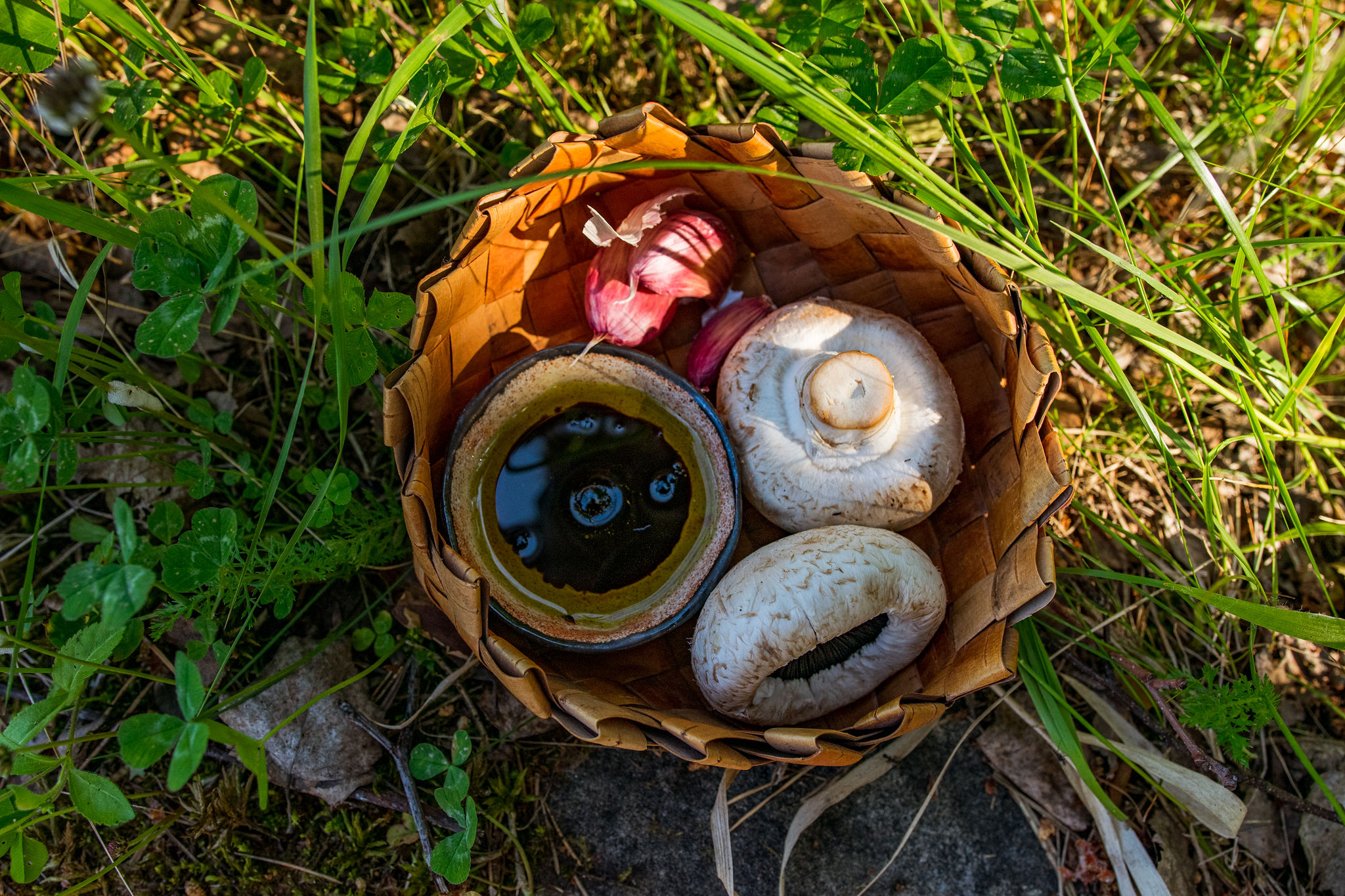 SaimaaLife Recipe for Grilled Mushroom Skewers
For 4 person
800 g champion or wild mushroom such as cep.
2 cloves of garlic
1 tsp salt
5 tbsp balsamic vinegar
0,5 dl olive oil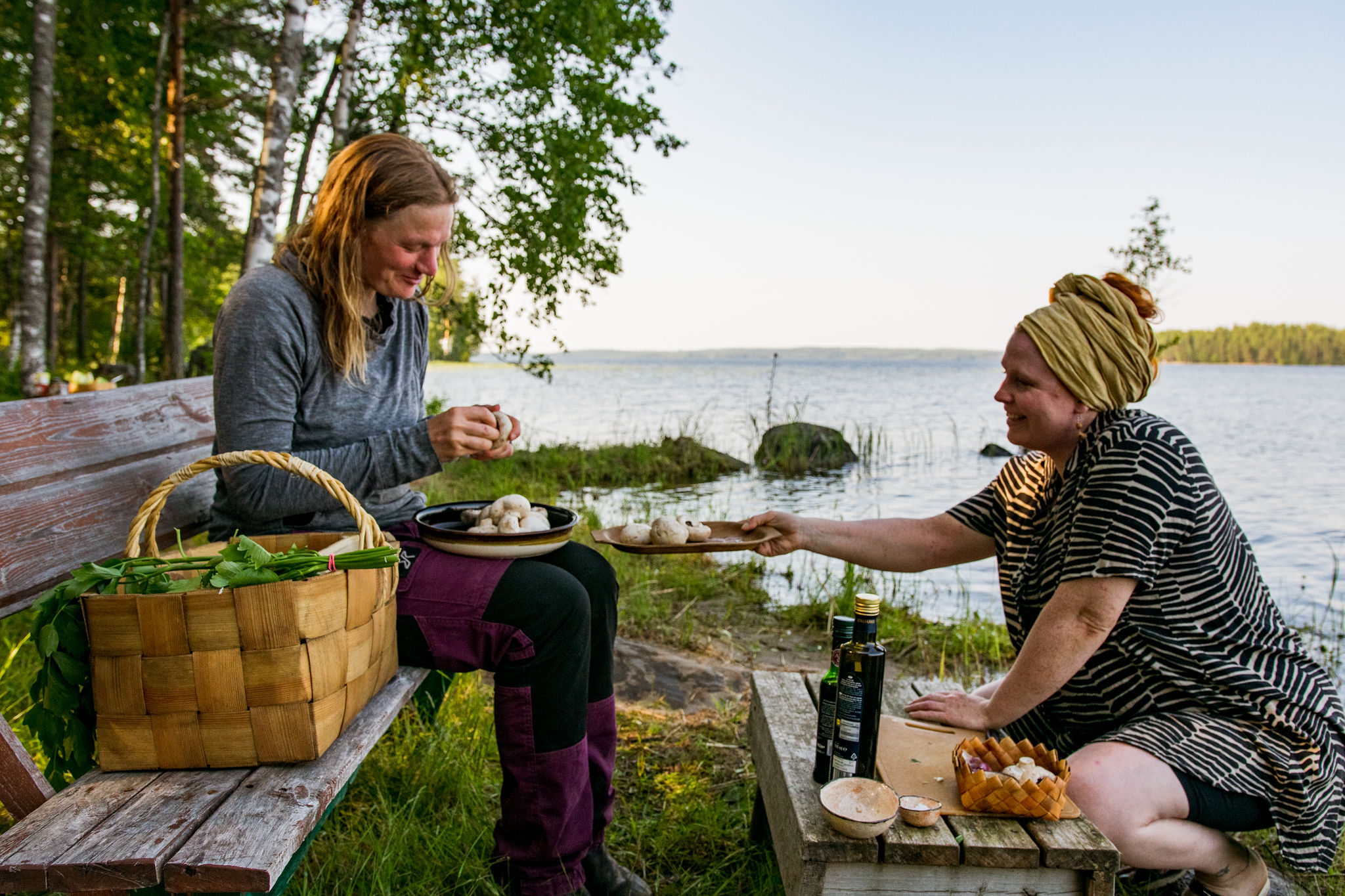 This is how you make them:
Trim the mushrooms. Use only the cap.
Peel the garlic and crush it.
Add spices, balsamic vinegar, garlic, and olive oil into a big bowl. Mix it and add to the top of the mushrooms.
Gently roll the mixture and mushrooms so that olive oil dressing will cover all mushrooms.
Marinate for at least an hour.
After marinating:
Place marinated mushrooms onto wooden skewers.
Be sure to soak the wooden sticks so that they don't burn. Grill the skewers for about 15 minutes until softened.
After putting the skewers on the grill, turn them every now and then so that they cook evenly. You can brush some more marinade over the mushrooms during the cooking.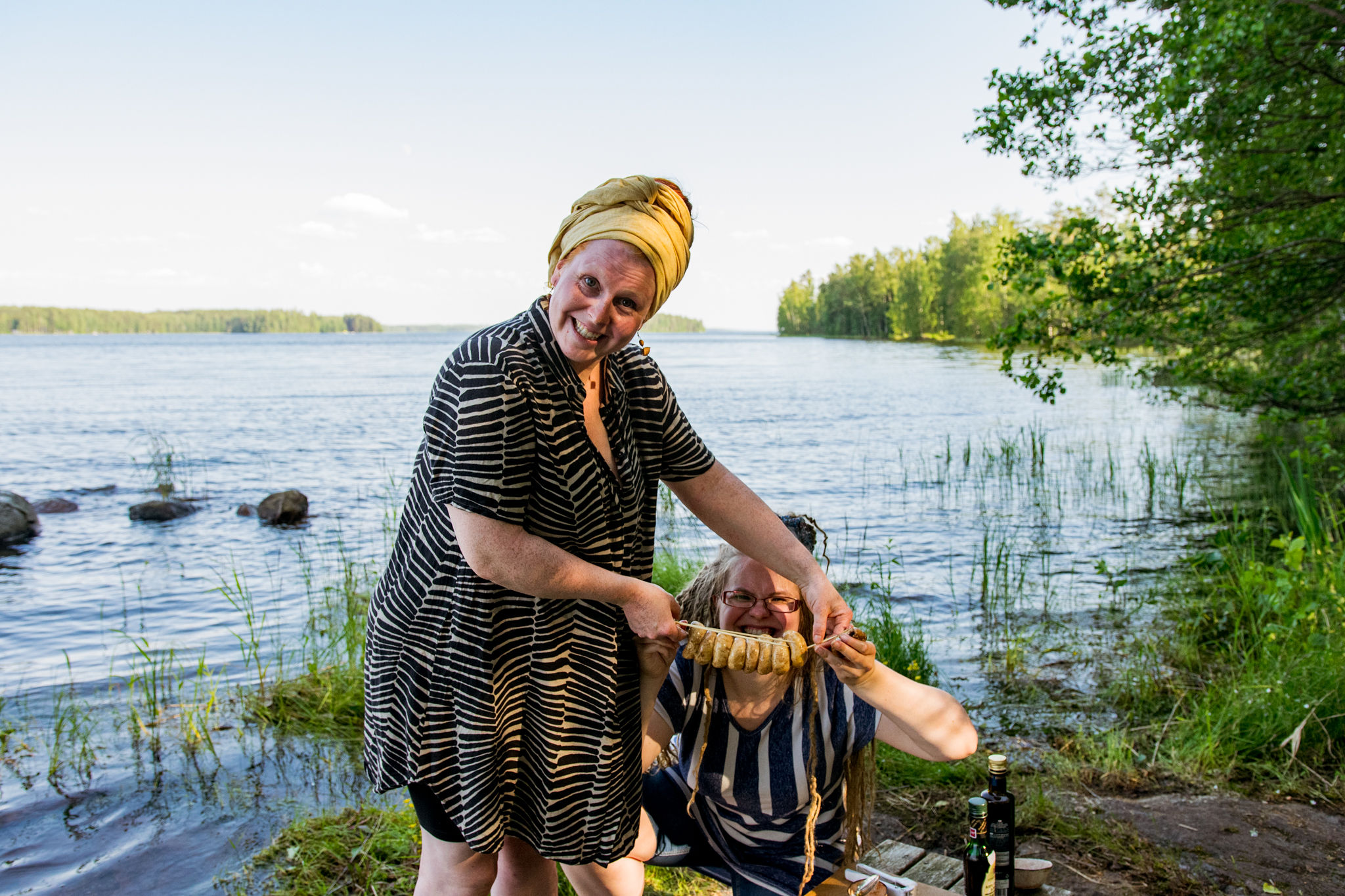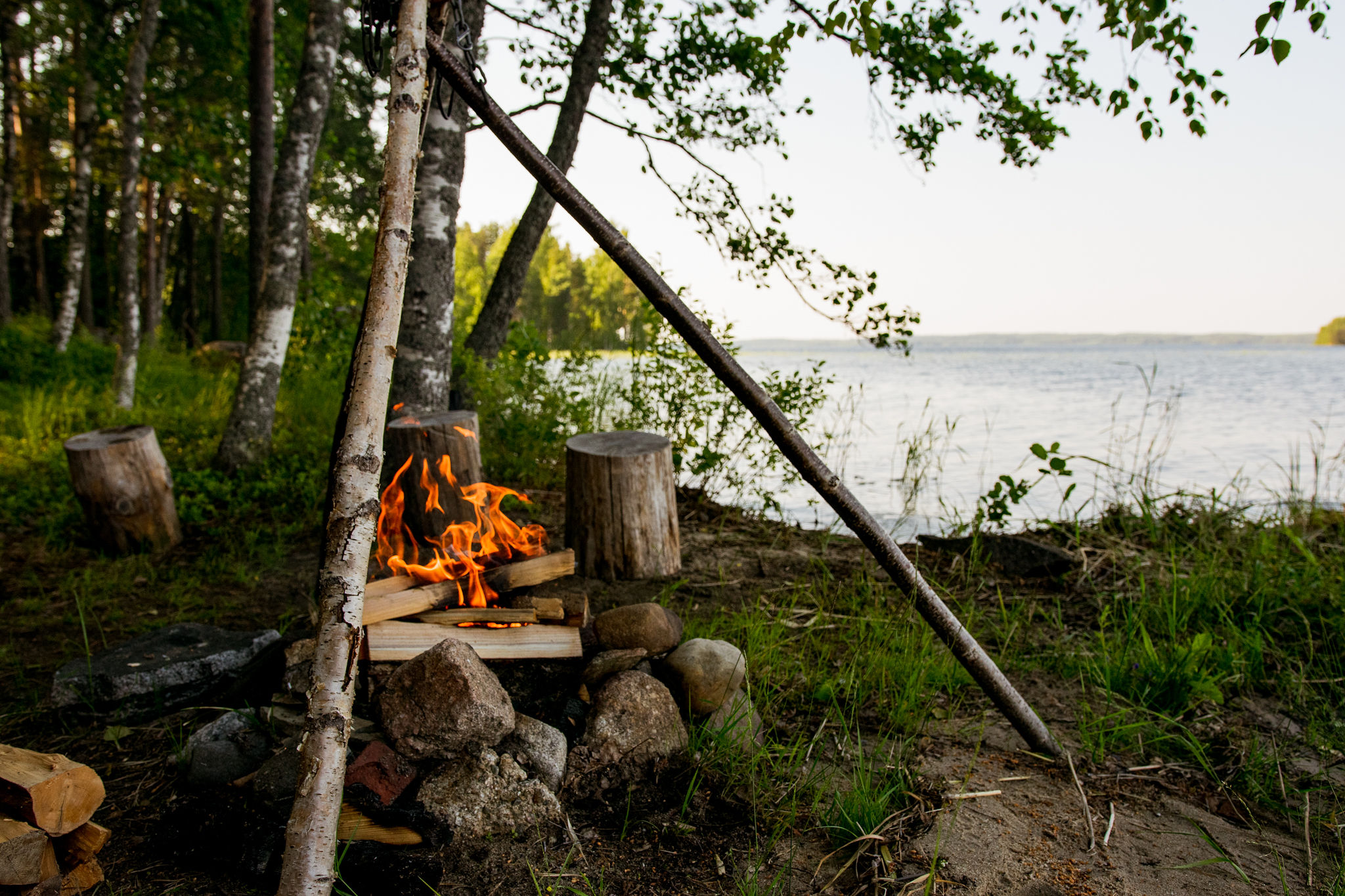 You can enjoy your grilled mushroom skewers as a side dish with other grill food. For example, try them with our saimaaLife grilled cabbage. Works! Fresh salad goes well together too.
PS. If you are a fan of blue cheese (like we all three are) you can sprinkle it on top of your grilled mushroom skewers. Yummy!
Or enjoy mushrooms straight away from the sticks. That works too.

Welcome the wonderful world of mushrooms to your kitchen
The world of wild mushrooms and their flavors is huge. As I said, you can use mushrooms for many things. I for example use Asian-flavored curry mushroom or strongly umami-flavored black trumpet mushrooms for various broths to season the food.
Mushrooms are also a great substitute for meat. So, if you're interested in eating more vegatarian, like I, consider learning to use more mushrooms in your cooking.
Mushrooms are delicious but they are also healthy; low-calorie and include lots of vitamins, minerals, and antioxidants. Here's one good article about the health benefits of mushrooms.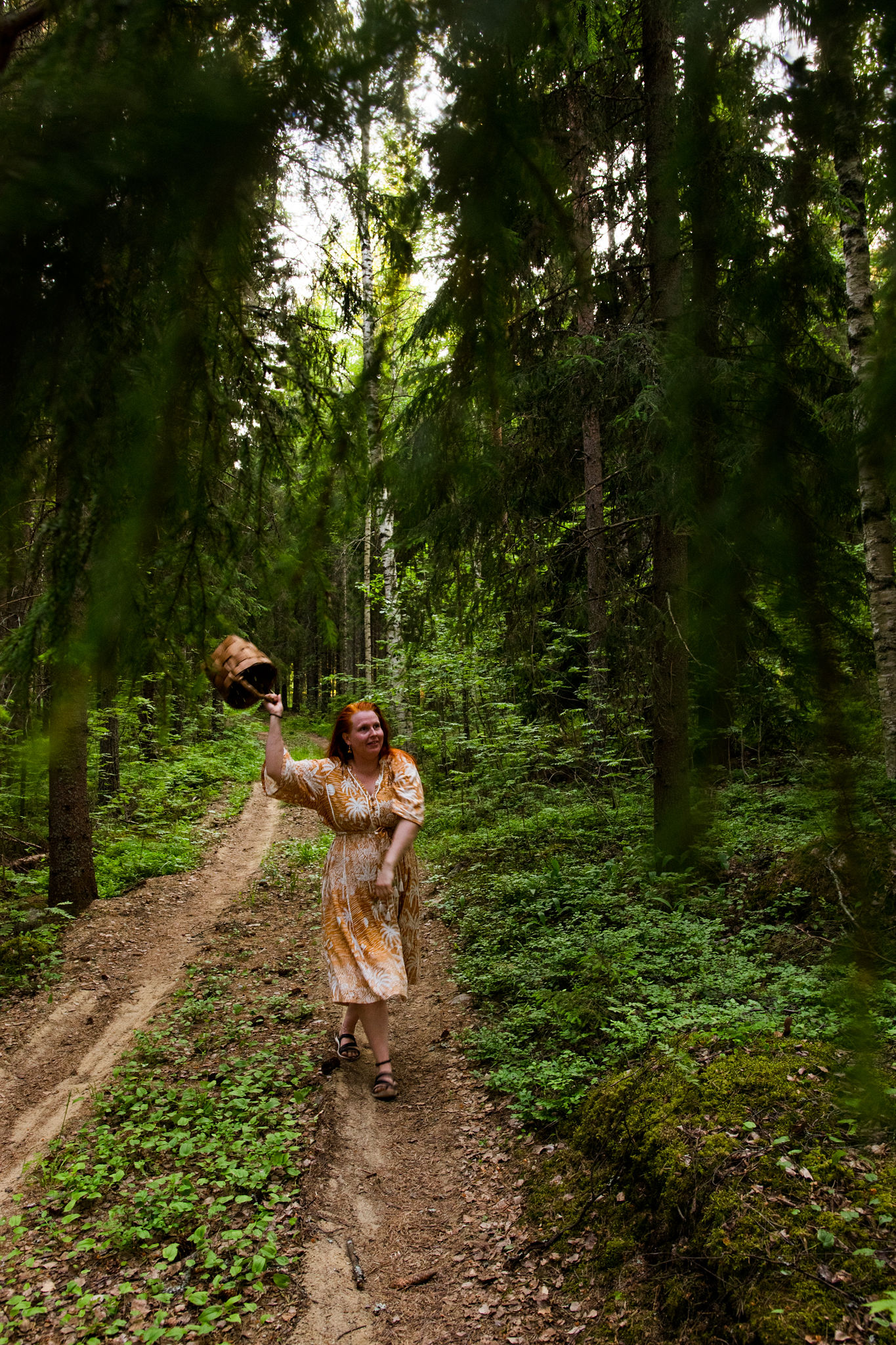 Go to the woods, go to the wild mushroom foraging course
If you are interested in learning more about mushrooms, one great way to start is to go to the course. We recommend the one where you in concrete go to the forest with the course guide, learn to recognize the mushrooms, and pick and cook them.
Wild mushroom foraging enables you to get great food, but also the wellbeing benefits of being outdoors in nature!
However, believe me when I say that it is not worth taking a risk with mushrooms. If you pick the mushrooms yourself from the forest make 100 % sure that you identify the species correctly before using them in your cooking new mushrooms. If you have any doubts, do not collect them. Or collect and find out whether it is an edible mushroom or not.
Most of all, go to nature, feel nature, learn to forage food from – grill and chill! That is my recipe for you for the summer!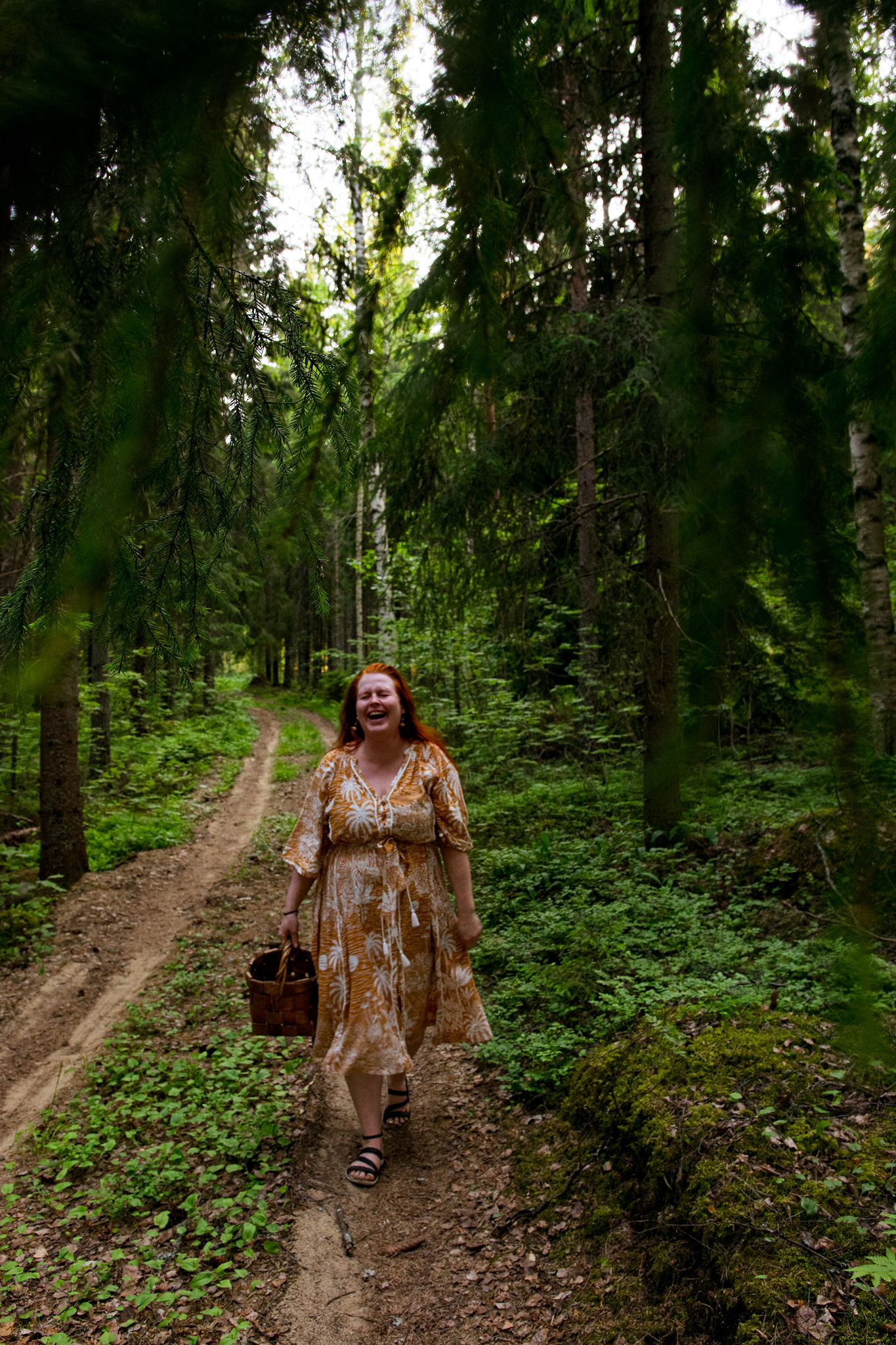 With love from Saimaa,
Stiina & Mari
Check also this easy mushroom recipe that we published last year on saimaaLife Facebook: Mushroom hash, "Sienipyttipannu".