I told you earlier how I bought Dr. Hauschka´s test package because I got interested in their holistic philosophy for natural skin care. I didn´t use the test package right away because I first wanted to use up my other skin care products. That´s one of my ways to limit the amount of cosmetics in my bathroom.
Now I´ve tried Dr. Hauschka´s test package. And the result is that I WANT SOME MORE!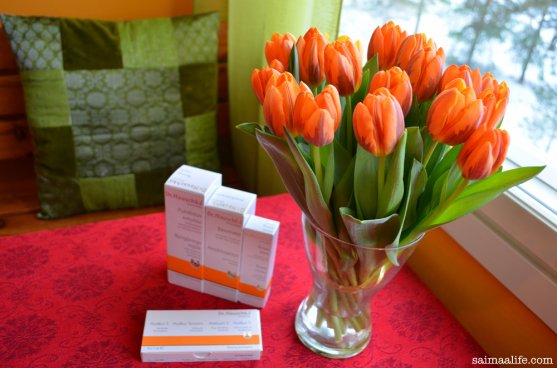 So far, SO GOOD!
1. A shock on my skin
After starting to use Dr. Hauschka skin care products my skin went into a shock. It was screaming for more moisturizing. Dr. Hauschka´s facial toner gave some help but still my skin felt really dry and it was a little bit of red. Should I stop, I thought. I decided to continue.
The biggest reason to continue was Dr. Hauschka´s Rose cream. I had fallen in love with it after the first day like many other women worldwide. (The rose cream is their bestselling product). My skin felt SO good after that! I had also liked Dr. Hauschka´s Facial Toner before. After using it my skin felt well nourished and fresh.
The scent of natural cosmetics is often quite strong to my nose. I had the same experience also with Dr. Hauschka´s products first. However, after couple of days it didn´t bother me anymore and I actually started to like their natural scent.
2. More information, more understanding and interest to continue
After the first shock I started to read more about Dr. Hauschka´s holistic philosophy for skin care and user experiences too. I understood that if my skin is used to get a thick layer of moisturizer on it every evening for years, it´s quite normal that it reacts when it doesn´t get it anymore. I also read that it takes 28 days for skin to renew, so there´s no point to end my testing just after first experiences.
I got more fascinated by the idea that maybe I could achieve a balanced skin that is able to perform its natural functions without being dependent of a huge amount of different products. Just the way Dr. Hauschka promises.
3. My skin calms down
For a transition period Dr. Hauschka recommends to use their Rhythmic Conditioners. So I bought some rhythmic conditioners for a sensitive skin. I was amazed how they helped. First my skin tingled a while, but then it calmed down. I felt that Rhythmic Conditioners really nourished my skin but yet in a deeper way than Dr. Hauschka´s Facial Toner.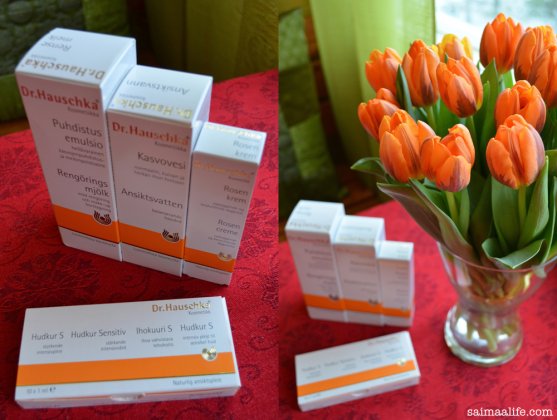 4. Getting the basic products for longer testing
After my skin had calmed down, I decided to buy bigger bottles of some basic Dr. Hauschka´s products that I thought would be good for my sensitive skin. So I bought Dr. Hauschka´s Cleansing Milk that cleans your skin and works also as a make-up remover. Then I bought Dr. Hauschka Facial Toner I already told you about and Dr. Hauschka Rose Day cream.
5. My skin is renewing but it feels already lighter
After first experiences my skin feels still dry and is a bit red but it doesn´t bother me much because at the same time my skin feels somehow lighter too. 28 days is not up yet so I believe this is normal part of skin renewal process.
I like the feeling that Dr. Hauschka´s products leave on my skin. Or actually the thing is that they're absorbing so well into your skin so that you don´t feel like using anything else for a while. It´s obvious that my skin has not yet gotten used to these new products but I like the feeling I'm having now. My skin is able to breathe better and it´s not covered with different kind of moisturizer creams all day around anymore.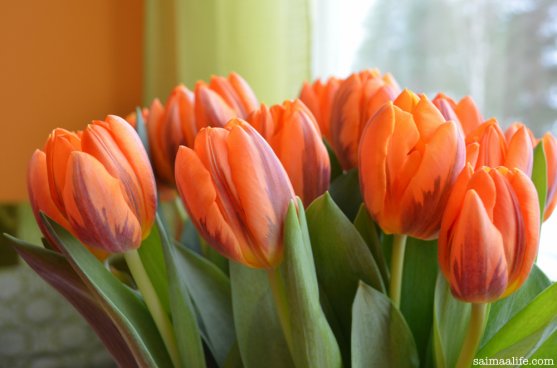 So, if some of you are thinking about tryng out Dr. Hauschka, my advice after the first experiences is go for it BUT be patient! The test package is a good way to start but it´s still too little to form an opinion about this 100 % natural skin care product series. Dr. Hauschka´s skin care philosophy is so different compared to other brands. It takes time for your skin (and you) to get use to this new way of skin care.
Test, read and test more. That´s the way to find out the right natural skin care products for your skin! There are two kind of Dr. Hauschka test packages; Dr. Hauschka Daily Face Care Kit for Normal, Dry or Sensitive skin and Dr. Hauschka Daily Face Care Kit for Oily or Blemished skin.
I personally think that the cost-effectiveness of Dr. Hauschka skin care products is the best so far among the natural cosmetics that I´ve tested. That´s why I´ll continue my testing with Dr. Hauschka. You´ll hear more about it in the future…
Btw, if some of you is using Dr. Hauschka I´m more than happy to hear about your experiences!