Hug your loved one
I love to hug my husband when he's cooking. I love to hug him anywhere but especially then.
I love to wrap my arms around him and press myself against his warm back. When I do that I I feel like time would stop for a while. Hustle and bustle of everyday life calms down for a few seconds and I feel the happiness taking over me. I´m so happy that I have him and I´m so happy that he is cooking.
This day I realized that we hadn´t hug for ages. We both like to hug but I realized that lately we had hugged only our girls. Or our arms in general had been busy taking care of the girls. Usually I'm with Liilia and my husband with Unna – or vice versa. Normal stuff in a family with small children.
So this day it was hugging my loved one that made me feel good. And delicious chicken-vegetable wok that he made.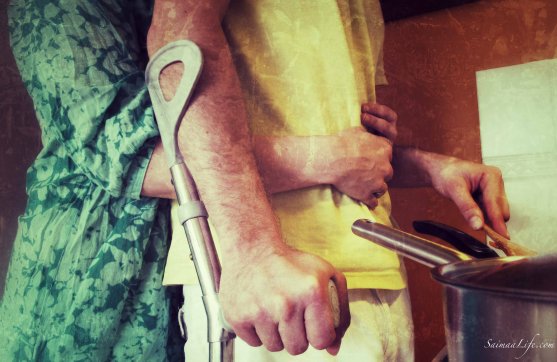 Read more about my "Wellbeing Challenge 2013 – 365 ways to wellbeing".