If I'd have to give one advice how to advance your wellbeing, my answer would be "go into nature!". Being in nature is good not only for your body but also for your mind and spirit. I think that a daily habit of being in nature is a cheap medicine against many diseases!
I`ve already told you about my ways of spending time outside and in nature. Wellbeing and health from nature is definitely one topic from which I want to give you more information on SaimaaLife. That`s why I`m so excited and happy that I can now introduce Mirja Nylander, SaimaaLife guest writer to you. She is going to write you about the wellbeing effects of nature!

The Art of Standing (Still) under The Tree
Guest post by Mirja Nylander
Have you ever wondered why you feel so good and uplifted after staying in the park or in the forest for a while? Or after enjoying lovely scenery with trees? You have? Well you are not alone!
I was one week old when my father carried me under the Christmas tree (Picea abies). I got a dose of terpenes of the Nordic spruce (the same Picea abies). It was homemade aromatherapy and a dose of everlasting love to the trees.
Coniferous trees produce almost 50 various terpenes and all of them have some kind of health improving effects. For example diterpenes are known to be antimicrobial. If you happen to have atopic skin or athlete´s foot, go find a balm that contains spruce resins and you can enjoy a baby skin.
So terpenes are one reason why our wellbeing improves in the forest.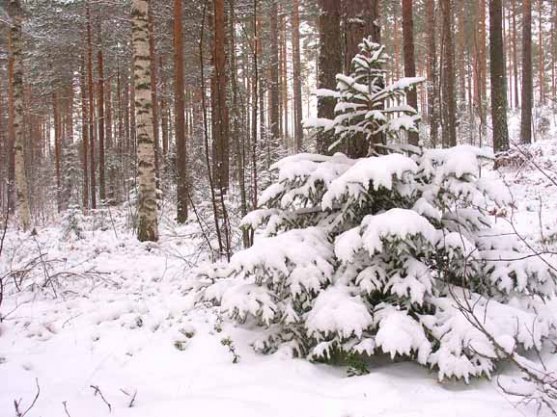 I was six or seven years old when I started earning pocket money by collecting conifer cones from living trees. After I gave up my promising profession as a Tree Climber I concentrated on sitting still in the trees. Listening sleepy western wind blowing slowly, slowly high up in the tree crown. Hearing birds singing, hmmm… some quite loudly. Watching green trees and bright blue sky gradually turning darker after the sunset.
The sound of silence is one reason why our wellbeing improves in the forest.
The British researchers have found that green color of the trees is very helpful for you if you suffer from migraine, depression, coronary heart disease, high blood pressure or unexplained physical symptoms. The best place for your compassion meditation or other meditations is therefore under the green trees.
So the green color (with its very own wave length) is one reason why our wellbeing improves in the forest.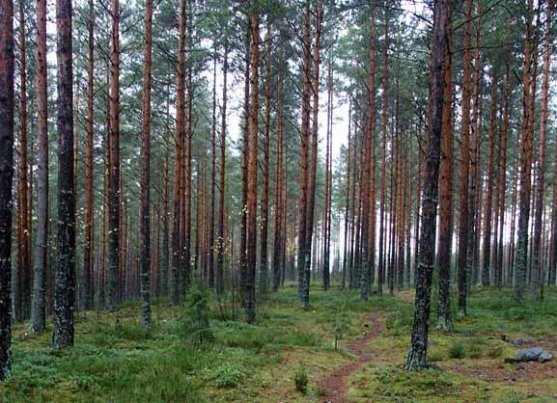 And now I would like to invite you to try one method we ForestLollers use when we like to relax and just be present at this moment. Imagine yourself in the forest which you see in my picture. Go find your tree, say hello, turn around and lean your back to the tree. Relax by breathing deeply in and out a few times. Then imagine that you inhale deep from the roots of the tree to your heart. Stop for a while and breathe out from your head to the crown of the tree and from there on into the sky. Stop and inhale from the crown of the tree to your heart and stop. Breathe out from your heart to the roots of the tree. Do this for five-ten minutes. Count to four while breathing in and out. If any thoughts arise just let them slide away with your breathing.
So the conscious breathing with trees is one reason why our wellbeing improves.

But what does bio-electromagnetism do for our well-being?! That is the question we are going to take on next time. Now lets´ go out and find our trees and practice the Noble Art of Standing Still under The Tree and do some TreeBreathing.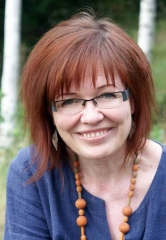 Mirja "ForestLoller" Nylander is a heart-based slow life entrepreneur who enthusiastically researches what the forests have to offer for our natural well-being. She is an easy to get along and encouraging Green-care Coach and Mentor.
She is a wild nature expert – under work is PhD from Forests and well-being – who currently serves and is looked to daily by those who want simple actionable steps for long term empowerment and people who want to lighten their emotional footprint.
She is a founder of Forest Lolling method which help busy, stressed and overwhelmed people to relax and find their inner peace in simple ways by using eg TreeBreathing and ColourBreathing (13 colours). These and 13 other skills she teaches and guides in her books, webbinars, lollinars, courses and other events.
More information: Metsäkellijät / Forest Lollers Facebook pages, Mirja`s "Metsäkellijän kellauksia" blog, "Light green" YouTube video and "Forest Lolling" YouTube video. (I`m sorry! Links only in Finnish)