Winter is dark and cloudy up in the North. For example in Mikkeli in Eastern Finland the sun was shining only 8 minutes in November! 8 minutes!
Daytime is already getting longer now but there are still few months to go before the darkness is truly beaten.
Whiteness of the winter is wonderful, but darkness? Not so much.
We need the Sun to be well and happy.
Go and enjoy the Sun! Whenever you can! You´ll notice the difference in your body & mind.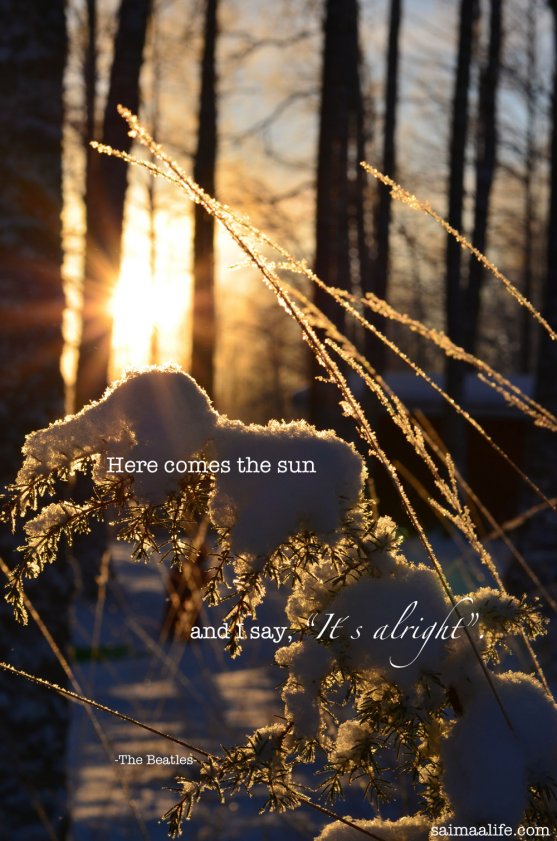 Her comes the sun
– The Beatles-
Here comes the sun
Here comes the sun, and I say
It's all right
Little darling, it's been a long cold lonely winter
Little darling, it feels like years since it's been here
Here comes the sun
Here comes the sun, and I say
It's all right
Little darling, the smiles returning to the faces
Little darling, it seems like years since it's been here
Here comes the sun
Here comes the sun, and I say
It's all right
Sun, sun, sun, here it comes
Sun, sun, sun, here it comes
Sun, sun, sun, here it comes
Sun, sun, sun, here it comes
Sun, sun, sun, here it comes
Little darling, I feel that ice is slowly melting
Little darling, it seems like years since it's been clear
Here comes the sun
Here comes the sun, and I say
It's all right
Here comes the sun
Here comes the sun, and I say
It's all right
It's all right