A small story about friendship because Valentine's Day is near. Why friendship? In Finland, Valentine's Day is called Friend's Day so you have the option to celebrate it either with your closest friends or your valentine – choice is yours! I'll also give you an easy recipe for seed-carrot crispbread in case you want to delight your friends with something delicious (other than the usual chocolate).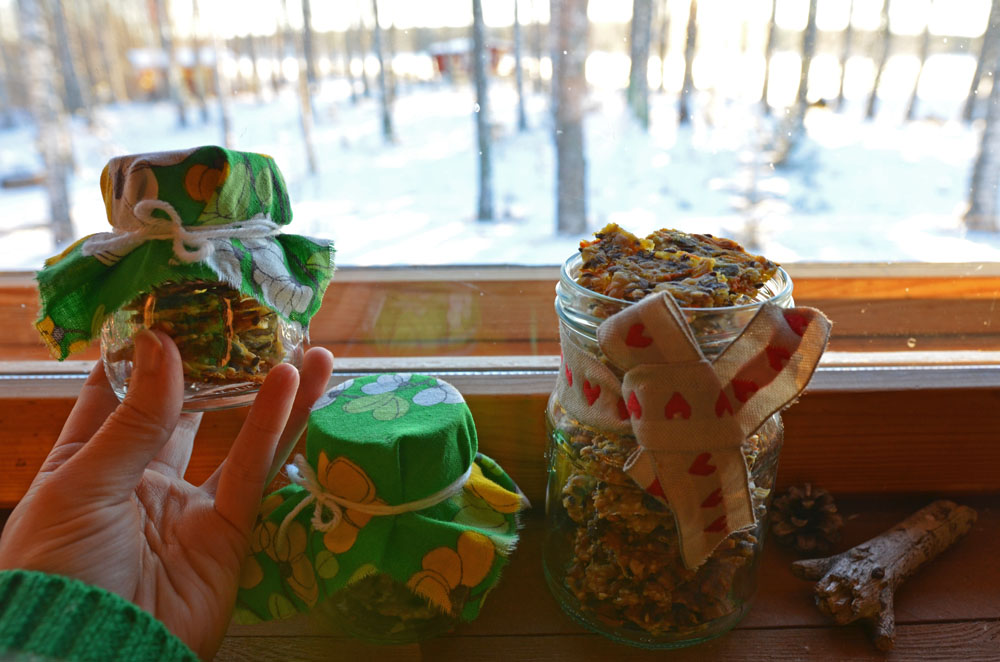 It was winter Saturday a couple of weeks back. My little sister asked me whether she could come to have a smoke sauna at our place with her friends who had never been to the countryside before. "Of course!" I said.
As I was lighting the sauna stove, our children noticed our neighbors with horses on the lake. We adults chatted and admired the gorgeous winter day while the kids were petting the horses. Then our neighbors asked if our girls would like to go for a small a horse ride. Needless to say, they jumped to the idea! I promised to take some photos and send them as a memory about our beautiful winter afternoon.
While the sauna was heating up, my sister and her friends arrived. We showed them around our home, and they were excited about our loghouse. Our new friends watched our girls and played Alias Junior with them while I made the seed-carrot crispbread for an evening snack. In the end, we all had smoke sauna together.
The first batch of cripsbread became a bit too crispy because we enjoyed sauna too long. But I didn't mind – we had such a good time! After the guests had left and the children had gone to bed, I had a moment for myself to bake some new ones. Here's how it goes:
Seed-Carrot Crispbread Recipe (one baking tray)
2 dl Corn flour (Maizena works too)
3/4 dl Sunflower seeds
1/2 dl Flax seeds
1/2 dl Sesame seeds
1/2 dl Pumpkin seeds
1-2 Carrot, grated
2,5 dl Water, boiled
1/2 dl Vegetable oil of your choice, e.g. olive or canola oil
Pinch of salt flakes
During the past couple of years, I've tried many seed crispbread recipes. Based on my test runs, this is the best crispbread recipe I've found so far: Simple ingredients and it's gluten and dairy-free. And if you leave the carrot out you don't need to even get your hands dirty while baking this! If you do so, you can keep the amount of other ingredients unchanged.
Here you see me using a plastic bag as a glove while I'm spreading the dough to the baking tray. It's not because I don't like to get my hands dirty, but because spreading the dough is MUCH easier this way. 😉 You can also spread the dough by pressing it between two sheets of baking parchment paper.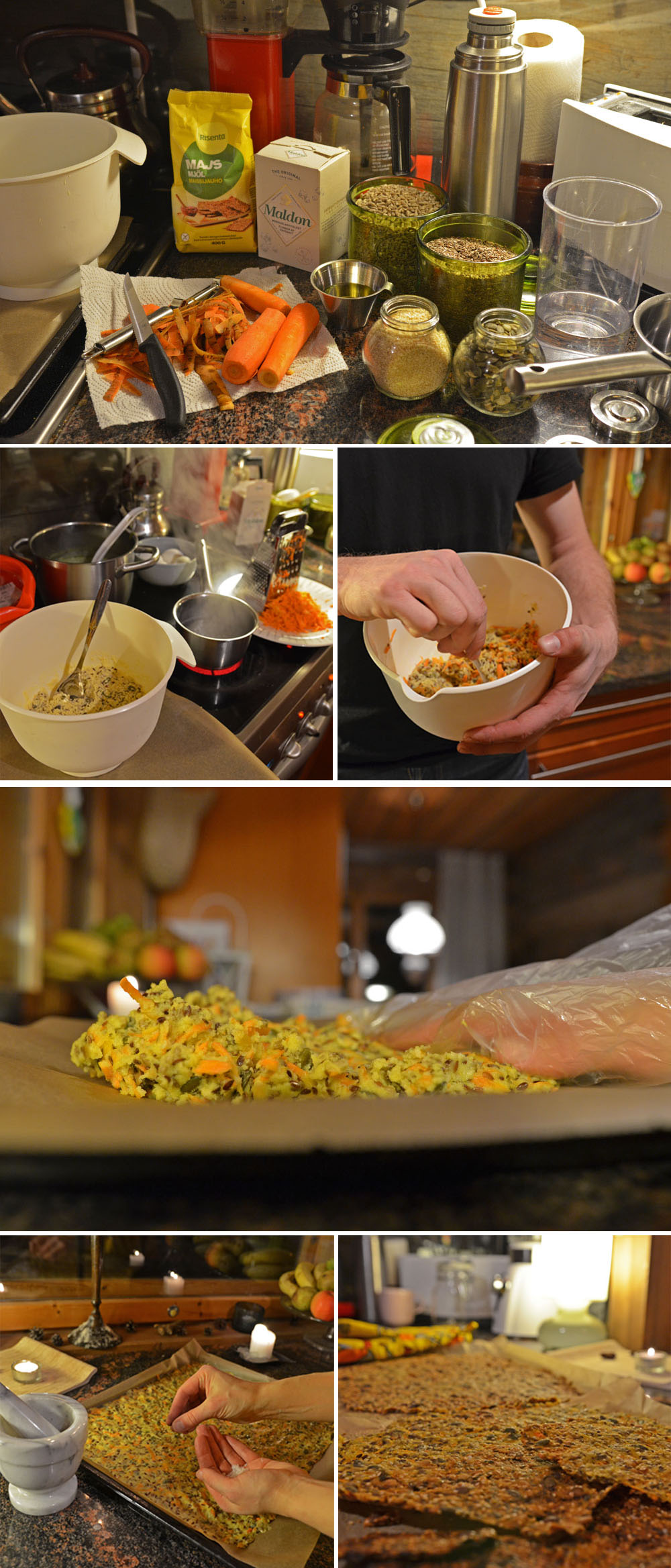 Mix corn flour, seeds and grated carrot together
Add hot water and oil
Stir until all ingredients are evenly mixed and spread the dough evenly on the baking tray and so that it makes a pretty thin layer (about 0,5 cm thick)
Sprinkle the salt flakes on top
Bake at 150 C for 60 min
Enjoy!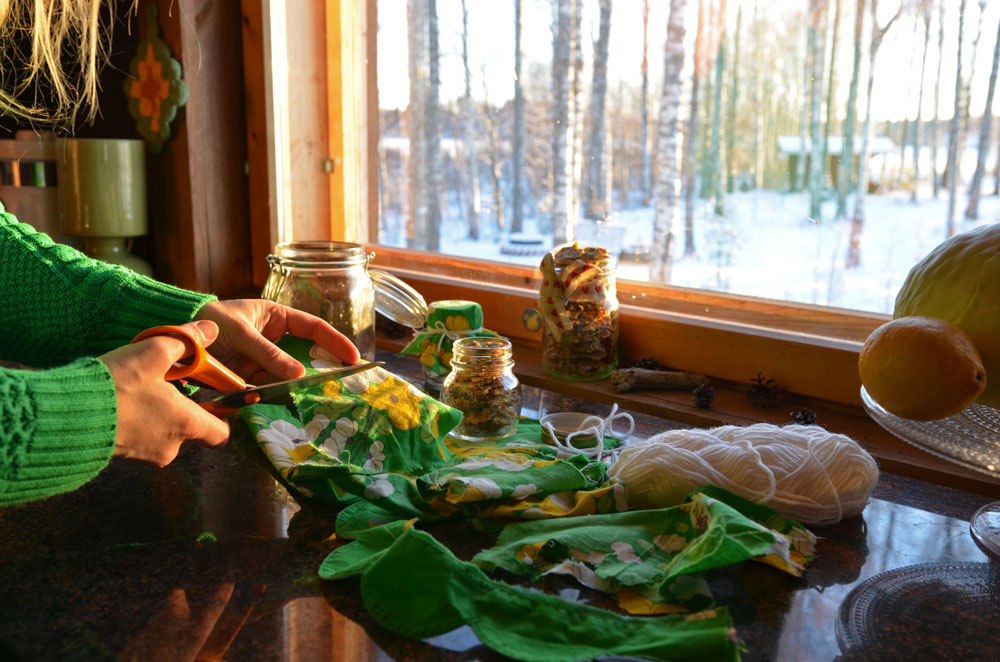 The following week I crafted cute Valentine's Day gifts by decorating glass jars with recycled fabrics and filling them up with crispbread pieces. I'll take them to my friends this week when we meet in a recently-opened cafe in Savonlinna (I hope they will like my gifts)!
As I was decorating the jars, I took a moment to think all my other friends and people who have helped me altruistically in so many ways bringing joy to my life. I hope that I can be as good friend for them as they have been to me. I was also grateful for meeting new friends and sharing moments at our home with them, and for our neighbors who made our girls' day that day by sharing something that they had to offer.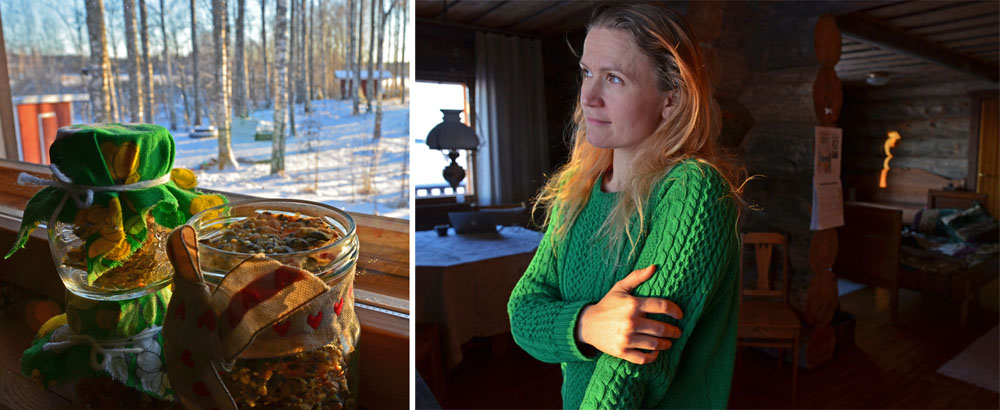 "It's the friends we meet along the way that help us appreciate the journey."
Happy Valentine's Day!