I've had a vision of my blog photos already for a long time. I want to start photographing also products in Finnish nature. That's simply because I think the natural light, natural colors and natural surroundings bring out the best in…well, everything and everyone.
Being in nature is the best for your wellbeing. I also think that seeing nature, no matter where it might be, helps you to feel better. A picture of the beautiful sunset. A painting of a forest in all of its autumn colors. A photo taken on a lake in a snowy and sunny winter day. When we see those kind of images, they all make us feel good and calm. They even make our bodies to produce hormones that help us to relax.
I want my blog to give good feelings to my readers in every possible way. That´s why I've had a vision to make nature more visible in my blog. I feel that nature is the best background for products that are presented in a blog which main theme is "Natural wellbeing".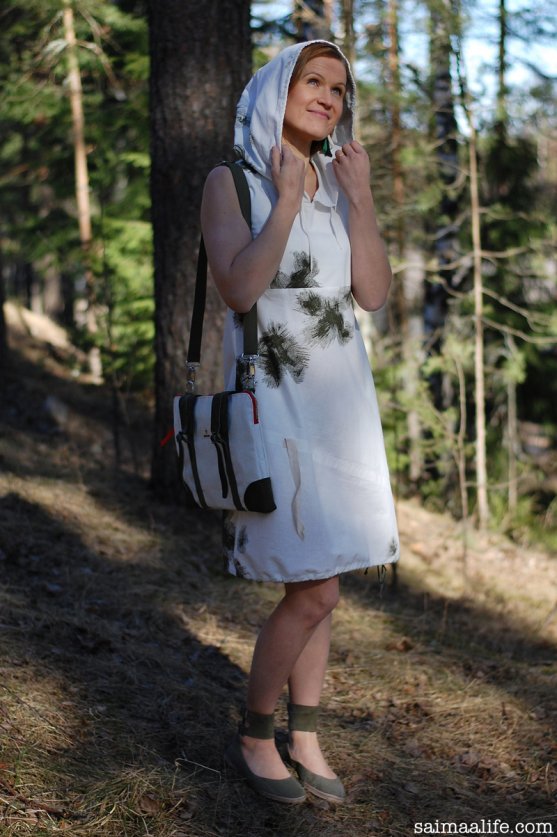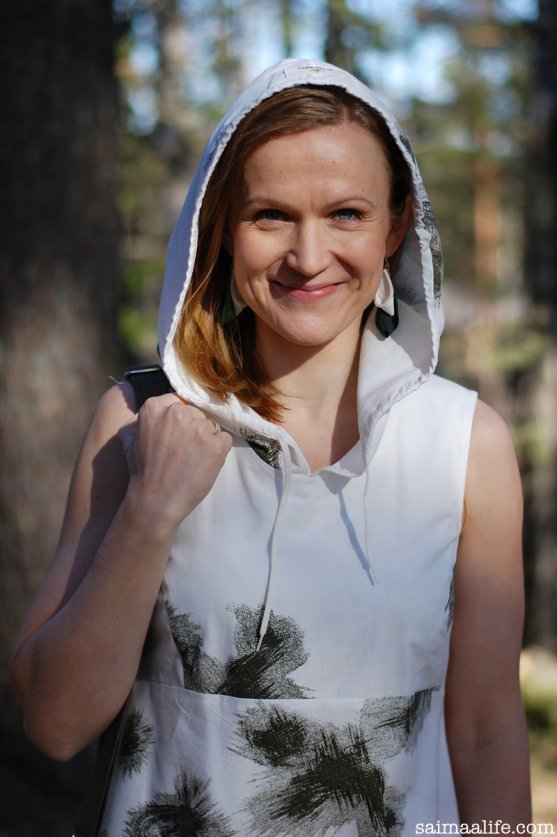 The only thing that has stopped me from carrying out my vision so far has been our lovely daughters. You can do many things with small children but not everything. Or not at least in a way or as concentrated as you would like to.
Patiently I have waited for the day when our youngest one is old enough to be left at the grandma´s with her big sister. Just so that this working mom could carry out her vision. That day came true now!
It´s always as exciting to put your vision into practice because you never know whether it really works or not. This one did 100 %!
Beautiful spring sun, blue sky and greenness of pinewoods brought definitely the best out of Globe Hope´s Binti dress that is made of an old army snow camouflage cape and parachute. The fabric is so soft against the skin! The dress fits perfectly with Heva laptop bag, Sade earrings and Haidu shoes that are also made of recycled or discarded materials. Finnish eco fashion at its best!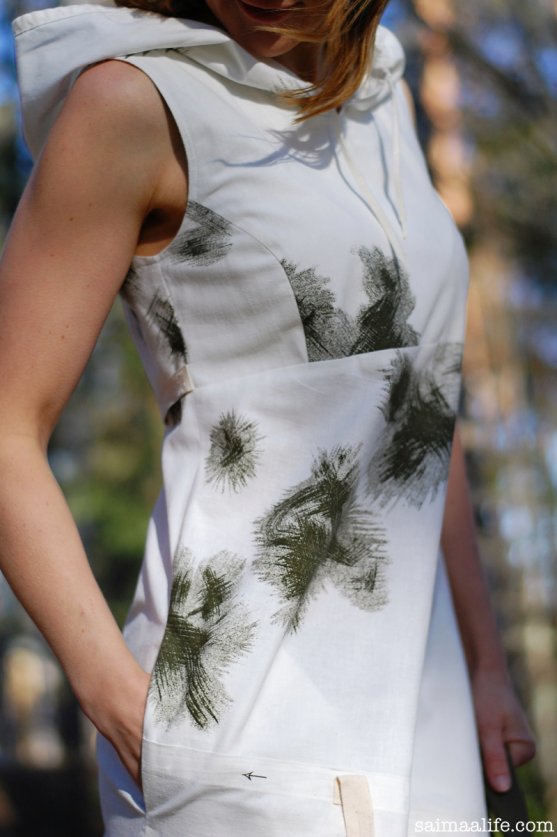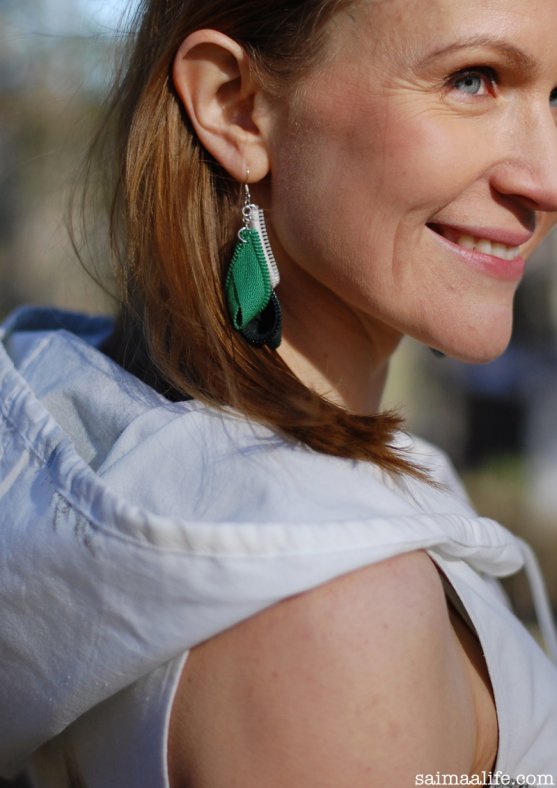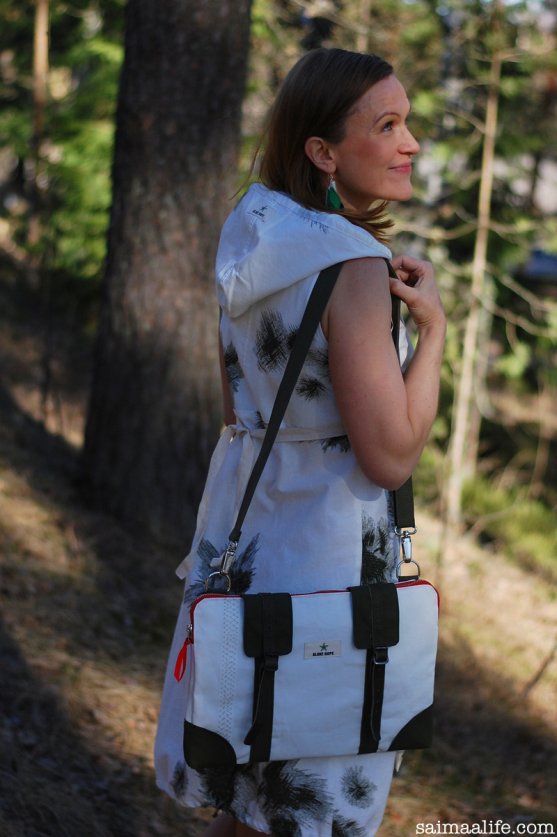 I´m allowed to select some products from every Globe Hope´s collection without a charge. Those products I´ve marked with ℅ sign to my posts.
Laptop bag is the product that I´ve needed already long but haven't been able to find the one for my taste. Now I did! Globe Hope´s Heva laptop bag is made of old sail and army fabrics. It looks good and is big enough for my Macbook. I also like that I can use it as a shoulder bag. As you know I often cycle to our library to work. Now I don´t need to use our girls´old baby sleeping bag as my laptop bag anymore. That is so great!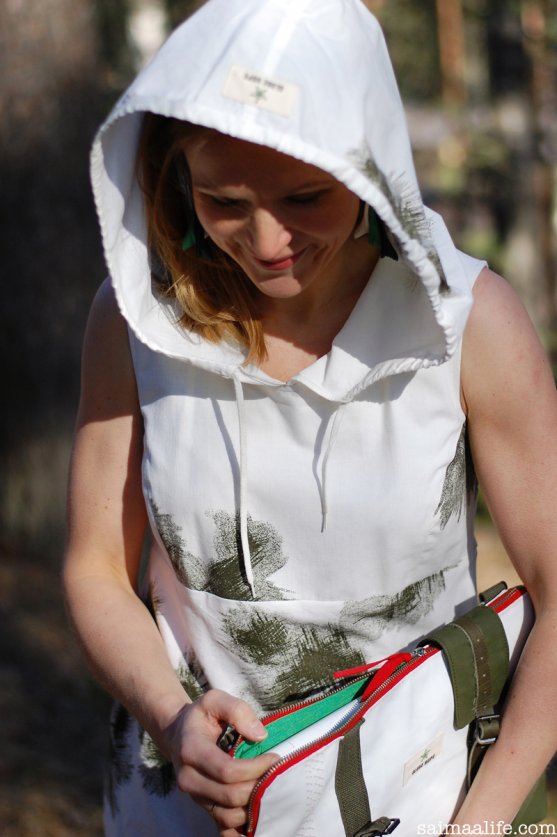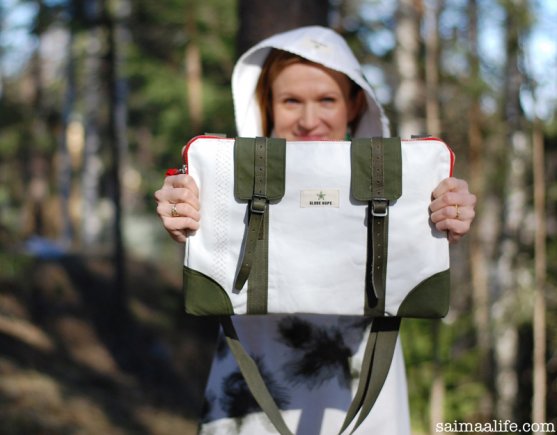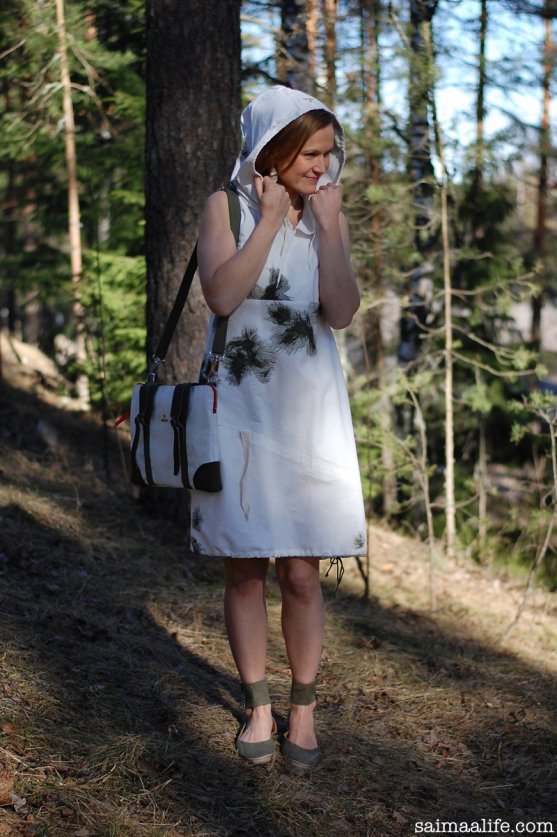 Thank you so much Marianne for helping me to carry out my vision. You definitely have an eye for photographing! I loved to work with you again!