"As the cold water covers our bodies from wild swimming, we feel alive. We are free."
I thought that it could have been my sentence when I read it from them the article.
There's something extremely purifying when you swim totally naked in natural waters, like in a lake, river or ocean.
During the summertime nude swimming (or skinny dipping, how it is also called), is one important way for me to relief stress and relax both physically and mentally.
Swimming in nature only my birthday suit on has also helped me to overcome problems that I have had with my body image and sexuality. And I know that I am not the only one.
Nude swimming in natural waters can be a healing and empowering experience too.
That is why it is a topic that definitely deserves its own post.

Let me first give a list of reasons.
Reasons why swimming in natural, cold waters is good for your health:
Contact with natural waters stimulates and boost the immune system
Swimming in natural waters triggers the release of endorphins
Natural waters swimming jump starts blood circulation
It reduces stress
It burns more calories
It increases your libido that means more confidence, higher self-esteem, and enhanced mood.
Read more: 5 Reasons to Swim In Natural Waters and 6 Amazing Health Benefits Of Cold Water Swimming.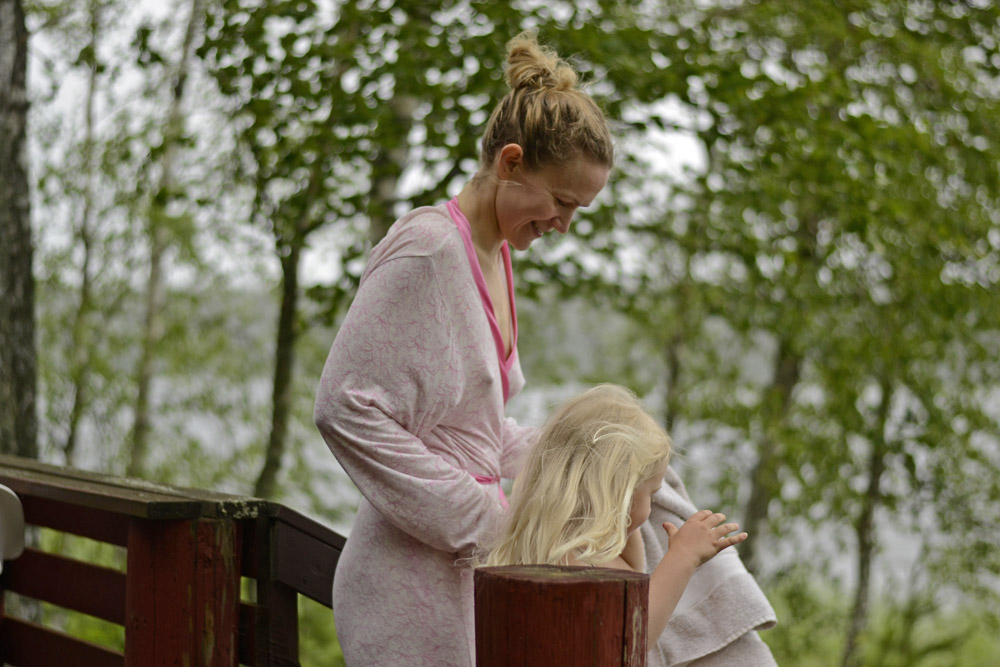 Personally, I have experienced all of these health benefits of swimming in natural waters to be true.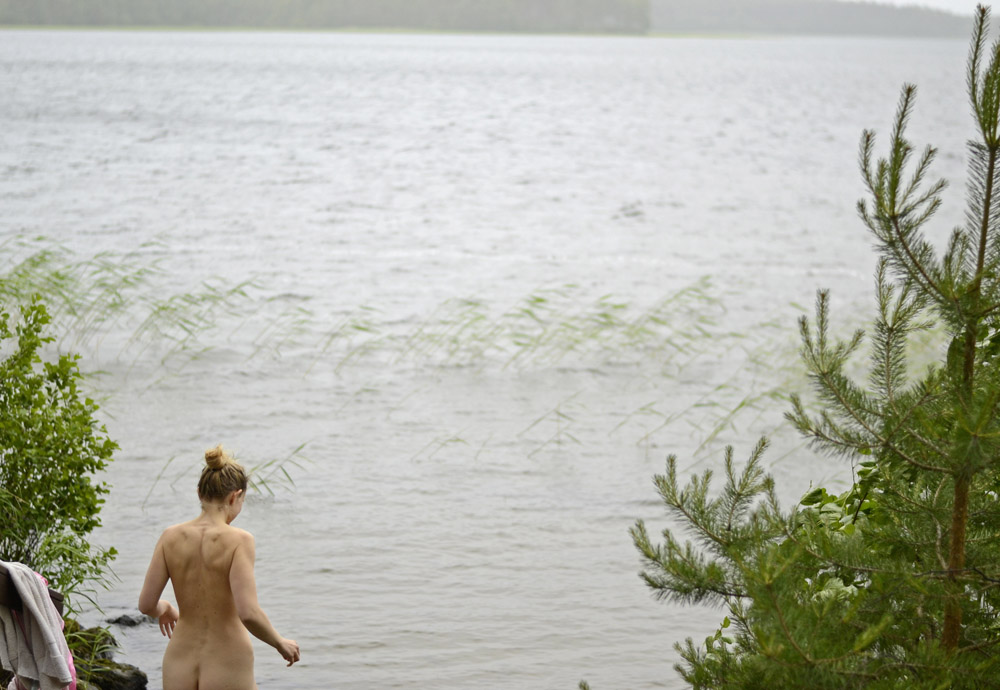 "Earthing" is a concept that you also easily bump into when finding reasons why to prefer swimming naked in natural waters over swimming in an indoor pool your swimsuit on.
"Earthing, or grounding as it is often called, refers to being barefoot outside or in bare skin contact (…) Connection with the Earth restores a lost electrical signal to the body that seems to stabilize the complicated circuitry of our essentially-electrical body. Our built-in self-regulating and self-healing mechanisms become more effective. There are head-to-toe improvements. Better blood flow. Less pain and inflammation. More energy. Deeper sleep."
That is how Earthing Institute determines the concept.
Earthing may sound quite mysterious but there have also studies made about that too.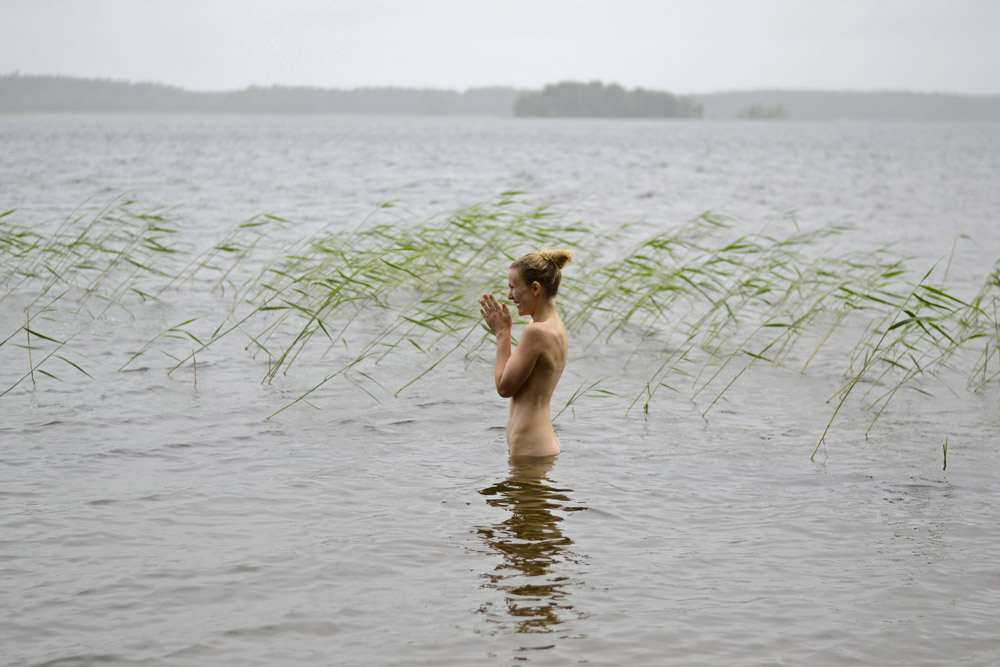 Next, someone might ask that "Why naked? After all you are already quite naked when you swim your swimsuit on?"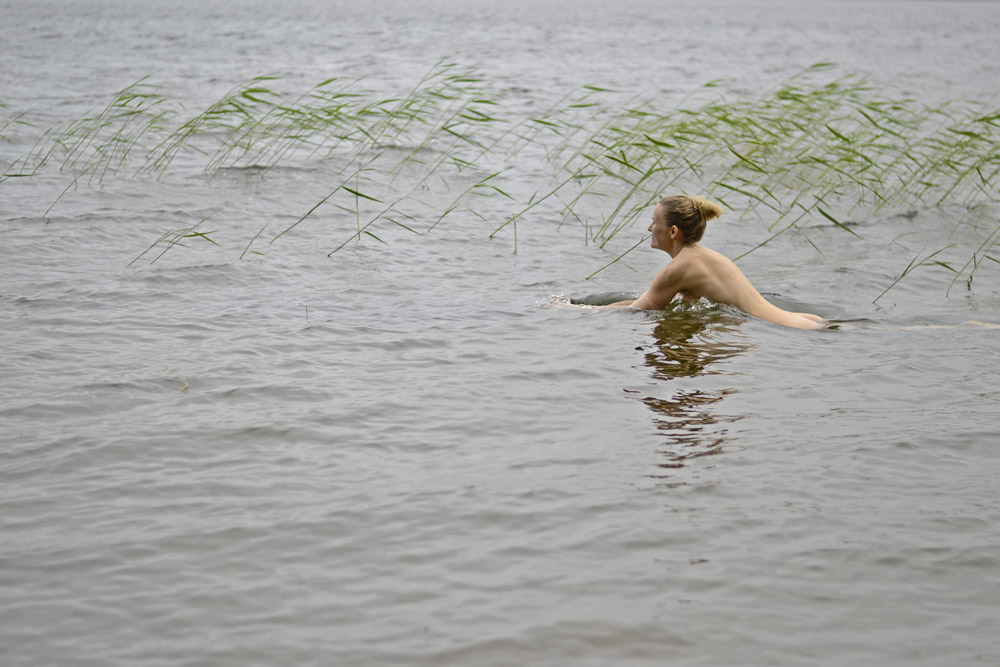 Yes, a little is better than nothing. If you, in general, get a chance to swim in natural waters, I recommend you to do it.
But as it was said also in the article mentioned in the beginning;
"You don't enjoy the full effects of cold water unless it's all over your body."
I agree. For years I did my morning swims swimsuit on. Now for two summers, I've done the same naked. Based on those experiences, my opinion is too that swimming naked is the best way to maximize the mental and physical health benefits of wild swimming.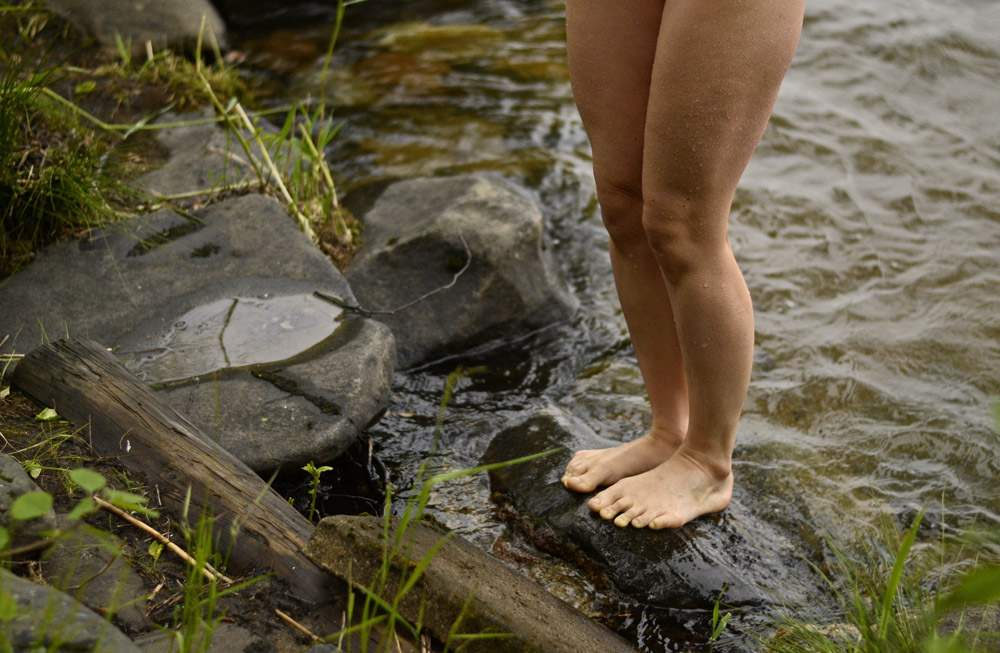 However, nudity is not a simple thing.
Here are 3 tips how to add more quality to your wild swimming experience (or create as pleasurable experience as possible if you are a beginner):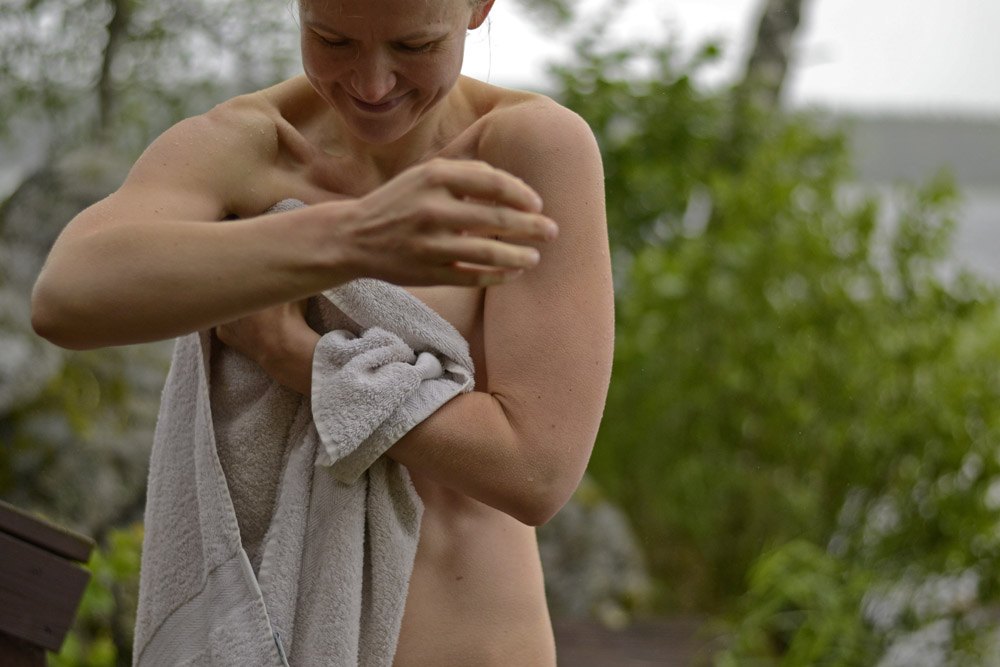 A) Choose the place carefully
Ability to feel safe and relaxed is a crucial part of a positive experience. Arrange yourself a place where you don't need to think or worry that someone, who you don't want to see you, might do that.
I've had my best experiences when I've swam alone.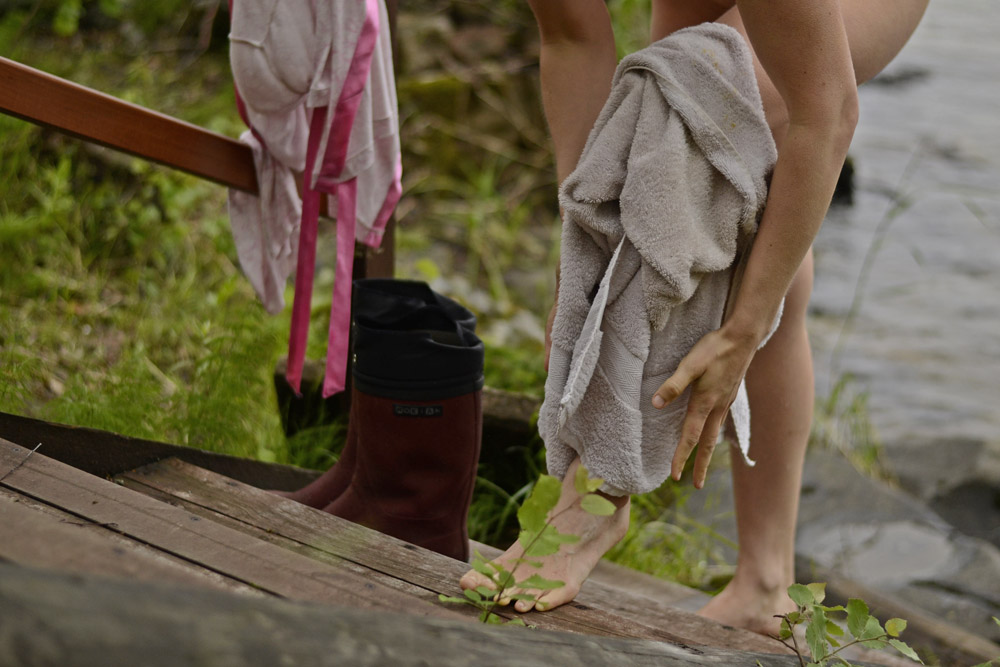 B) Gently push yourself out of your comfort zone
Even though you would do your swimming alone, it may feel weird and uncomfortable at first to be naked outdoors. (I sure felt that I wanted to cover myself with a towel). But do not let it stop you. Natural waters are also often cold. Do not let it stop you either. Slowly but steadily push yourself out of your comfort zone.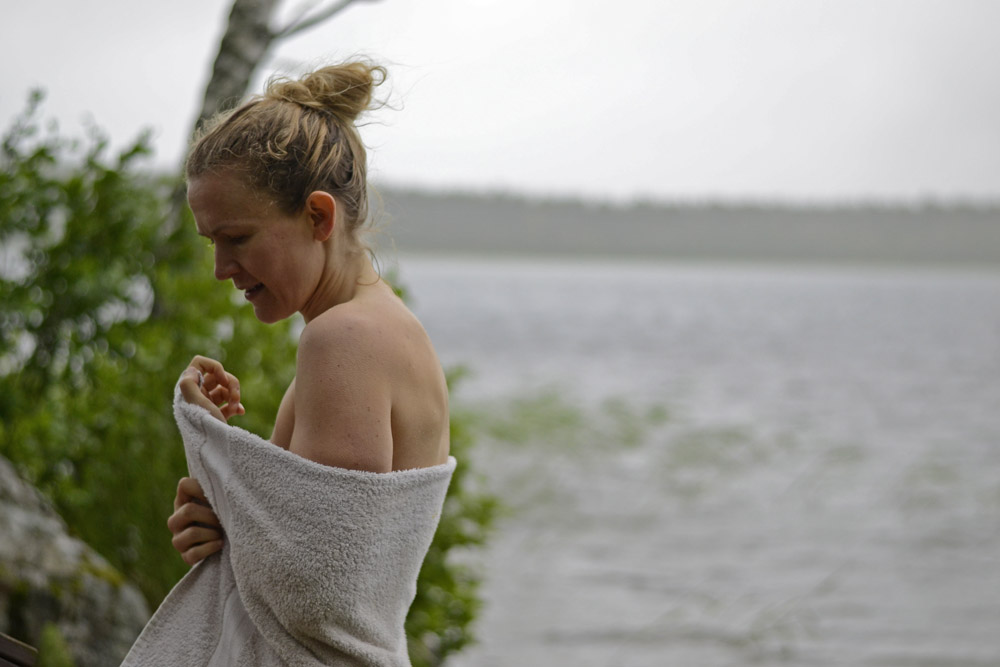 C) Do it mindfully
Get used to the water peacefully. Breathe deeply, look around, feel the earth under your feet and the water on your skin. Acknowledge your feelings but consciously take your attention also away from you to nature around you.
Enjoy the feeling of connection with nature and especially take the time to enjoy the feeling after your swimming.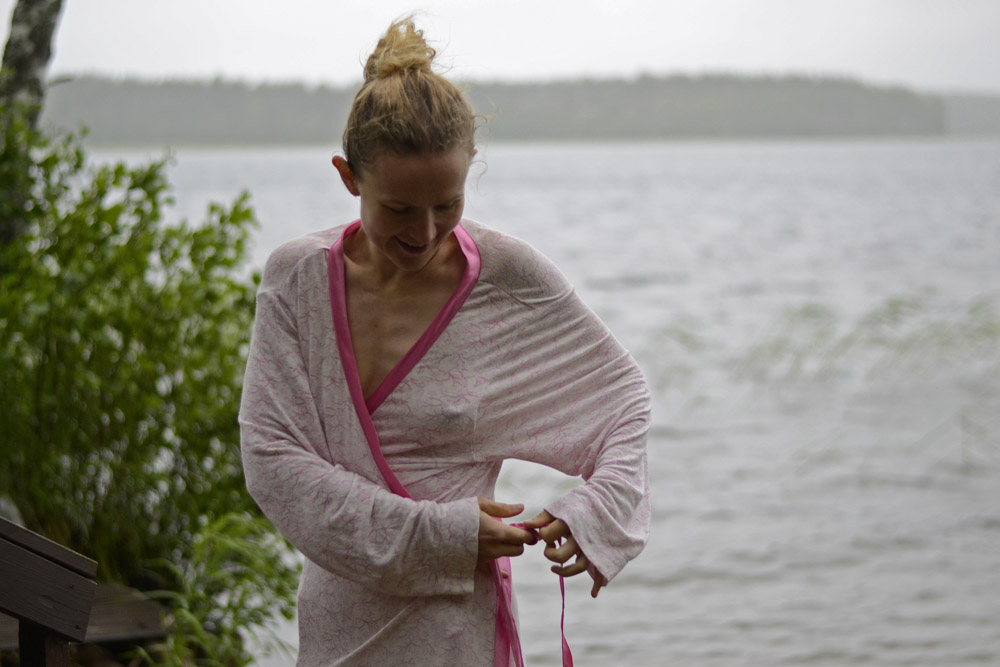 I know that it is not easy to find a place where you can have this kind of a relaxed and private nude swimming experience. In many countries and cultures, it is almost impossible.
My home country, on the other hand, is full of cottages with lakeside sauna. Places that are in the middle of nature and so remote that you really don't need to think whether someone might see you or disturb your intimate experience.
So you may consider renting a lakeside cottage from Finland if you want to offer yourself this kind of a luxurious nature wellbeing experience.
I recommend you to try morning swim in a lake but also a combination of hot sauna and cold water swimming. The feeling afterward is heavenly!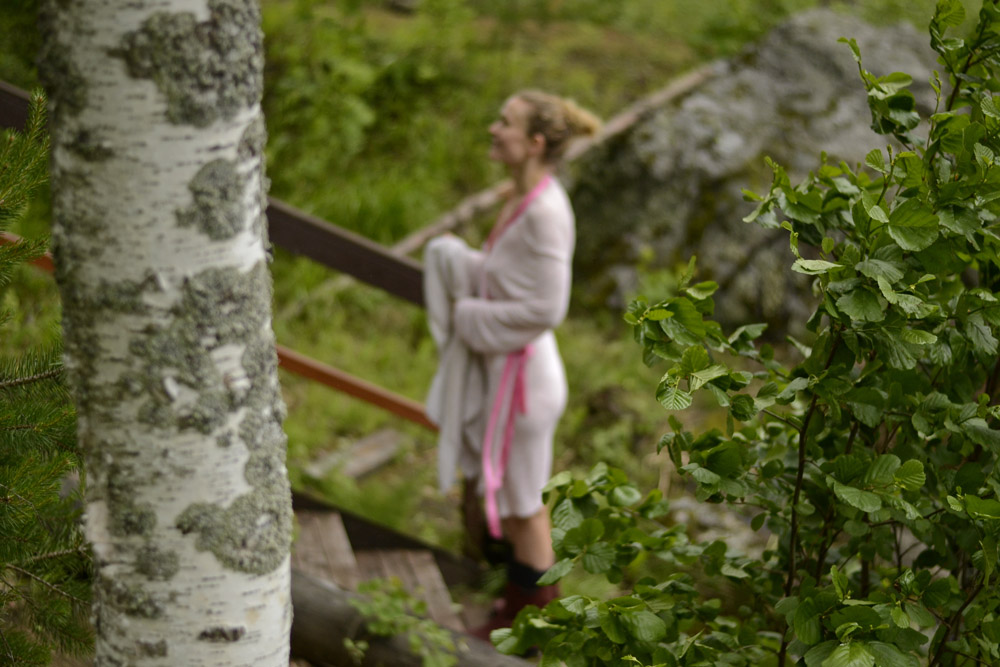 When we talk about swimming in natural waters, we often talk about it as a way of recreation.
It is that too, but what I would like you to remember from this post is that it is so much more.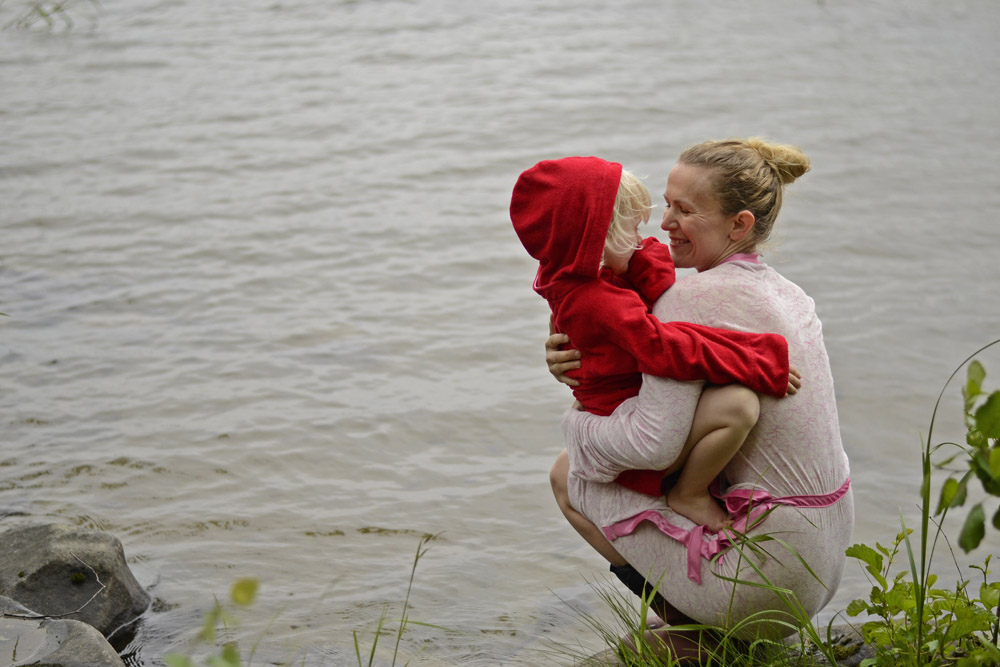 "As the cold water covers our bodies from wild swimming, we feel alive. We are free."
Yes, when I swim naked in nature, I feel free and light. And when I walk out of the water after the swim, I feel alive and strong. That is why, even on a chilly summer morning, I found myself standing in the cold water ready to dive.
Because life feels pretty damn good when you feel free, light, alive and strong.
Photos: Marianne Ahonen Photography