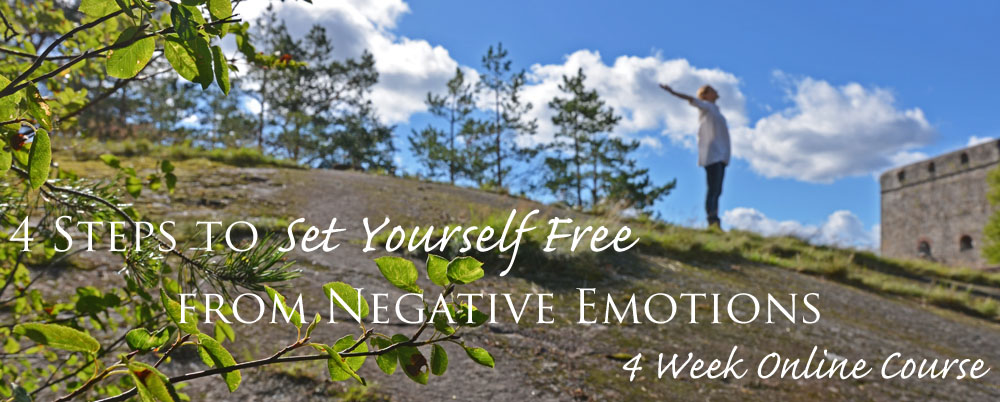 NOTE! THE FIRST ROUND OF THIS COURSE IS OVER NOW, SO SIGNING UP TO THE COURSE IS NOT POSSIBLE AT THE MOMENT.
Yet you are more than welcome to read more about the course below.
Best wishes,
Mari ([email protected])
***
Do you feel stressed? Do you find it difficult to wholeheartedly enjoy the good things in your life? Do heavy thoughts sometimes keep repeating in your head over and over again?
It doesn't have to be that way. You can feel better already by this holiday season 2016. Use this November to change your life around and become more present around your loved ones.
"4 Steps To Set Yourself Free From Negative Emotions" online course combines personal experiences with psychological expertise and brings you the best of mindfulness and environment-based relaxation techniques.
This 4-week course gives you the roadmap and tools that help you enhance your emotional processing skills, release negative emotions and find your way to a more relaxed and mindful life.
The course starts on November 1, 2016 – sign up today!
Take time to focus on yourself before the holiday season starts. You have earned it.

Limited time offer! Join now for only EUR 39.00 / USD 43.00* / GPB 35.50* / AUD 57.00* / RUB 2730* – 14-day money back guarantee.
By taking the course you will learn to:
Use your mind, body and surroundings more actively for emotional processing and your wellbeing

Make time and space in your everyday life for yourself and your emotions

Re-connect with yourself and process your emotions in a constructive way
Understand how different environments affect your mind and emotions
Use nature-based tools to process your life and emotions & use nature for stress recovery, self-regulation and wellbeing
Adopt concrete ways to help you to let go of negative emotions and old thought patterns that no longer serve you
You can listen to all course lessons in the comfort of your home or while driving, cooking or walking. The course material is compatible with all your devices. We have designed the schedule to fit various lifestyles – whether you are busy with your career, family or both.
Living in a city? Don't worry – a small park or some other green space close to you is enough. You can also do the exercises indoors. All you need is the willingness to change your old thought patterns.
DOWNLOAD SAIMAALIFE'S FREE E-BOOK "A GUIDE FROM STRESS TO RELAXATION" TO LEARN MORE ABOUT NATURE-BASED RELAXATION.

The course includes
3.5 hours of lessons in podcast format – the key content of the course available for you easily

Videos and reading material that support the lessons and boost your motivation

Exercises and assignments that help you apply the lessons learnt in your personal life

Discussion board for interacting with the instructors and participants

Downloadable PDFs for all assignments and key content. It's yours to keep after the course!
Here's more what's coming up in the course:
Week 1 = Course Orientation and the First Step
"Learn to Slow Down in the Middle of Your Everyday Life"
Processing and letting go of emotions requires some time and energy. If your life is too full and busy, you won't have neither the time to sense how you feel nor the chance to change that. You end up going for quick fixes that will only lead to more troubles and your negative emotions will end up accumulating inside you. How to fix this? Why it is so difficult for us to slow down? How to get started? The first step includes practical approaches for getting started and simple instructions for building the basis for emotional processing.
Course orientation & timetable

Challenging emotions & my story (by Mari Pennanen)

The foundation of it all

Give yourself a permission to slow down

Environment affects us. Everywhere.
Listen to a free soundbite!
Week 2 = The Second Step
"Get Connected with Yourself and Your Emotions"
Finding the connection to yourself is a way to become aware of your emotions. Only after this, the emotion processing is possible. However, connecting or re-connecting with yourself and your emotions can be easier said than done. How to get there and how could natural environment help you with that? What to do when you're finally face-to-face with your emotions, and all you want to do is run away and go back? How to get over this uncomfortable feeling? The second step gives you answers to these questions and more.
Step-by-step from disconnected to connected

What do YOU feel and need?

How nature can support you
Don't be afraid of discomfort
Listen to a free soundbite!
Week 3 = The Third Step
"Don't Just Feel, But Process Your Emotions"
Being able to feel the emotion is important, but in order to release it, you need to learn to process it in a conscious and constructive way. Just feeling the emotion can make it worse and deepen its negative effects on you. How to process your emotions with the help of your mind, body and surroundings in practice? What are the key elements of emotional processing? The third step includes practical exercises which we will go through together and share experiences afterwards.
Conscious and unconscious work

Nature-based exercises

There are many ways. Find yours
Listen to a free soundbite!
Week 4 = The Fourth Step
"Decide to Let Go, and Move On"
There will come the right time to release your negative emotions. But letting go can be surprisingly hard. How to recognize when the time is right? How to practice letting go in real life? The fourth step prepares you for situations that you may encounter after the course. How to get yourself back on track when you experience a setback and you want to give up? The important triangle of your mind, body and nature. You are on your way to your best self and living your life to the fullest!
Enough is enough
Nature's support as part of life and emotional processing

Strengthening the new habits

Motivational boost for your future
Download course material as PDF to support you on your way
Listen to a free soundbite!
Course practicalities
After creating the user credentials for the online course platform, you will be able to view the first week's course material and assignments (starting on November 1, 2016). During the following weeks, you will receive an email notification every Monday when the next week's material becomes available. No restricting schedules – you can go through the material and exercises at your own pace. If you don't have time to take all the lessons during the four weeks, that's ok, too: The course material will be available until December 31, 2016. Check out also our terms and conditions and privacy policy.
Sign up today and start the journey to your best self.

Join now for only EUR 39.00 / USD 43.00* / GPB 35.50 / AUD 57.00* / RUB 2730*. Limited time offer! We provide a 14-day money back guarantee – it's easy and safe for you.
About the course instructors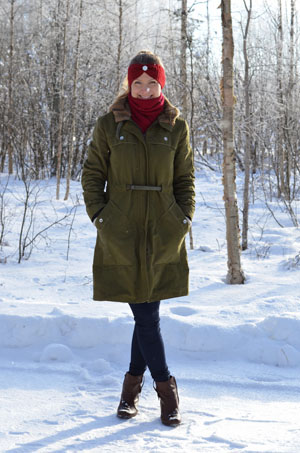 Mari Pennanen
The founder of SaimaaLife.com, inspirational writer & photographer, lifestyle & wellness blogger, entrepreneur & mother of two small children from Finland. Mari's passion is to find simple and natural ways to better mental and physical health and overall happiness. By sharing her life story and lessons learned, Mari wants to inspire and courage other people to find their way to better quality of life. Mari's own life's challenges – burnout, challenging pregnancy, marriage crisis and depression– have taught her how the combination of mind, body and nature has a lot to offer for wellbeing. In this course, Mari shares her journey from a person with no skills at all to process negative emotions to a person who not only can live with her emotions and thoughts without escaping to substitutes such as emotional eating, but who also has skills and tools to release negative emotions as they come. Check out and download Mari's free e-book "From Stress to Relaxation – 10 Ways to Wellbeing with the Help of Nature" to learn more about her approach to wellbeing.
"To become a wise woman, you need first to find a wise woman to show you how to live naturally, authentically, creatively. Mari Pennanen is my wise woman – SaimaaLife is my field guide. -Amy Alley, USA-"

"I have been following SaimaaLife for a few years now and I really enjoy Mari's down-to-earth approach to natural wellbeing. At SaimaaLife.com, she shares her thoughts on how to find balance and happiness in everyday life in a simple and meaningful way. Truly inspirational! -Sara Önnebo, Sweden-"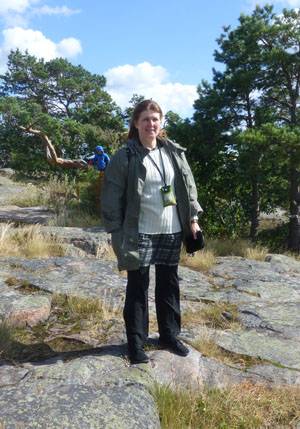 Kirsi Salonen
Finnish psychologist known for her work in environmental psychology. Kirsi Salonen has developed and used nature-based methods for 20 years as part of her work and research in the field of psychology. Kirsi applies these methods in practice as she goes out into the natural environment with her clients. According to her, people can more easily be themselves in natural environment or with the help of natural elements than in the built environment. Also, studies have shown that nature supports wellbeing, emotional regulation, and health. With Kirsi's guidance, you will learn how different environments affect your mind and emotions. And maybe you will notice how especially natural environment and connectedness with nature can be a potent resource for your wellbeing. Kirsi Salonen is an active member of many years of Green Care Finland association and the Finnish Psychological Association, where she is the Chairman of the Ecopsychology and Environmental Psychology Committee. She also works as project researcher in the University of Jyväskylä in Finland. The research project focuses on nature-assisted group interventions for promoting occupational well-being and work performance and nature-assisted interventions as part of occupational health services.
"Kirsi is able to create a permissive atmosphere and her teaching method is very pleasant and effective."

"Kirsi's approach is warm, empathetic and clear."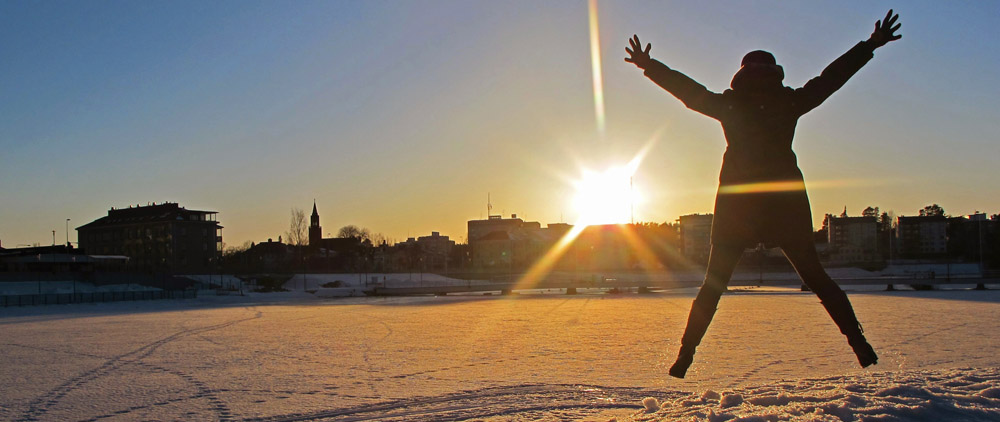 Benefits of enhanced emotional processing skills
Better stress tolerance and improved stress recovery
Being more present in your life
Feeling more relaxed and energetic
Being more content with your life
Less physical pains & tensions, increased overall sense of wellbeing in your body
Better resistance to other people's negative emotions
Deeper sense of happiness when you can help others, e.g. your children or partner, to process their emotions
Better self-esteem and self-confidence
Opening up more to life and its possibilities
Make your New Year's resolution already today.
Stop stressing and start living! Take the next step and find more inner serenity, wellbeing and success in your life. Try our innovative approach today and start enjoying life as nature intended.

Join now for only EUR 39.00 / USD 43.00* / GPB 35.50* / AUD 57.00* / RUB 2730* –
limited time offer!

If you are not happy with your purchase for any reason, you can have your money back within 14 days after the course has begun. Read more about our terms and conditions and privacy policy.

*Please note: course fees in other currencies than EUR are estimates. The actual price may depend on the exchange rates and will be confirmed only after the payment transaction is handled by your bank. Possible foreign transaction fees levied by the card issuer may apply.
Stay connected with SaimaaLife – sign up to receive the latest posts.
A dose of nature – delivered straight in your inbox.
Nature Inspired from Finland