Hi! I'm Mari. I'm a Finnish forest woman who is passionate about sharing the gifts of our nature and SISU, the Finnish art of inner strength. In my own life, I've experienced burnout, depression, and anxiety, but I've also been on a journey to heal from them. I've found a way to a balanced and happy life in this chaotic world, through harnessing the power of the human mind and a need connection to nature. I love to share what I have learned and that is why I created this workshop for you, here in my home Punkaharju. Located in the east of the country, just four hours by train from Helsinki, Punkaharju has been chosen as one of the 50 Natural Wonders in the World by CNN Travel. It's a MUST travel destination in Finland, in the heart of the Saimaa lake region.
During your stay, I'd love to take you to the forest with me. We will enjoy an immersive Saimaa lake nature experience that pampers all your senses and gives you a wonderful feeling of presence and relaxation. My workshop also gives you wellbeing skills to take home with you – you will learn the secrets of forest bathing, Finnish style, and tools to feel better more naturally in your everyday life. We will look at:
What all kinds of wellbeing benefits nature connection can give to you

How we Finns use nature and its different elements in our daily life to pursue health and happiness

The practice of forest bathing

Breathing and gentle stretching exercise

Talk about the importance of space, healthy life boundaries, humanity, self-compassion, processing emotions and getting connected with your own voice and intuition. How to learn to let go, calm down and just be.

How to get more clarity, balance, courage, joy, and lightness to your life.

Ways to take nature and ecopsychological practices with you from the forest to use it elsewhere in your life to relieve stress, haste, and anxiety.

Tea/coffee enjoyed together from wooden kuksa mugs

A copy of my handbook "Find Your Nature"
We use both our body and mind during the workshop to get connected with the nature around us and with ourselves. In the end, you may feel the connection to your soul, too. After the workshop, it is good to keep a notebook and pen with you because you may want to note down insights from the day.
Place: Punkaharju

Length: about 3 hours

Availability: Year-round

Suitability: For all. I select the place in the forest depending on your age and condition.

Equipment: Clothes and shoes suitable for walking and sitting in the forest. Note. this workshop is possible in all weathers. In wintertime part of the workshop will take place indoors.
You're warmly welcome to this journey with me!
Contact me [email protected] when planning your Saimaa holiday. I will give you other details about buying this workshop.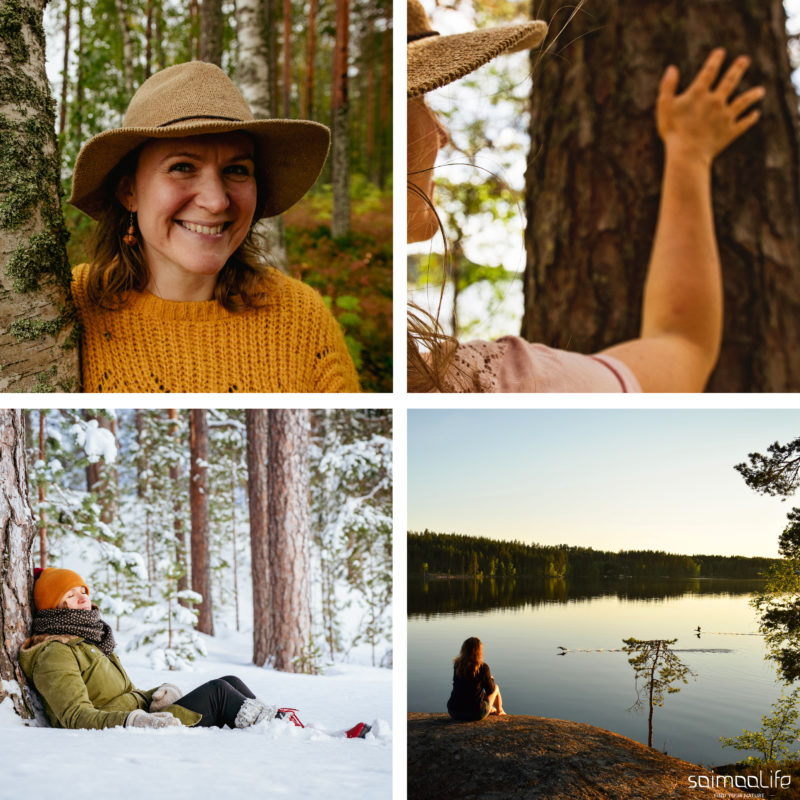 I recommend!
There are a lot of year-round travel and accommodation possibilities in Punkaharju. Visit Punkaharju is a good place to discover them. Book accommodation that suits your purposes. Of the hotels, I recommend Hotelli Punkaharju, rental lakeside cottages Tynkkylän Lomaniemi and cottage apartments Holiday Resort Harjun Portti.
Welcome to Punkaharju!