What do you think if we'd rent a house by the lake Puruvesi and see how it feels like to live in a house in the countryside?
My husband asked me that question one summer day on our boat last July. The girls were having their afternoon nap on the cabin and me and my husband were having coffee together.
What a great idea! Let´s do that! was my spontaneous answer. Girls aren't going to school any time soon. Now is the perfect time! I continued.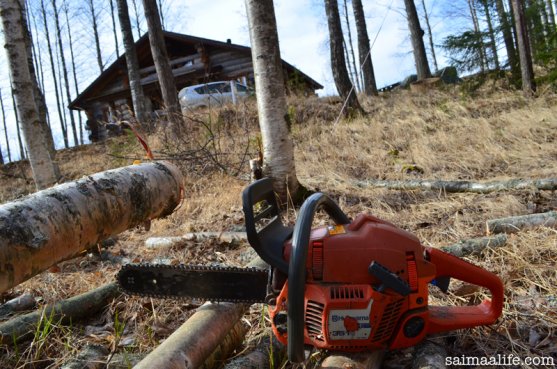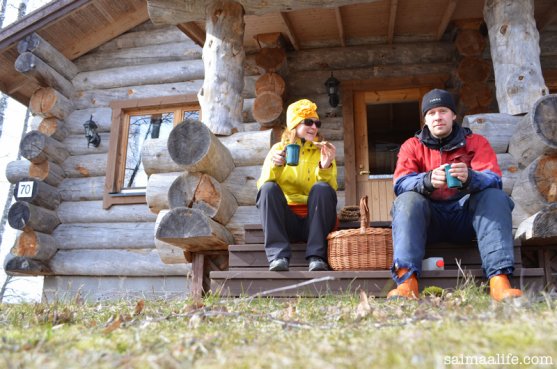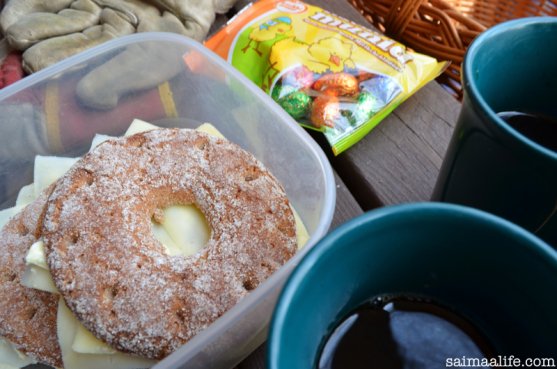 We had just talked how we enjoy living in our boat during the summertime. How we had noticed that we feel physically and mentally better when our days are filled with simplicity and nature. The town has begun to mean us less and less.
So, wouldn´t it be better to live in a place where all the things that are meaningful for us are close to us?
We had also noticed that we need less to be happy. We don't want more quantity to our family life, we wanted more quality. All that we want is to live simply good life together.
We certainly don´t want to be someday +60 and say "We should have done it back then.". We want to be a  couple +30  who has the courage to trust our intuition and do that what our hearts have to say.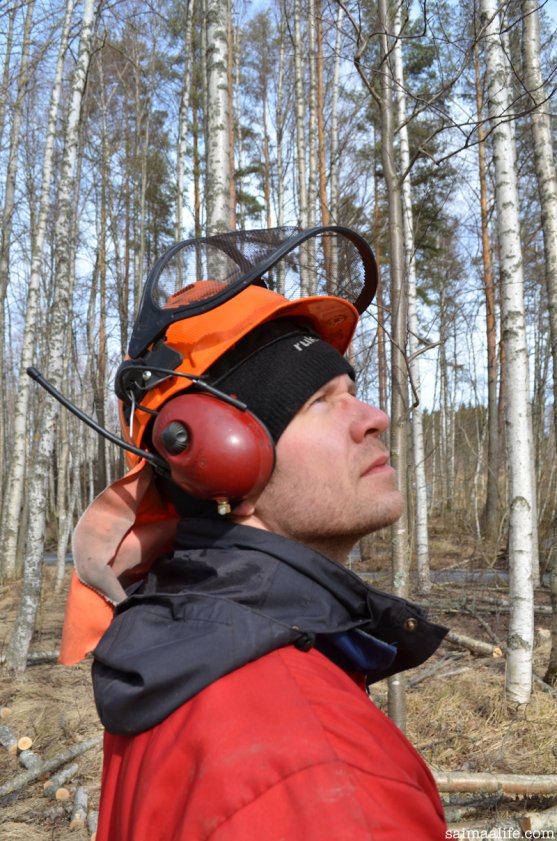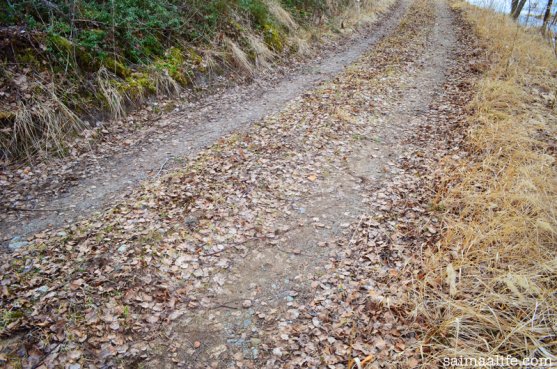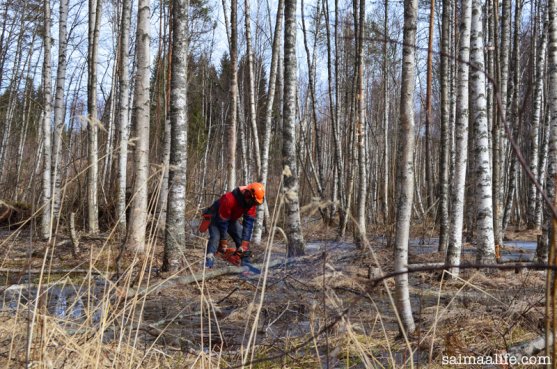 BUT. My husband has never lived in the countryside. He has no experience what it's like to live the long and dark Finnish winter without street lights. He is skilled ex-scout and his hobbies have taken him to nature for whole his life. But that´s still far from living everyday life in the countryside. A place where the nearest grocery (and street light) is 15 km away from home.
And me. Well, I´ve lived in the countryside for the first 16 years of my life. I know how deep the darkness can be there. But living in the countryside as a child is a quite different thing than to live there as a working mother of two small children. I don´t know how does it feel to take your sick child to emergency duty 40 km away.
Besides, we love our colorful town home. It´s big enough for us and it´s easy to live there. Everything is close. It wouldn´t be wise to make too big and radical decisions based on too romantic views about the simple life close to nature.
A realistic view about living in a house by lake in the Finnish countryside. That´s what we want to have. An experience that gives us enough knowledge to decide is a house in the countryside or an apartment building the right place for us and our wellbeing.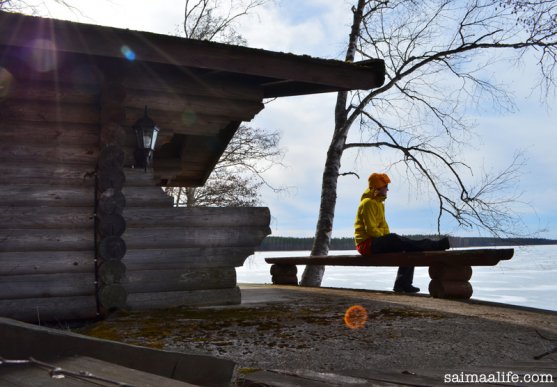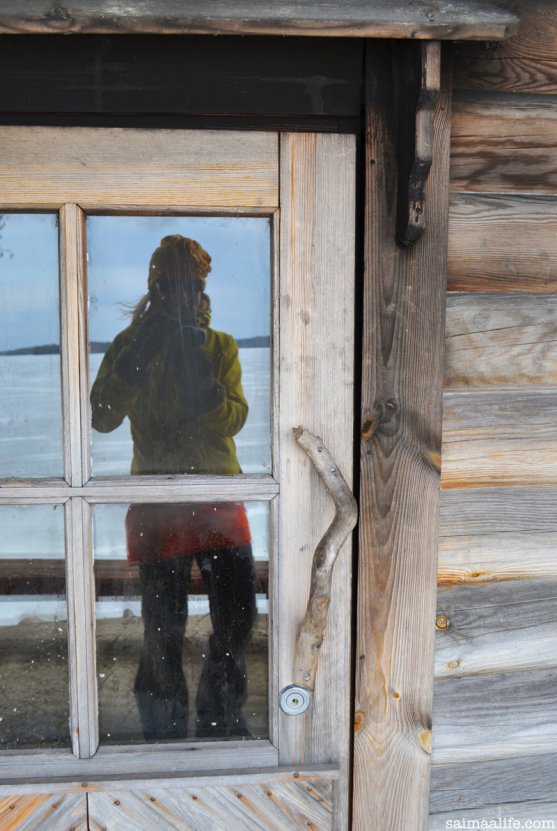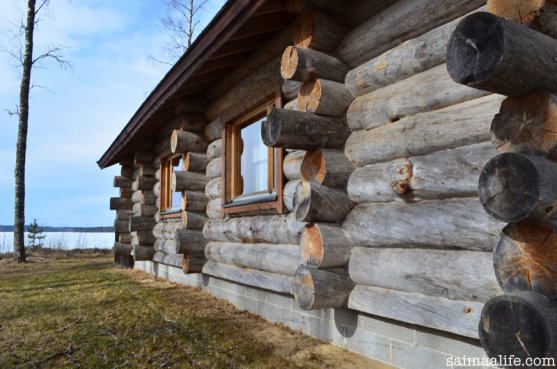 Things move forward when you work for them. In autumn we started to search for the right house to rent.
In January in our friends` wedding I realized that our other friend, quest at the wedding too, owns a cottage by the lake Puruvesi near my parents´ farm. Why not  give it a shot and ask? I thought.
We found a perfect match. A cottage that was empty during the winter. A cottage that fits perfectly to our plans. And our plans fit perfectly to our friend´s plans.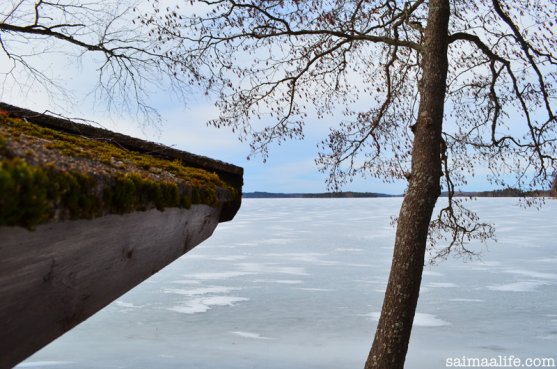 So here we are. Visiting our future home. Me and my husband having coffee together. On the steps of the cottage that will be our family´s home from the beginning of next September till the end of May 2015.
After coffee my husband continued his wood cutting. I smiled when I saw him looking at the birches. I sensed how happy he is doing physical work.
While my husband worked in the forest I walked around the cottage. I went to photograph our home road to be, sat next to the smoke sauna, imagined our girls swimming in the lake, planned how I would photograph the cottage and its surroundings for you.
I thought, how lucky I am.
And how life can be amazing. You just need to give it a chance to be amazing.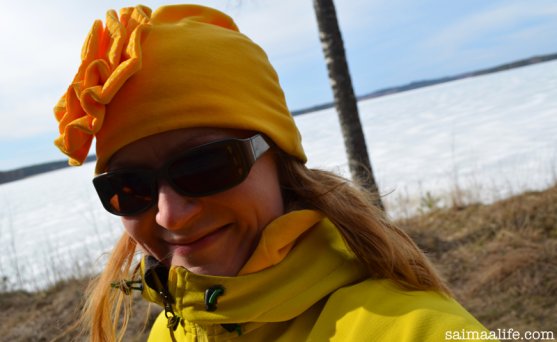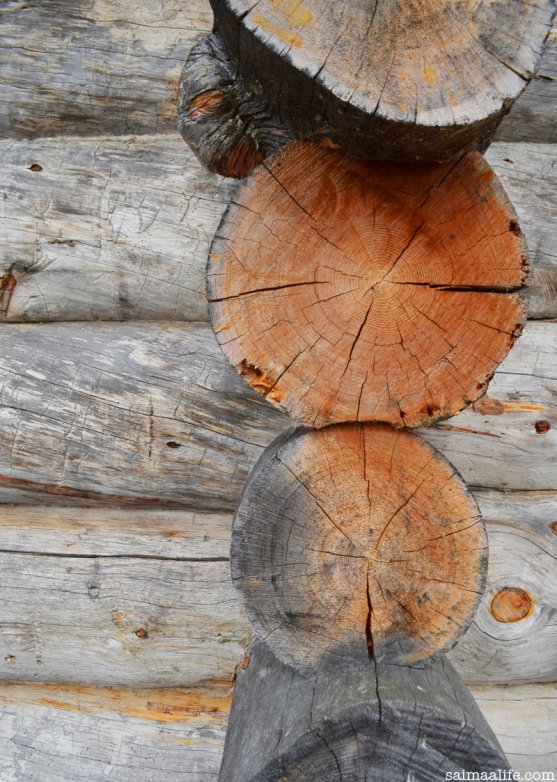 When I look at this last photo I feel calm and relaxed. Excited too, but in a good way. I feel ready to take the next step in my and our family´s life. I know it will include a lot of challenges and surprises that are not only positive ones. But even so I feel calm and confident. This will be a good thing for us. I know it will.
That's the view from our kitchen and living room next autumn. It is the view that I'm going to see while doing my yoga practice on our porch next September.
For some it's a boring view. For me it's a soulscape. A view that is a symbol of simply good life. A symbol of my dream.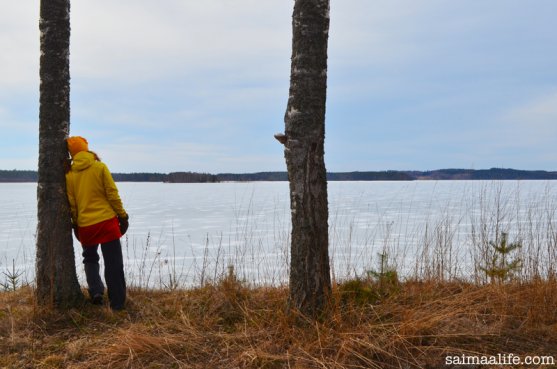 Mari ❤ SaimaaLife
I browsed through the photos that my sister and me took after my Helsinki trip. I noticed that the photos taken in Helsinki city center worked also as a small guide book to the city. The photos gave me an idea to write a kind of a post I don't normally write. At the same time I decided to tell you something about my blog that I haven´t told you before.
So here we go…Welcome to Helsinki city center with me!
A wish of a foreign tourist?
Before having children I worked in the tourism industry. Many times foreign tourists said that they´d like to see what an ordinary Finnish life is like. A will to respond to that wish was one of the reasons why I started photographing my ordinary everyday life in Finland on my blog.
After some time I started to doubt my decision. I thought am I just making fool of myself by presenting my everyday life and my very simple sources of wellbeing in my blog.
Then I got the first email from US. It went something like this. "Thank you so much for your blog! I´ve been following SaimaaLife already a while. I think your photos are very beautiful. I´m hoping to visit Finland some day!"
A little bit later came another from Kenya. Then a third one. I think it was from Germany. And then came the fourth.
Those emails meant a lot to me. They made me to realize that maybe my photos aren´t that silly after all.
I realized that there really are people out there who find my photos about my ordinary life in Finland interesting and beautiful! Some even so attractive that they had started to consider visiting my home country and experience the beauty of its lakes and forests on the spot.
Saimaalife.com gives you Finnish wellbeing
Natural wellbeing has been my blog´s main theme from the beginning on and will be also in the future. It´s the wellbeing model that I´m developing. A model that is inspired by my home region and home country, lake nature of Saimaa and Finnish way of life. A model for feeling well in natural and simple way, both physically and mentally.
Things like, sauna, rye bread, blueberries, lake fishing. All of those are examples of Finnish wellbeing and also big part of Saimaalife.com.
Couple of weeks ago I had a meeting in Helsinki with the Finnish Tourist Board. They host the Official Travel Site of Finland. As the result of our meeting I´m honoured to announce that Saimaalife.com starts co-operation with VisitFinland.com. I´m so excited about that!
What does our co-operation mean then?
Fun things! More things about Finnish natural wellbeing in my blog. Especially things that are closely related to one of the main themes of Visit Finland –  "Silence, please".
"In the rush and crush of modern life, the rarities are what we value the most, such as space, quiet and time. The space to breathe, a time to dream…you can find these treasures in Finland, where the lakes are many and the people are few."
That was taken from Visit Finland´s "Silence, please" site. With my SaimaaLife blog I want to promote that theme on my behalf. So that more people could get inspired of Finnish wellbeing. And more people would come to experience the relaxing silence of Finnish nature.
One thing is for sure. I will continue photographing my ordinary everyday life in Finland to my blog. And write about wellbeing that is inspired by the lake nature of Saimaa.
If you want to follow my Finnish life, like our family´s boat life and follow our mushroom and berry picking trips in forests and fishing trips on lake, feel free to become my blog reader!
Order my blog feed to your email. Or order Saimaalife.com blog feed to your RSS reader.
You'll find some extra photos and links to my posts from my FACEBOOK pages.
If you prefer twitter become my follower on TWITTER.
In INSTAGRAM I´ll share even more photos about my life in Finland.
Choose one or maximize your SaimaaLife experience by choosing it all! That way you'll also find out what´s very Finnish is coming up in Saimaalife.com next autumn…
If you want to discover more about Finland, its regions and four seasons, follow VisitFinland!
Like "I wish I was in Finland" Facebook pages,
Follow Visit Finland on Twitter,
Follow OurFinland on Instagram or
Follow Visit Finland on Pinterest.
SaimaaLife and VisitFinland warmly invite you to be well in Finland - The land, where the lakes are many and the people are few.
Mari ❤ SaimaaLife
I've had a vision of my blog photos already for a long time. I want to start photographing also products in Finnish nature.  That's simply because I think the natural light, natural colors and natural surroundings bring out the best in…well, everything and everyone.
Being in nature is the best for your wellbeing. I also think that seeing nature, no matter where it might be, helps you to feel better. A picture of the beautiful sunset. A painting of a forest in all of its autumn colors. A photo taken on a lake in a snowy and sunny winter day. When we see those kind of images, they all make us feel good and calm. They even make our bodies to produce hormones that help us to relax.
I want my blog to give good feelings to my readers in every possible way. That´s why I've had a vision to make nature more visible in my blog. I feel that nature is the best background for products that are presented in a blog which main theme is "Natural wellbeing".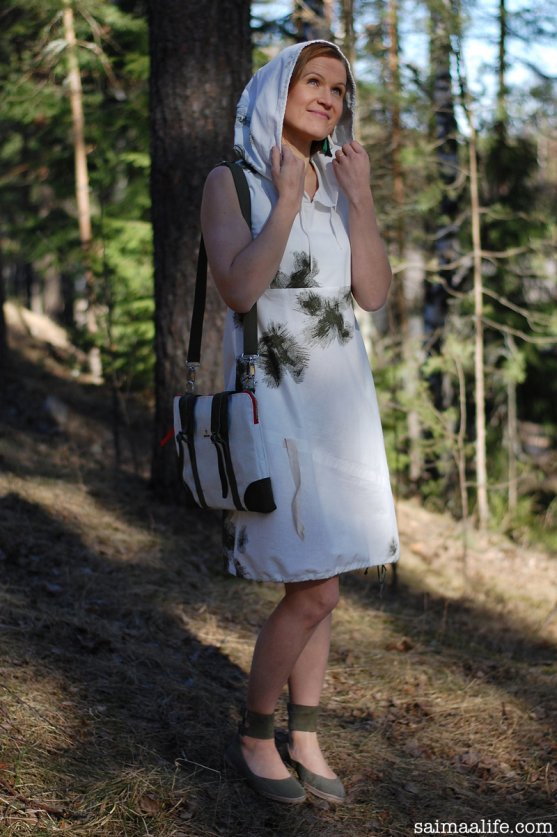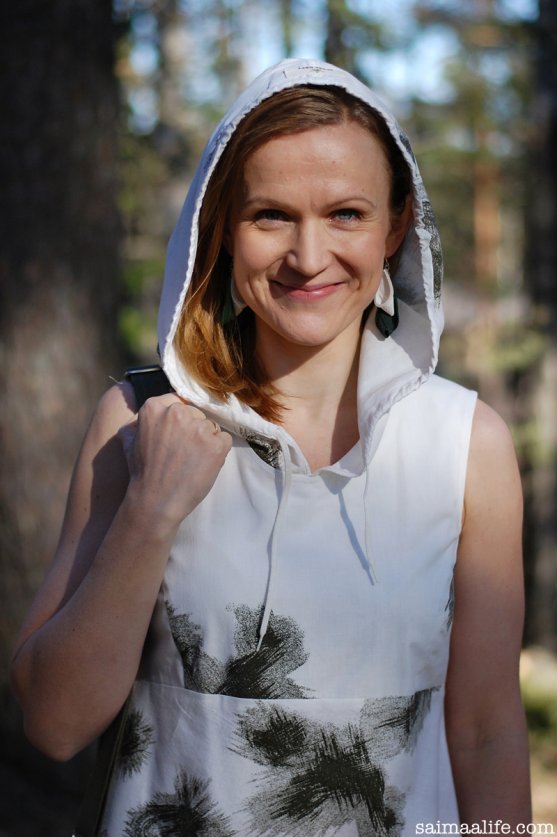 The only thing that has stopped me from carrying out my vision so far has been our lovely daughters. You can do many things with small children but not everything. Or not at least in a way or as concentrated as you would like to.
Patiently I have waited for the day when our youngest one is old enough to be left at the grandma´s with her big sister. Just so that this working mom could carry out her vision. That day came true now!
It´s always as exciting to put your vision into practice because you never know whether it really works or not. This one did 100 %!
Beautiful spring sun, blue sky and greenness of pinewoods brought definitely the best out of Globe Hope´s Binti dress that is made of an old army snow camouflage cape and parachute. The fabric is so soft against the skin! The dress fits perfectly with Heva laptop bag, Sade earrings and Haidu shoes that are also made of recycled or discarded materials. Finnish eco fashion at its best!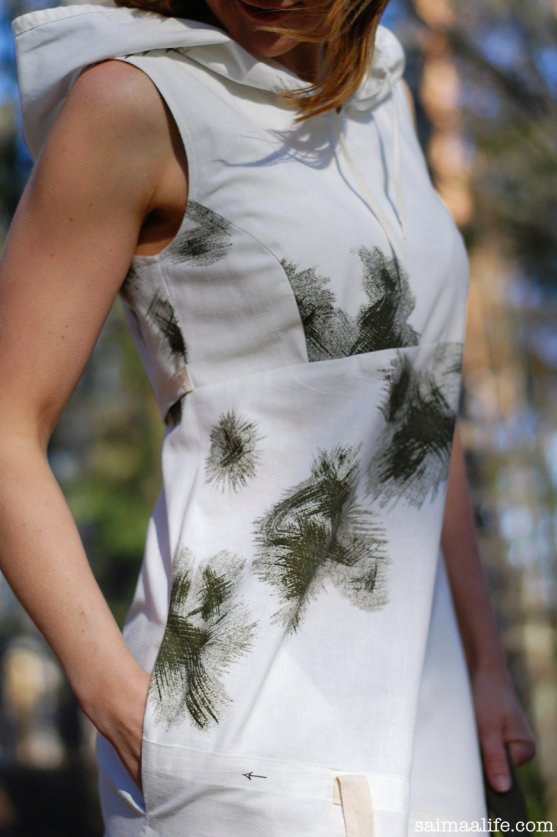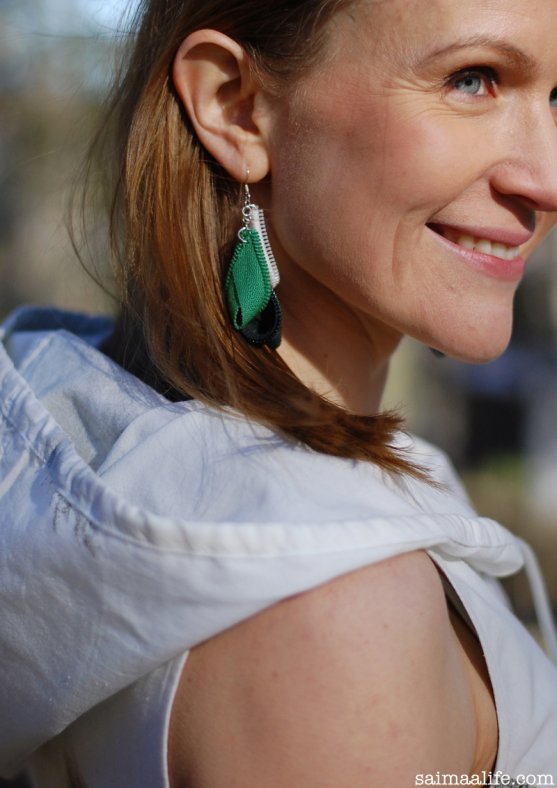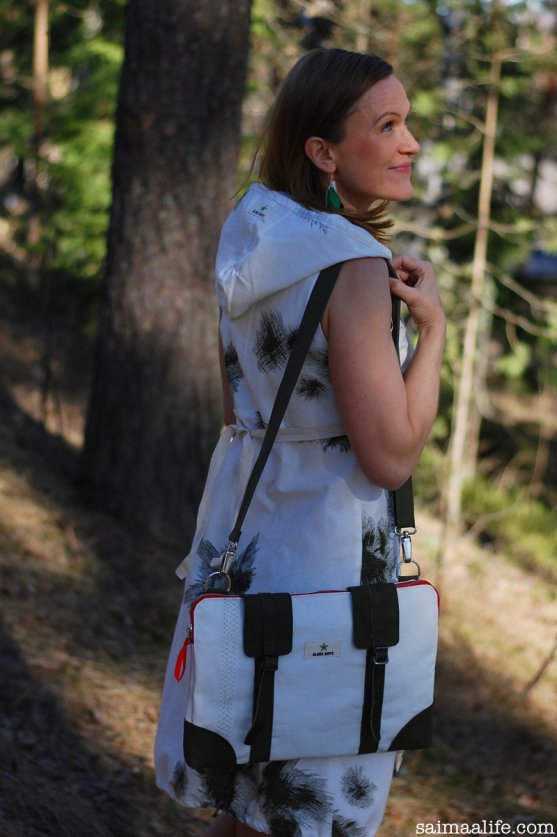 I´m allowed to select some products from every Globe Hope´s collection without a charge. Those products I´ve marked with ℅ sign to my posts.
Laptop bag is the product that I´ve needed already long but haven't been able to find the one for my taste. Now I did! Globe Hope´s Heva laptop bag is made of old sail and army fabrics. It looks good and is big enough for  my Macbook. I also like that I can use it as a shoulder bag. As you know I often cycle to our library to work. Now I don´t need to use our girls´old baby sleeping bag as my laptop bag anymore. That is so great!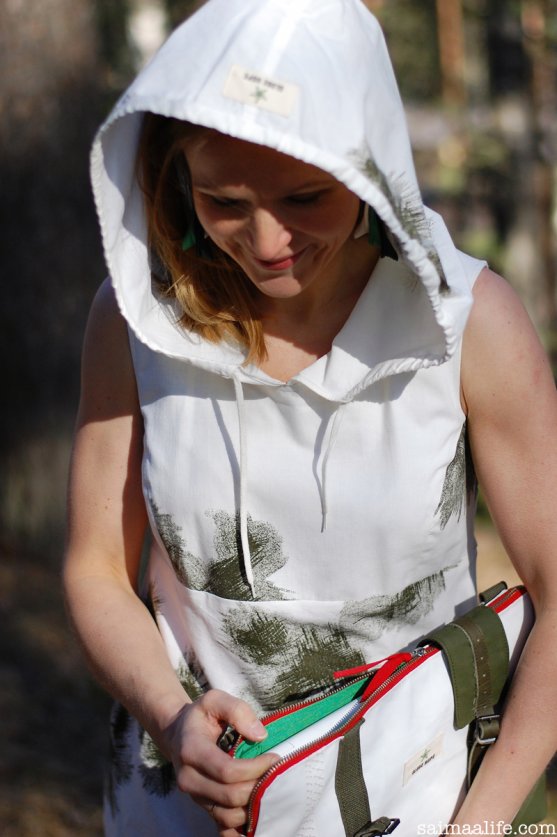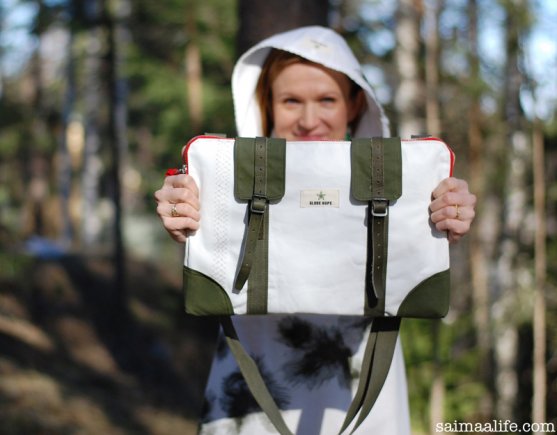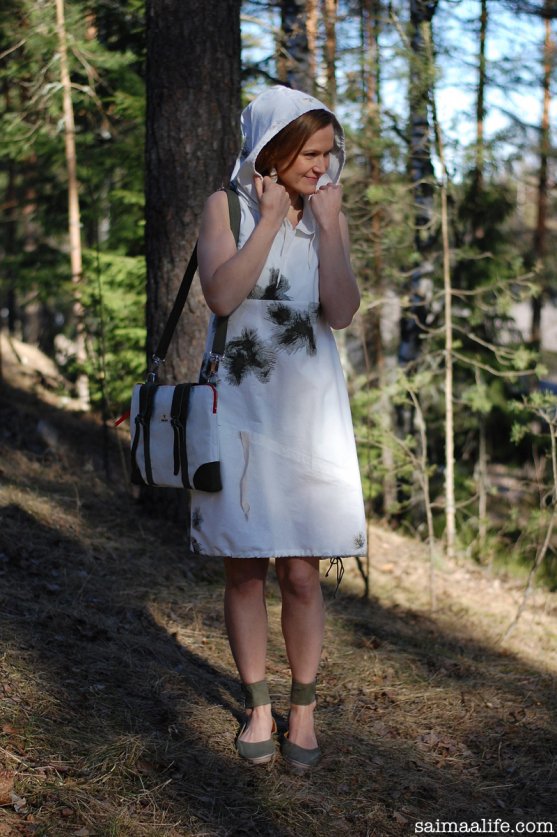 Thank you so much Marianne for helping me to carry out my vision. You definitely have an eye for photographing! I loved to work with you again!
Mari ❤ SaimaaLife
Nowadays companies are marketing their products very well. Salespersons speak very convincingly and make you believe that you really need stuff that they're selling. Or that your children need. The product they're selling help you to grow and develop. To be active and intelligent. To be on the top of the game.
This game promotes the development of your child´s linguistic skills. This toy promotes the development of your child´s motoric skills. These clothes help your children to move better and be active. We all have heard this many times.
With the second child you already know what your child really needs. It's easier for you to close your ears and eyes and act according to your own instinct and knowledge. But with the first child it's more challenging. You´re unexperienced with the children and you´re more unsure. On the other hand with the second or third child, the challenges are different. When you´re tired or when you're feeling bad for not giving enough attention to your children, you easily fall prey to those alluring sales speeches and buy something unnecessary to your children. And you justify your behavior by saying to yourself "this is good for your child´s development".
This Sunday our family had a walk together. We played at the playground and went to see the Olavinlinna castle. Lots of ducks and some swans were there. Our girls went crazy! For the next hour they were running around and having fun by chasing the ducks.
Thank you nature! Again. I thought. Like so many times before nature offered the best stimulus to our children. There were no need for any toys or games. All that our girls needed to get the day´s excercise was time to go out together as a family. That was more than enough for them!
And what comes to clothes, recycled winter clothes and rain pants didn´t seem to bother or slow down our girls at all.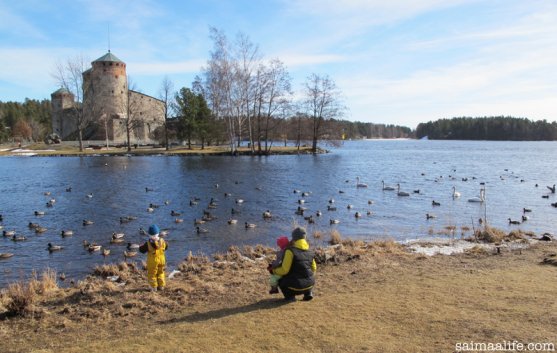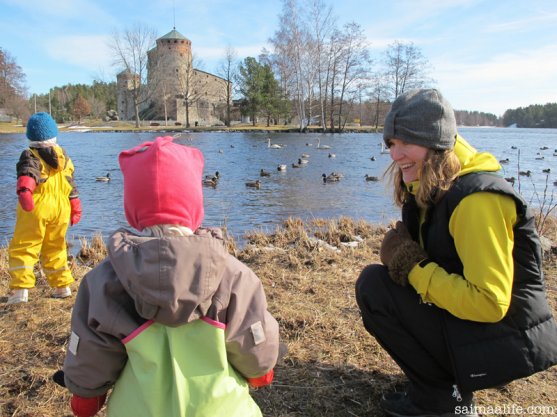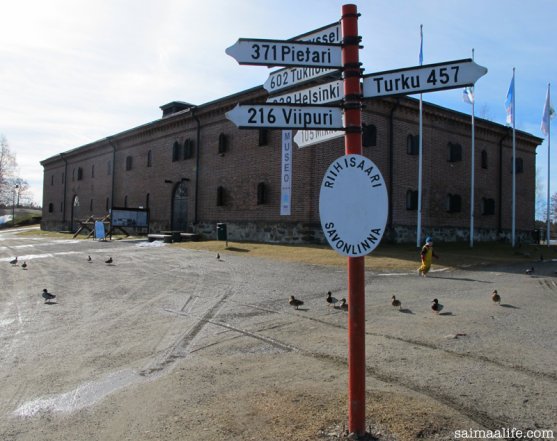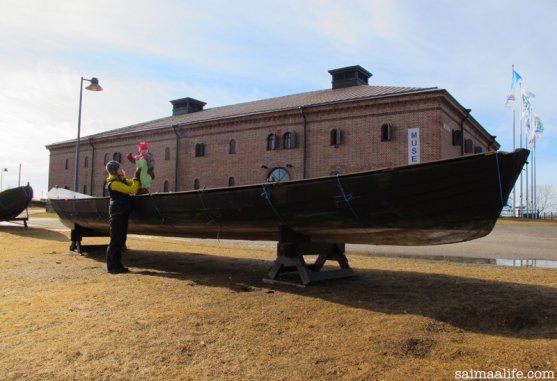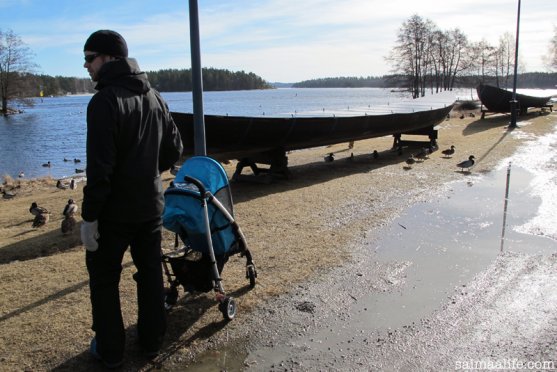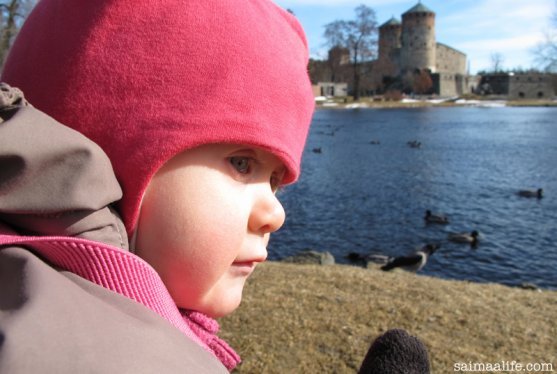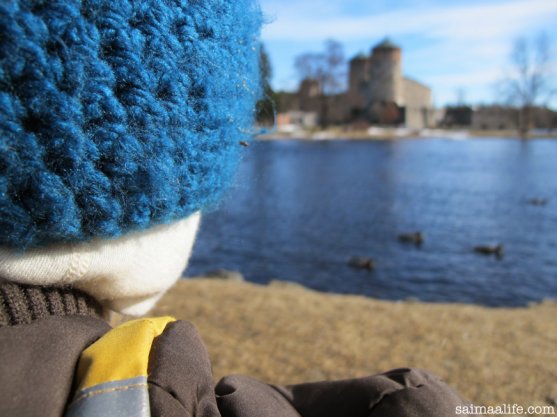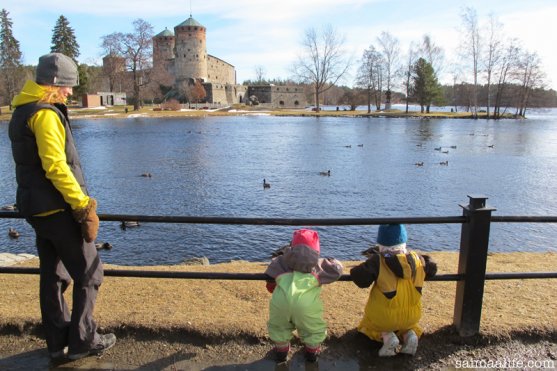 Mari ❤ SaimaaLife
Maybe it´s because when I go to a Cafè I eat all delicious cakes only with my eyes. I feel that I don´t need to eat them. It´s enough for me to admire them. That´s what the Finnish icon, 87 year old Aira Samulin answered when she was asked about the secrets of her slim body.
I was studying in the university when I read Aira´s interview from a women´magazine. Not going to happen in my life! I remember thinking. And I strongly doubted Aira's words.
It was the time when my life was a constant fight against wanting to eat more and especially wanting to have all things sweet and sugary. I thought my fight belonged to a woman´s life and just I couldn´t get rid of it no matter what. That I just needed to learn to live with it.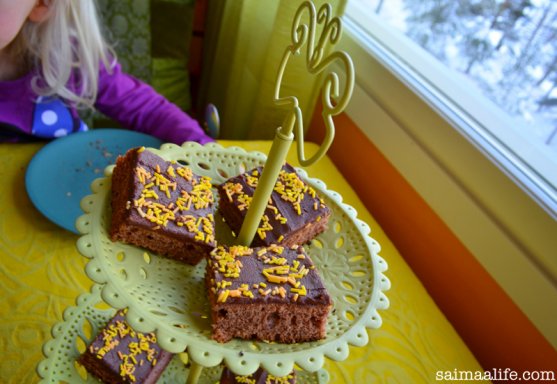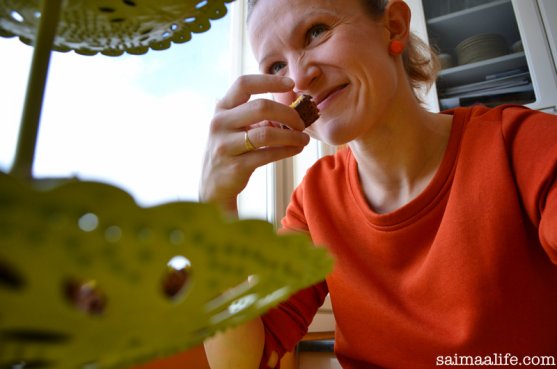 Last week I was in Helsinki. I visited a Cafè and saw all kinds of delicious cakes there. I admired them, thought how delicious they must be and thought which one was my favorite.
A waitress came. She asked me what I would like to take. Just one Cafè Latte, please. I answered. At that same moment I remembered Aira´s answer. It really is true! You really CAN eat cakes only with your eyes! I thought in my mind and smiled.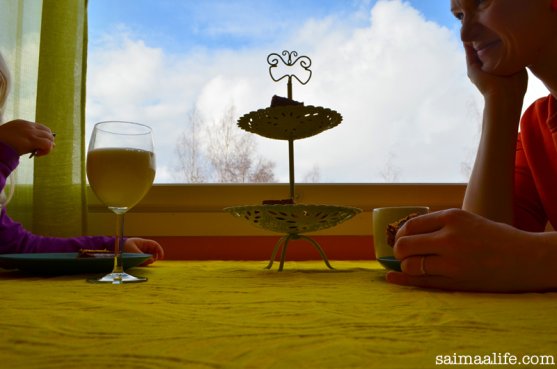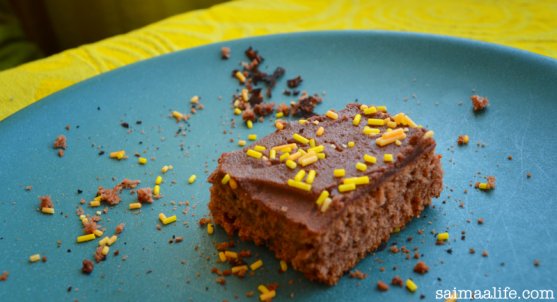 When I was driving home I thought about my relationship with sugar. I thought what it was 10 years ago when I was university student. I compared that relationship with the present situation now that I´m 33 year old mother.
A big change. A positive one. That has happened in the relationship between me and this big devil, sugar. Here´s a list about things that I´ve found helpful in taming my sweet tooth.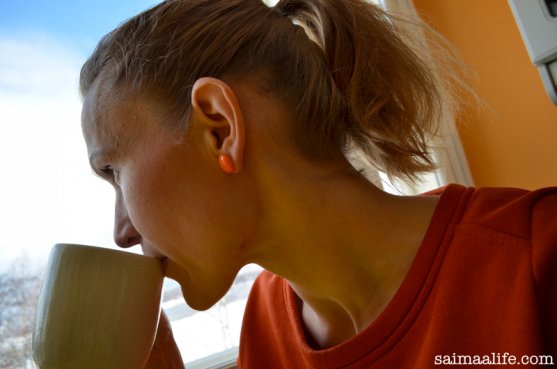 10 ways to keep your sweet tooth under your control
Sleep & rest enough: When you are tired and your energy level is low, your body´s natural reaction is to want sugar and all things where it could get more energy fast. This is so true!
Eat regularly & enough: Miracles happened in my life when I started to eat more versatile and 5 times per day. For example I didn´t feel myself so tired anymore and my metabolism improved. Keep your blood sugar steady and you´ll keep your sweet tooth under your control. And eat enough! If your body doesn't get enough energy, it will scream for more all the time.
Eat real food: I ate all kinds of diet and low-fat products for about 15 years. Not anymore. My wellbeing has improved so much after I started to eat real food. It means also real sugar and butter. Real food satisfies my hunger, the need of vitamins and my sweet tooth better and faster than the products that include less calories but a lot more different kind of artificial foodstuff that are not good for your health in the long run. Real food also tastes better, much better!
Learn to interpret the messages of  your body & mind: Sometimes it is really about having something sweet. And that urge doesn´t go away until I have some. But more often than not it's because stress, anxiety, fear, sadness or worries that make me want to have something sweet. I just try to make myself feel better by eating sugary things. Yes, good food and sweet things fulfill desires for a moment. But that's a short relief. Soon I'll notice that I want more. And more. Focus on finding the reason that made you feel bad in the first place and you'll notice that your sweet tooth doesn't bother you that much anymore.
Find other sources to feel good: Like most of us, also I´ve developed very strong behavior patterns and habits for eating. Ice-cream has been my loyal companion in life´s sorrows and joys. It never lets me down and makes me feel good every time I eat it. When I became pregnant for the first time I consciously started to look for alternatives. I gave myself a chance to genuinely find things that would make me feel good like ice-cream does, but without its disadvantages (like fat). Now I have many of them! Having a relaxing walk in nature and doing my yoga practice are the ones that work the best for me. They feel as sweet as ice-cream in my body and mind. I'm always amazed how well they can tame my sweet tooth.
Find out what's enough to satisfy your sweet tooth: I´ve tested this with pick`n` mix candies. I found out that if I buy bag of candies for 1 €  it's enough for me to satisfy my small sweet tooth. 2 € spend works to my big sweet tooth. Those are the amounts that I really enjoy eating and what I need. If I eat more, it´s only because I still have some left and I´m so used to eat all at once.
Say no thank you for total bans: That's a sure way to get myself for wanting something sweet. I'll just end up eating twice as much if I'm trying to be totally without sweet. I eat as long as I feel physically sick and mentally bad. And afterwards I feel guilty for eating too much and not being able to resist my desire. Learning to have everything in moderation is not easy but it's much better for your physical and mental wellbeing in the long run.
Find your motivational source: If you have motivation, you have it all to succeed. Many find it from thinking about their health. I´ve found it from motherhood. Nothing motivates me more to work for my relationship with sweet than a thought of setting a good example for my children. By having a healthy relationship with my sweet tooth I can support my children to have a healthy relationship with food and sweet in their future.
Maximize your pleasure: This is so important! I used to eat big amount of sweet things all at once. And I did it fast. In other words, I minimized the pleasure and got unnecessary extra calories. Nowadays I try to maximize my pleasure when eating. I give totally in to my temptation and feast all my senses. I eat slowly by tasting all the sweetness in my mouth. And I eat with a good conscious. I get more out of less. More pleasure and more satisfaction. By taking an advantage of all my senses when eating I´m also able to keep my sweet tooth and my weight under my control – Just like 87 year old Aira Samulin has done for all of her life by learning not only maximizing the pleasure while eating, but by maximizing the pleasure and enjoyment in other areas of her life too!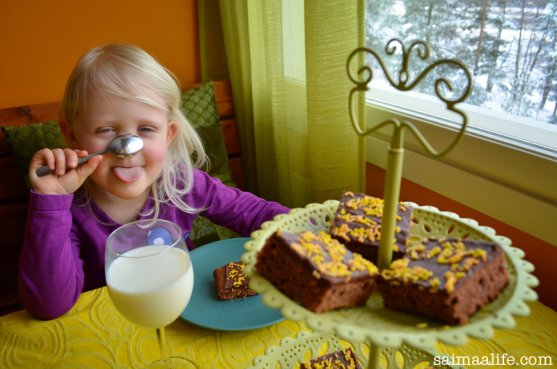 The relationship between a woman and food is complicated. Maybe even more complicated than the relationship between women and men. But no matter what kind of challenges you have in your relationship, I think it´s important to remember that things can get better. I know now from my own experience that it really is so! Change just doesn´t happen overnight. And any relationship doesn´t stay good without taking care of it.
But a woman´s life doesn´t need to be a constant fight against sweet tooth. That's what I want you to remember from this post. Start to pursue better balance in life, and you´ve taken the first step towards more peaceful coexistence between you and Mr. Sugar!
Mari ❤ SaimaaLife