First experiences of living close to nature have nourished our creativity. I love that feeling!
Autumn draws closer and crisp morning air makes way for new inspiring thoughts. Ideas our future and for this blog.
Nature has shown its power again!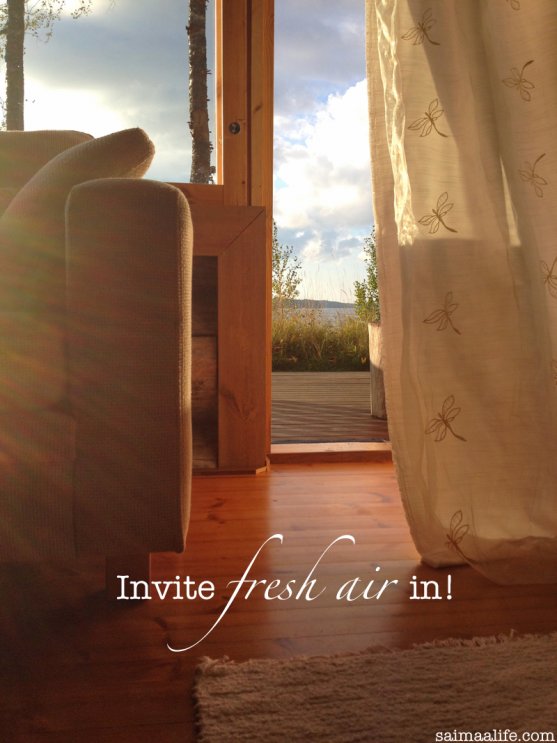 Mari ❤ SaimaaLife
Now it has started! Our family´s 9 months experiment to live in the countryside in a house by the lake. Exciting!
Moving with small children may not be the easiest thing to do. There´s a big risk that it's all going to be just about stress and cranky family members.
We have now successfully moved into our new home. Here are 8 ways how I made it less stressful and even enjoyed our family moving.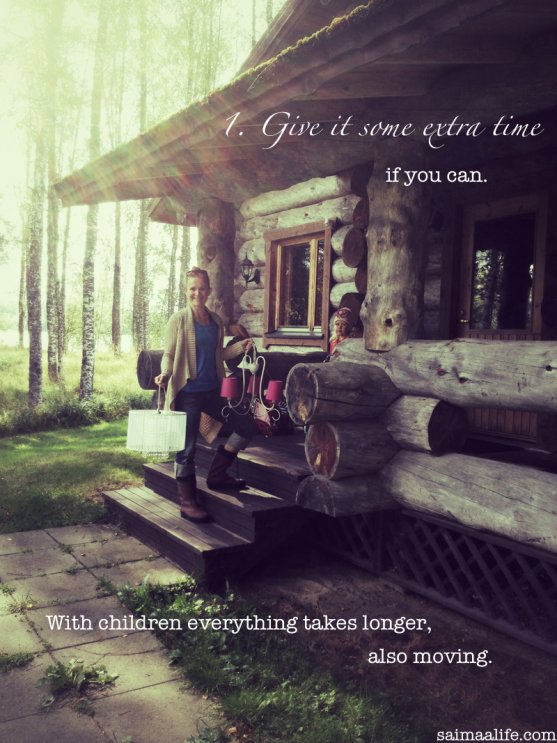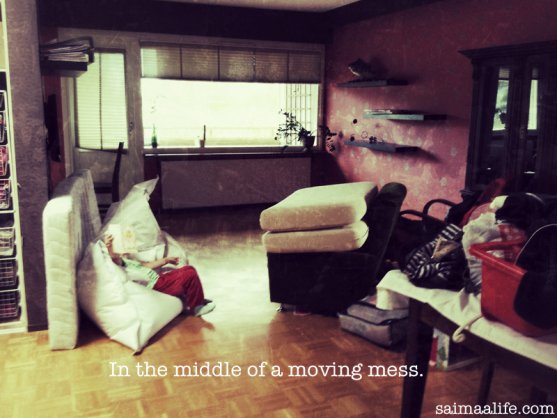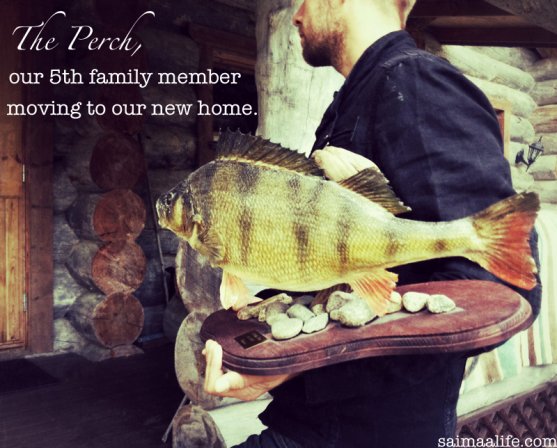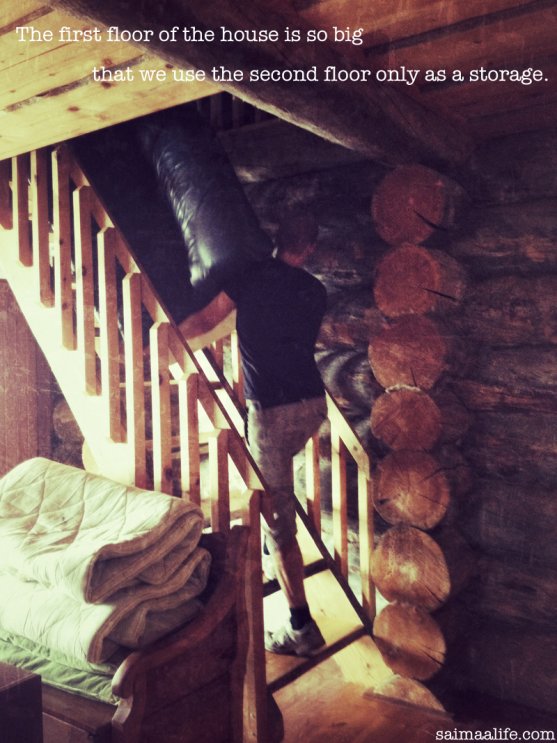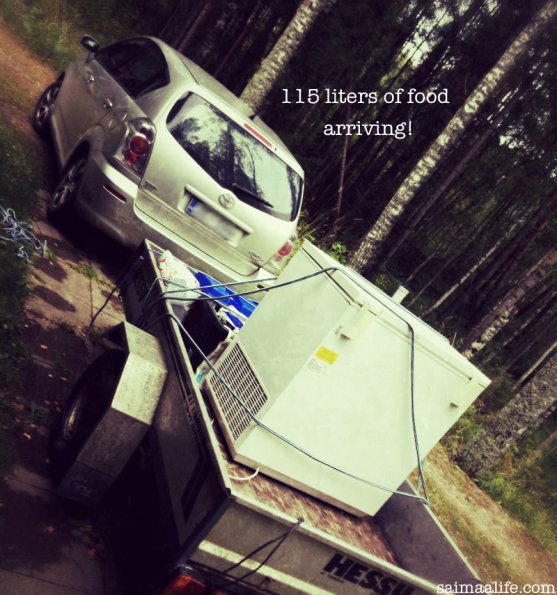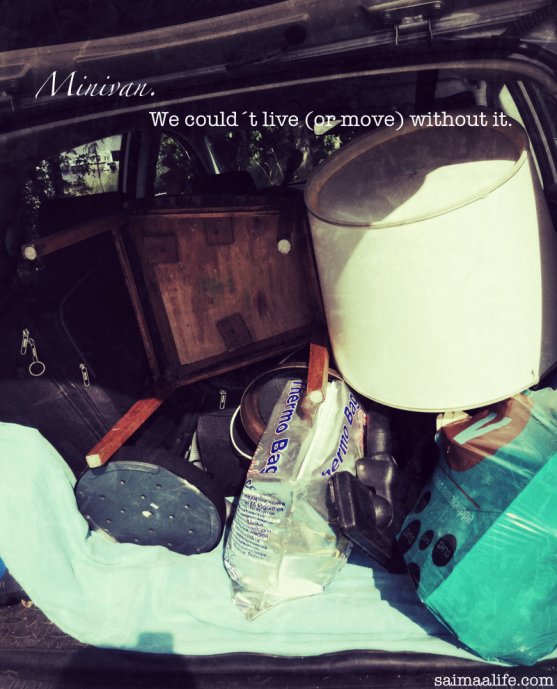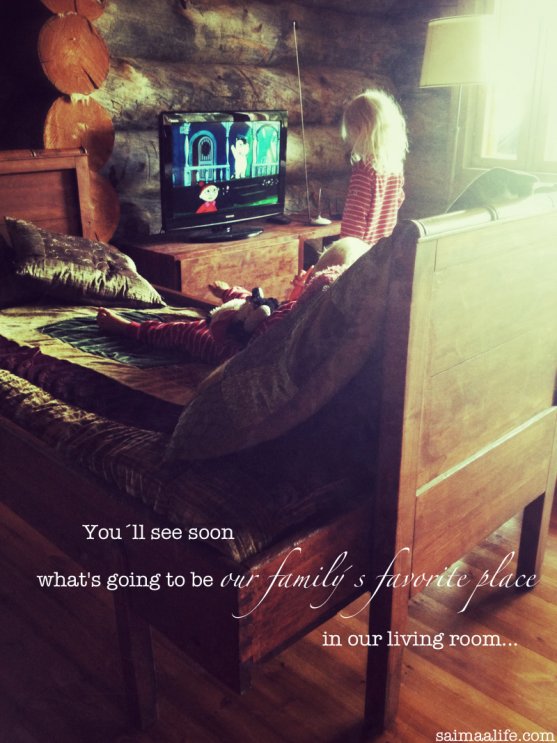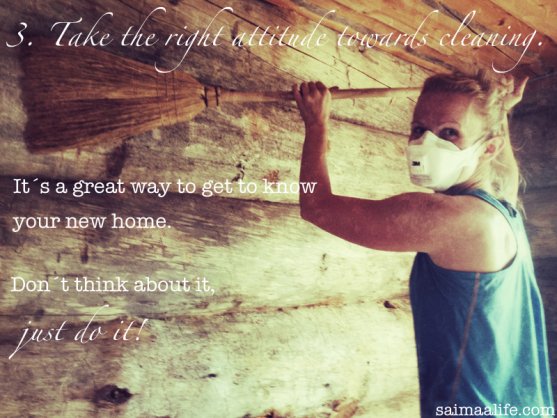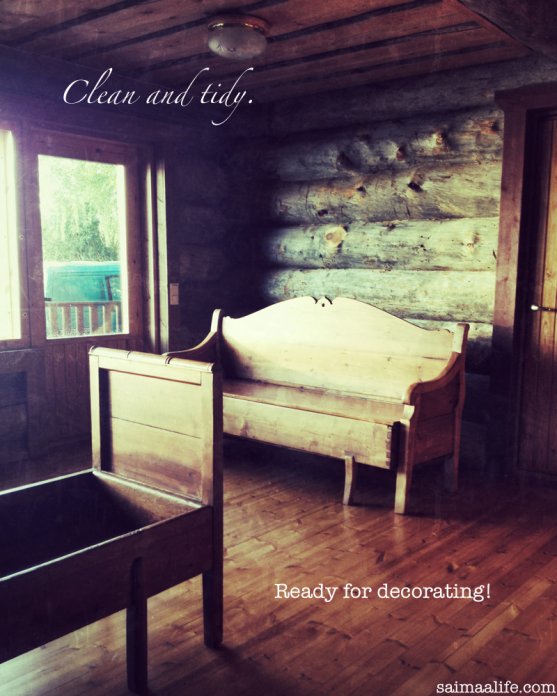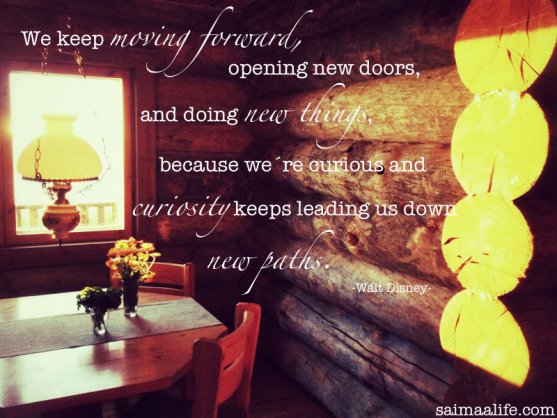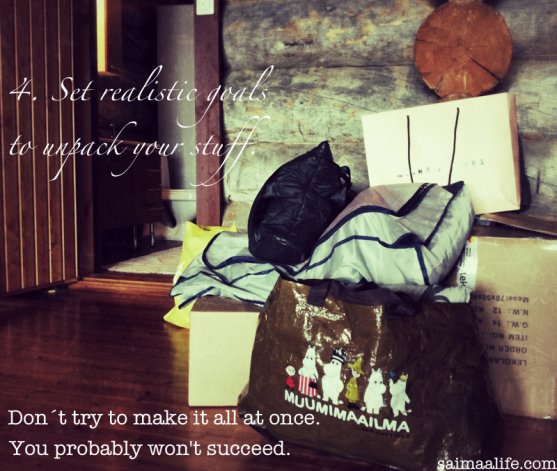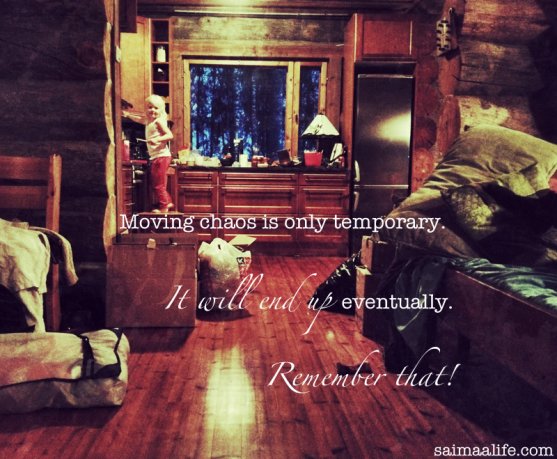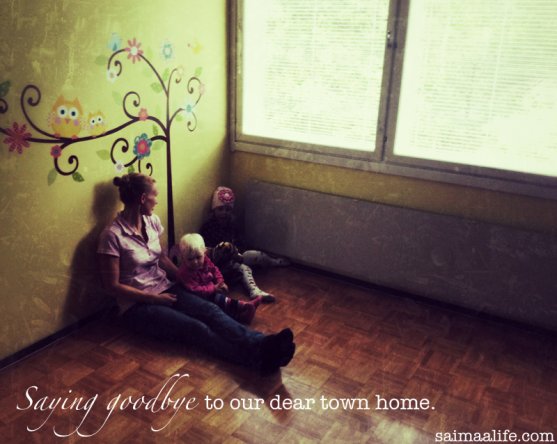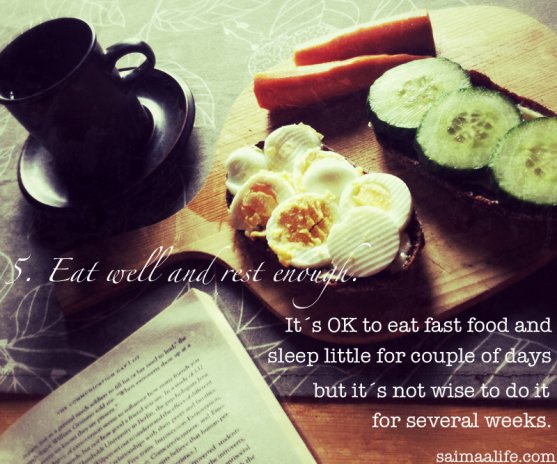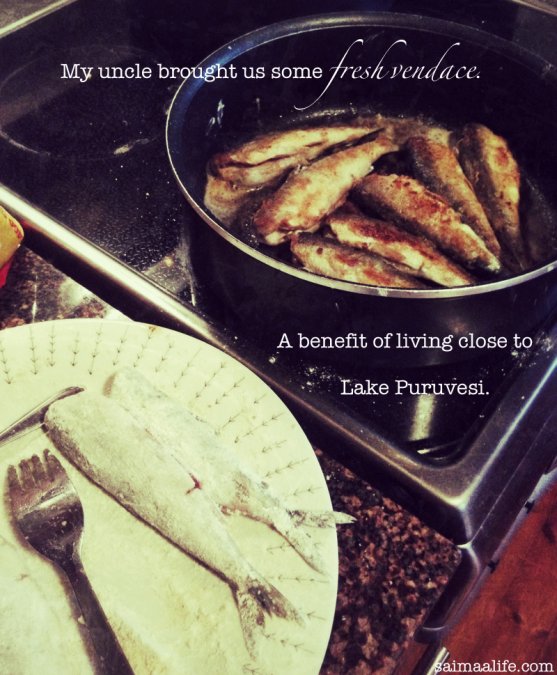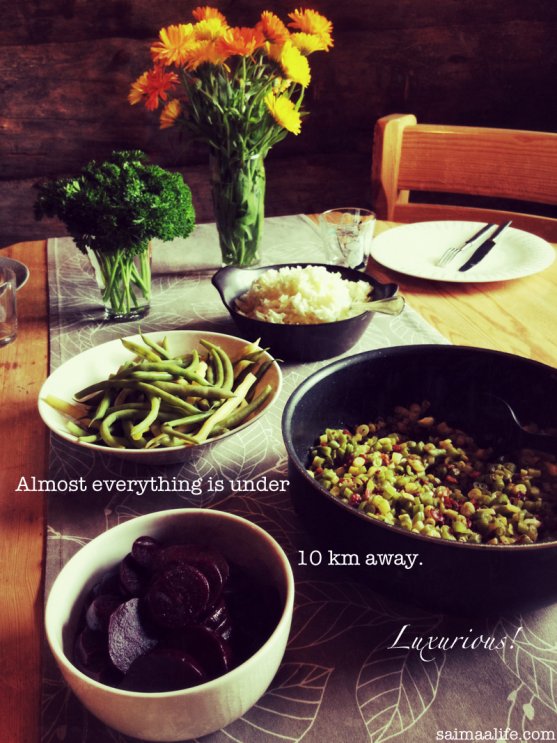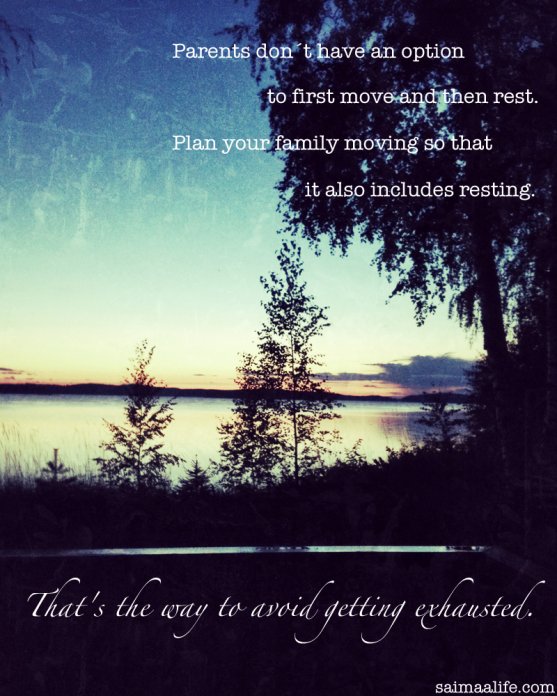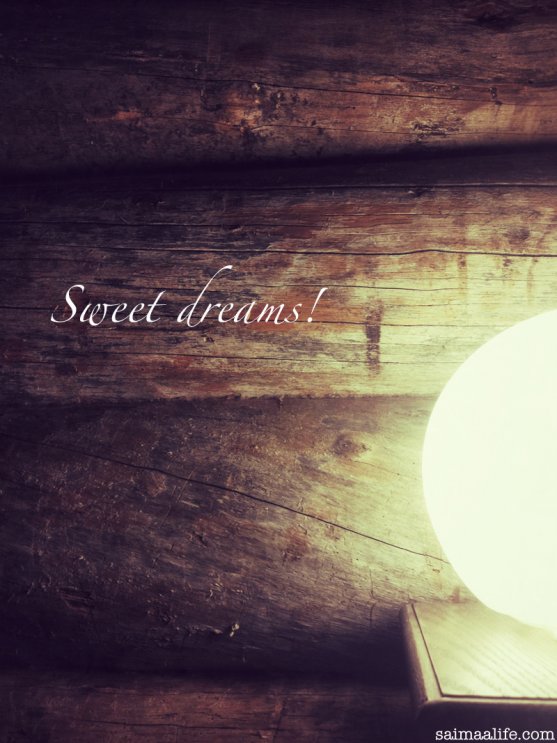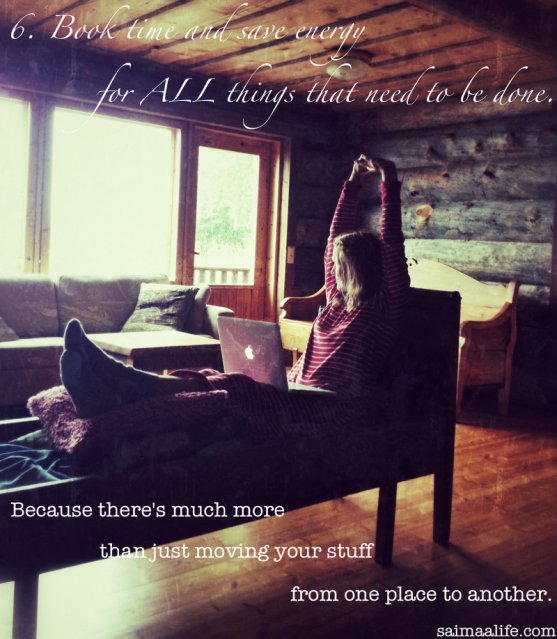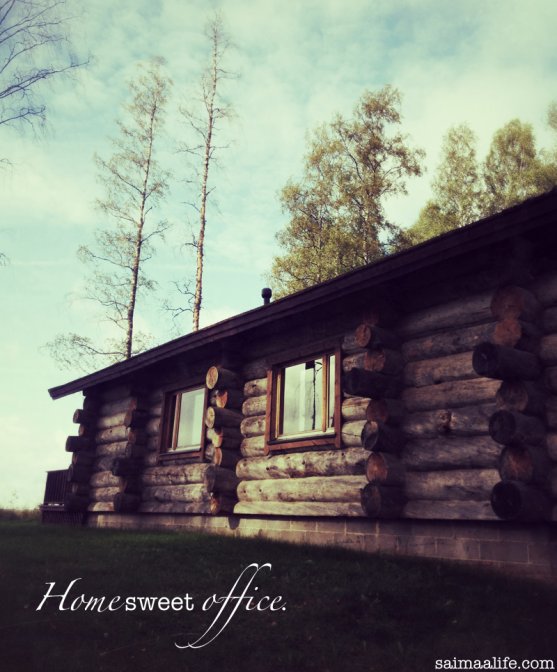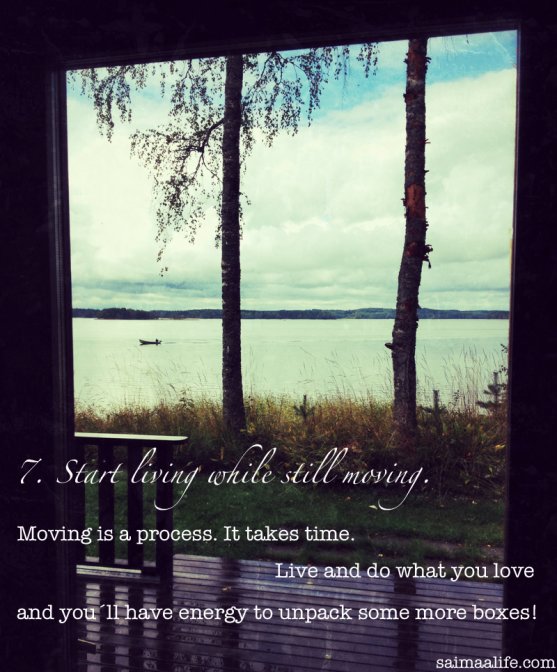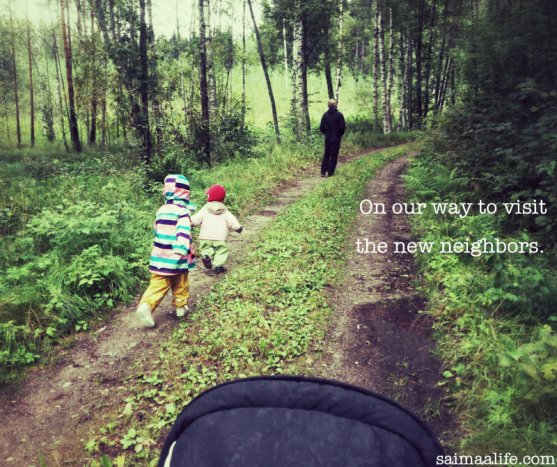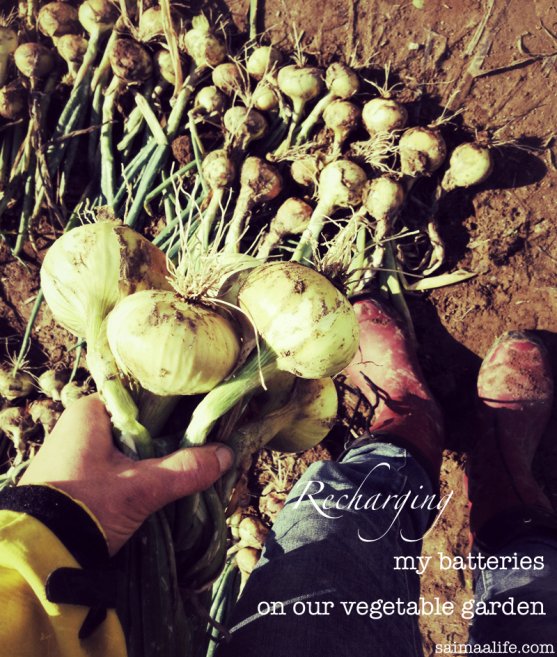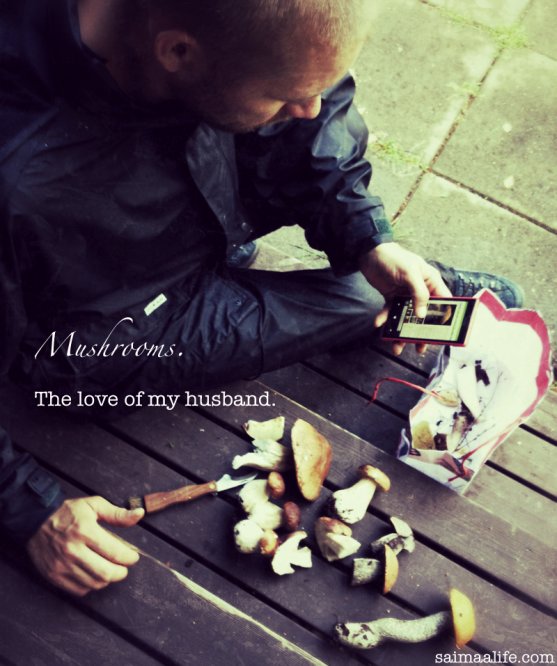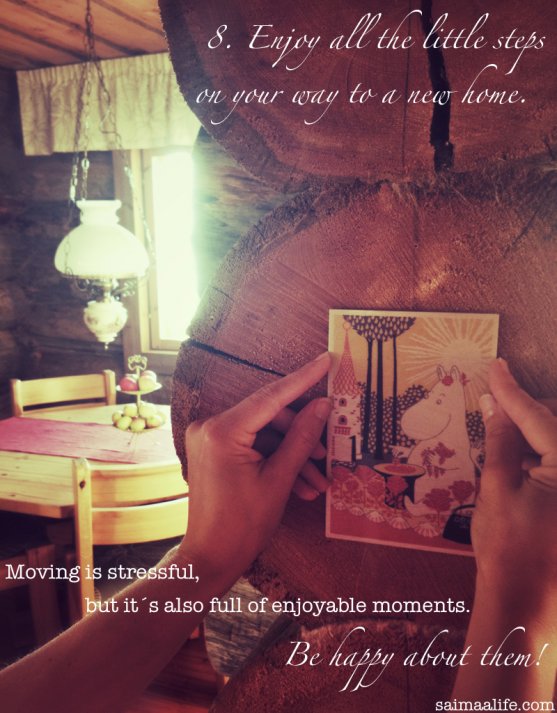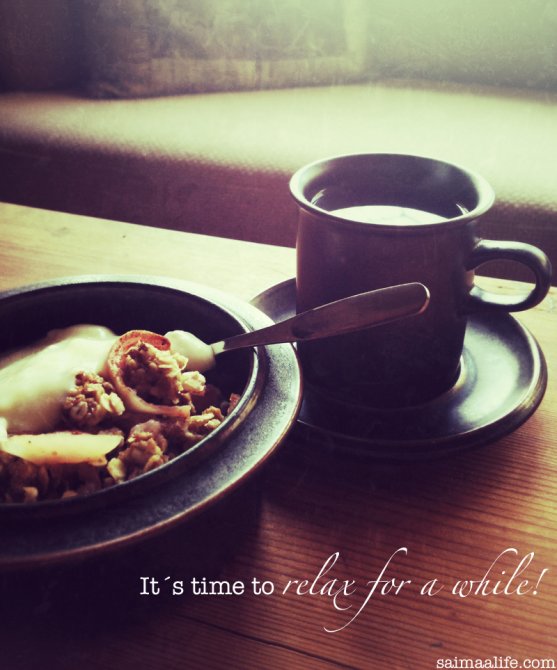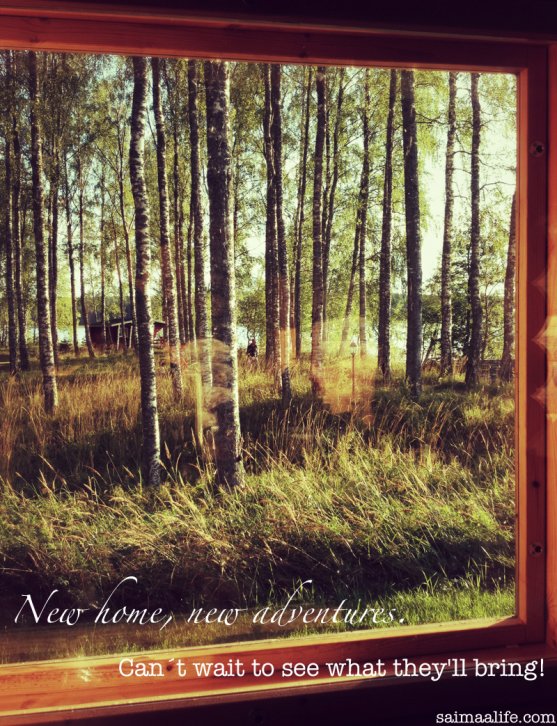 Mari ❤ SaimaaLife
9.00 pm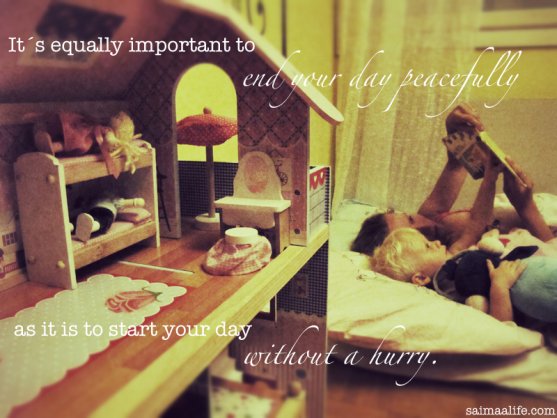 Before: How I used to live?
I used to watch TV or sat in front of my laptop till it was time to go to bed.
I used to have difficulties to fall asleep because my head was so full of work stuff and things that needed to be taken care of.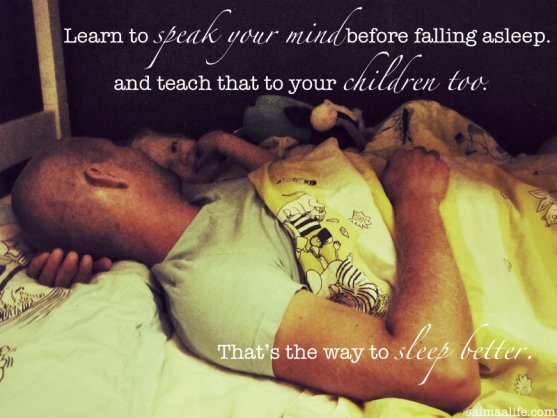 Changes: What changes I´ve made to my life since I started to pay more attention to my wellbeing and simplify my life?
I´ve learned the meaning of fulfilling my basic needs and mental rest.  When our girls were small I learned to nap with them. I used every chance to sleep more and went to bed as early as possible because I never knew how many times I would have to wake up during the night.
I´ve learned mercifulness and compassion towards myself. I often say to myself  "No matter what gets done and how much is left undone, I am enough" like Brenè Brown put it. It´s from her book The Gifts of Imperfections. I warmly recommend it! I also give myself permission to fall asleep peacefully by gently pushing away all the worries and work from my mind. "All work can wait till the morning. Now, the most important thing is sleeping", I often say to myself.
I´ve learned to talk more about the things and thoughts that bother me. When something (anything!) bothers me, I tell it to my husband. Then the thing often goes away or becomes smaller so that it doesn´t prevent me from falling asleep peacefully.
I´ve learned to just be. Our family loves to snuggle up in bed. We read some bedtime stories, talk together about our day, thoughts and plans. For us it´s family quality time, but it´s also important time for calming down and preparing us to fall asleep peacefully.
We´ve also learned to sleep at the right temperature and to take advantage of blockout roller blinds during times when it´s still bright when we go to bed (that can really be a problem in Finland during the summers). When it´s dark, your body starts to induce melatonin. It's a hormone that helps as to fall asleep.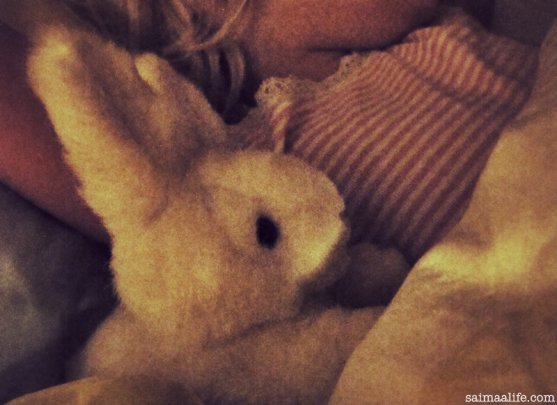 After: What kind of positive effects I´ve noticed now that I´ve been able to get closer to Living Simply.
I´m more positive and energetic: Quality rest and sleep during the night means more positive thoughts and energy during the day.
I´m more creative: If you´re tired all the time, you can´t expect your creativity to blossom. Also creative thoughts need energy to be born. So, give your brain  a chance to rest and recharge.
My stress management has improved: It is so true that you handle stress at home and work so much better when you´ve slept well and enough!
My metabolism has improved: You can´t drive a car without fuel. Your body needs fuel too. Food is fuel, but so is sleeping. Sleep well and eat well. That´s the way to boost up your metabolism!
My self-image has improved: It´s funny how I see myself more beautiful when I've slept well and enough. So, if you want to feel yourself (and be) beautiful, give yourself enough rest and sleep!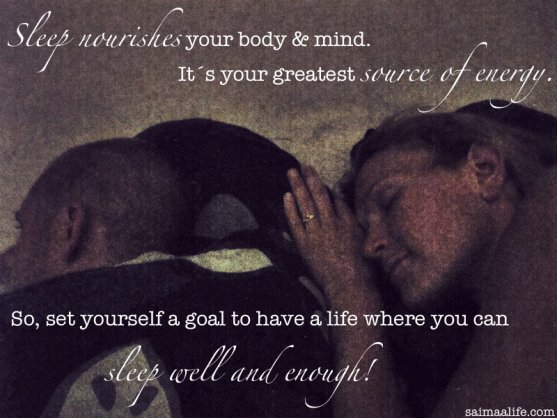 Next post will be the final post in this post series. It will be a summary about the most important things on your way to living simpler and feeling better.
Click to read the On the way to Simple Living: Intro.
Read all posts from my post series called On the way to Simple Living.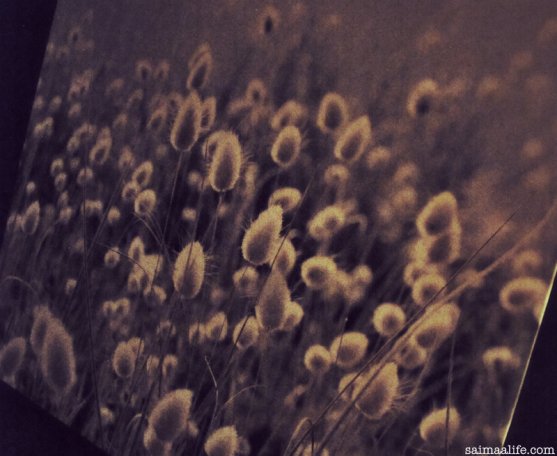 Mari ❤ SaimaaLife
7.30 pm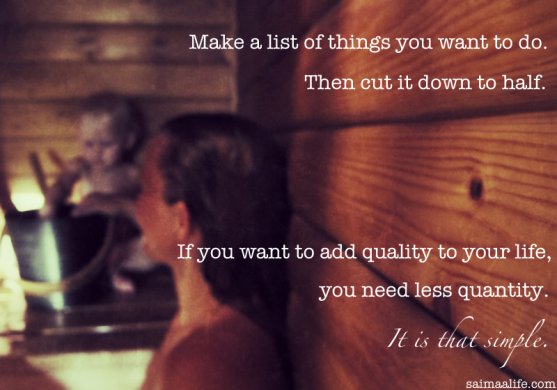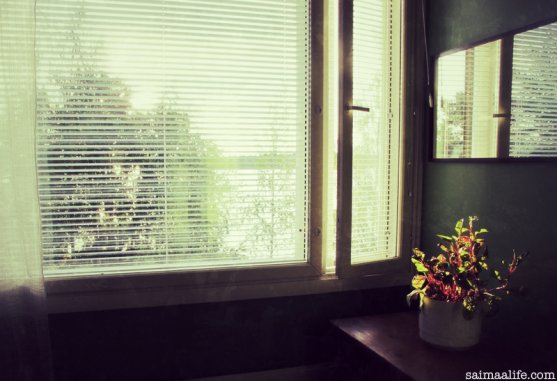 Before: How I used to live?
I used to have my evenings F-U-L-L of housework, hobbies, exercising and social life. And work.
I felt myself so exhausted by 7 pm that children´s evening routines were pure pain for me. I didn´t enjoy everyday evenings at all and I was a cranky lady.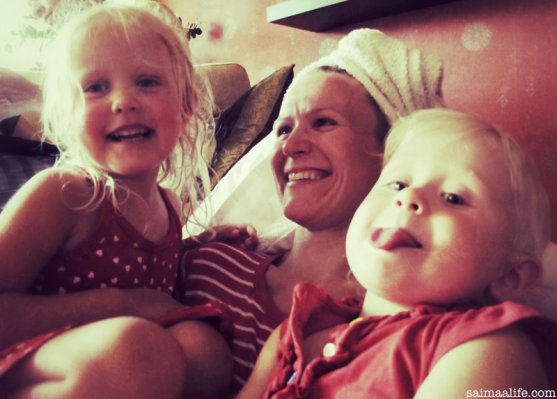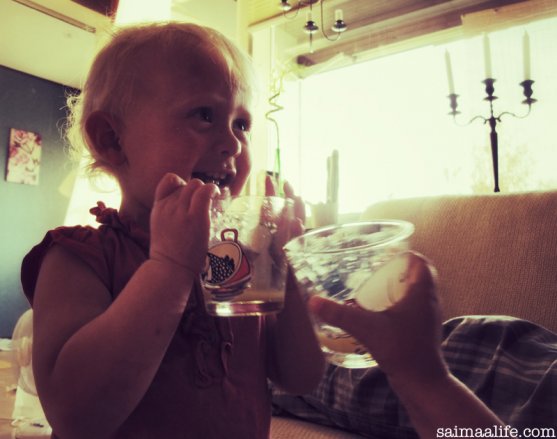 Changes: What changes I´ve made to my life since I started to pay more attention to my wellbeing and simplify my life?
I´ve learned to simplify our everyday evenings. Evenings go by fast and routines take time anyway. That´s why there´s no point of trying to do too much. I invest in quality. Quality to me is evening routines without a hurry and having a small relaxing moments together as a family.
I´ve realized the cold fact that often it's me, and no one else, who's responsible of having too much in my life. I want to do too many things, do things perfectly, do all by myself.  I´ve changed these behavior patterns and learned to A) want less, B) set the bar lower and C) ask for help.
I´ve learned to use my energy better. First and foremost I try to keep up the balance between work, play, rest and sleep. As a mother I need to have energy left also for the last minute of the evening, not only for my work. I need energy and patience for feeding the children, brushing their teeth and putting them to bed.
I´ve learned to add coziness to our home. With little things, like candle light, music or having sauna, you can easily add some quality to your everyday evenings.
I´ve learned some relaxation and mindfulness techniques. If our girls are cranky, I can calm myself down only with one or two deep and peaceful breath. That´s one useful skill for a working mother!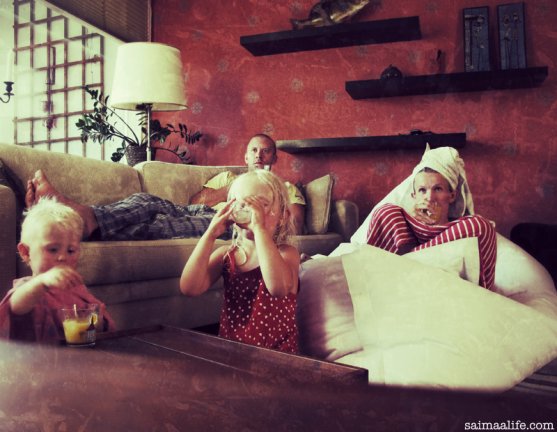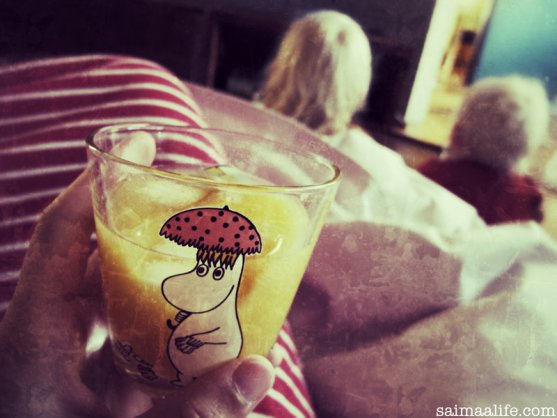 After: What kind of positive effects I´ve noticed now that I´ve been able to get closer to Living Simply.
I enjoy my everyday life more: Better balance in life and less hurry and stress. That´s the quality of life. More quality means being more present in your life and enjoying it more. Simplifying is the key!
I´m more satisfied with myself as a mother, a wife and a woman: The more tired I am, the worse mother I feel myself. But when I have energy to go through the children's evening routines with a smile and patience I feel the opposite. When I have energy to do nice things for my husband and myself I feel like a superwoman, mother and wife. Oh, how important those moments are to my feminine self-esteem and self-satisfaction!
I get more out of my everyday life: The less haste you have in your life, the more time and energy you have to experience your life with all of your senses. More time to listen to your child's funny stories, see the beauty of the autumn evening, smell the scent of evening tea, feel the touch of your spouse.  That´s why it´s worth to want less. Because that´s the way to get more quality and depth to your life.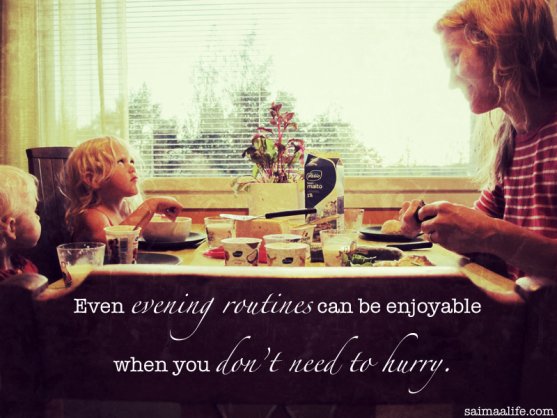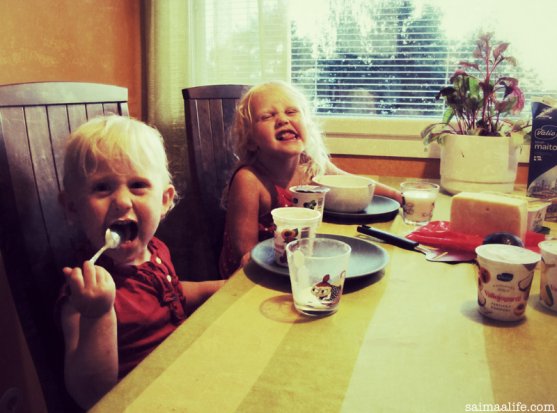 Next time you can read about ways to sleep better.
Click to read the On the way to Simple Living: Intro.
Read all posts from my post series called On the way to Simple Living.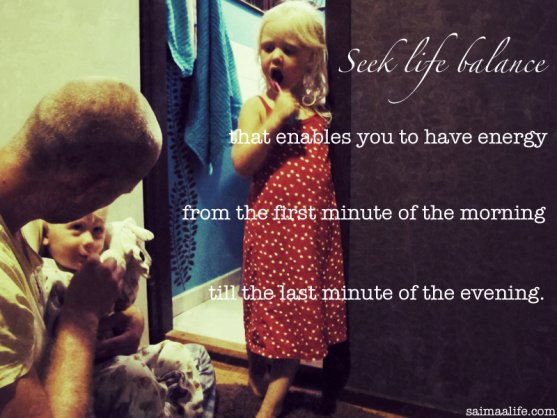 Mari ❤ SaimaaLife
It´s the beginning of September. Summer is over in Finland and autumn is arriving. Best things in my summer 2014 were my peaceful blueberry picking trips on the island on lake Puruvesi, my yoga practices outdoors on a beach and our family´s visit to Moominworld. Those of you who have already read my blog for some time know that berry picking is my passion and yoga my favorite hobby. But why I, a wellbeing blogger, value Moominworld this high?
Well, here´s 3 reasons why I think visiting Moominworld can be good for you and your family. Just like it was for our family.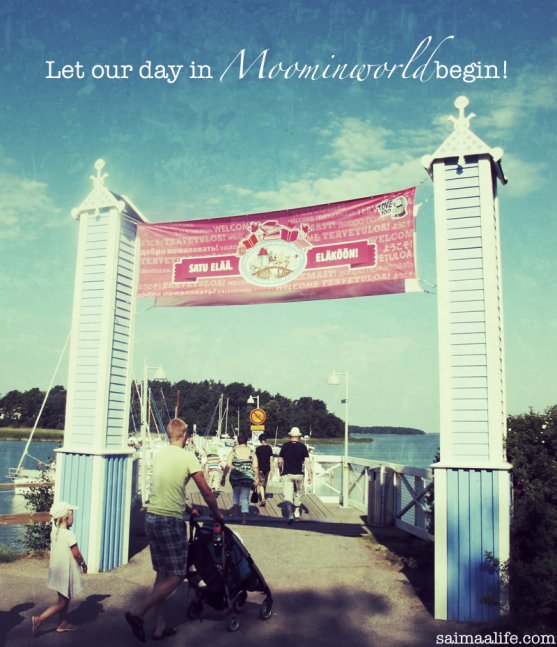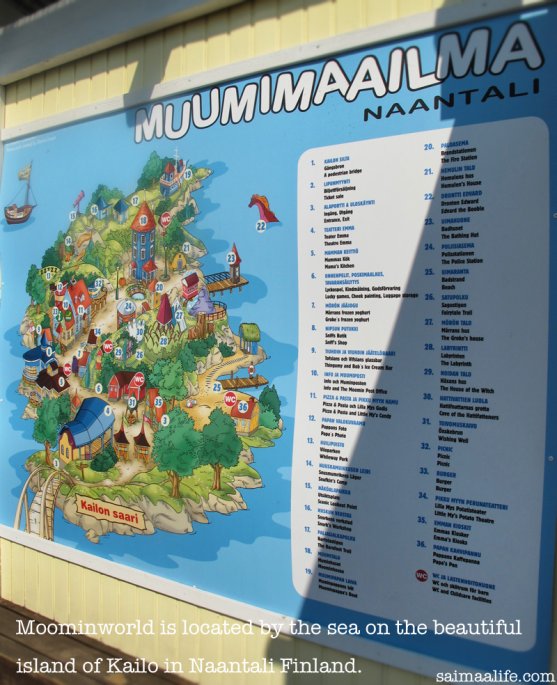 1. Moominworld feeds creativity
It´s bad for wellbeing if life gets too serious. And adults take their life too serious quite often. So we need some antidotes. Every now and then it´s good to let our inner child to run free and seek inspiration so that we could enjoy life more and see it in a different, more creative way.
In the Moominworld Tove Jansson´s Moomins fairytales come alive. It was amazing to see what a positive and relieving effect it had on people when they were able to meet the Moomins in real life. It was so great that all could hug and pet Moomins or chat with Little My and Snufkin. No wonder The Independent selected Moominworld to be the world's fourth best theme park for children in 2005!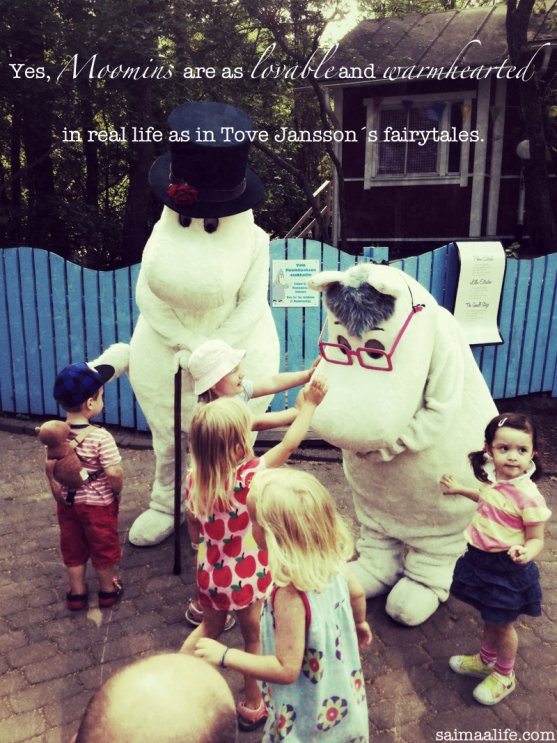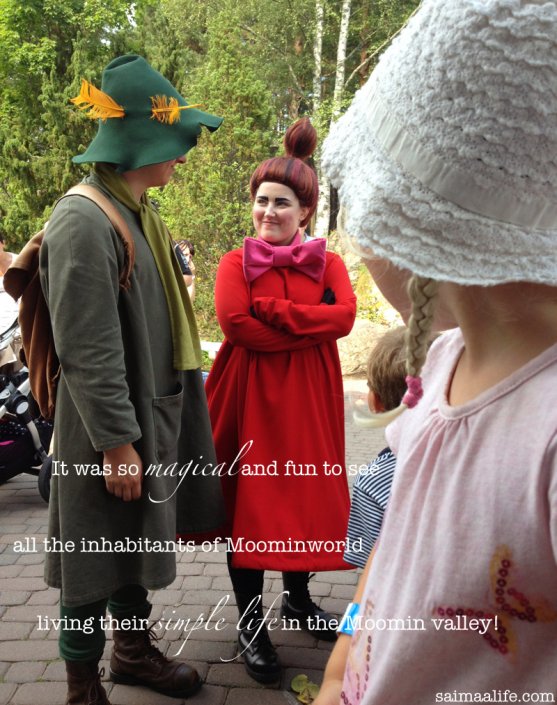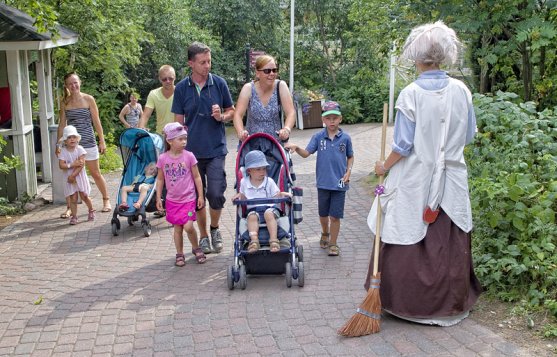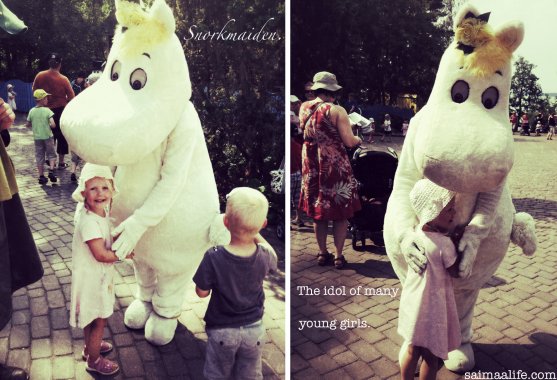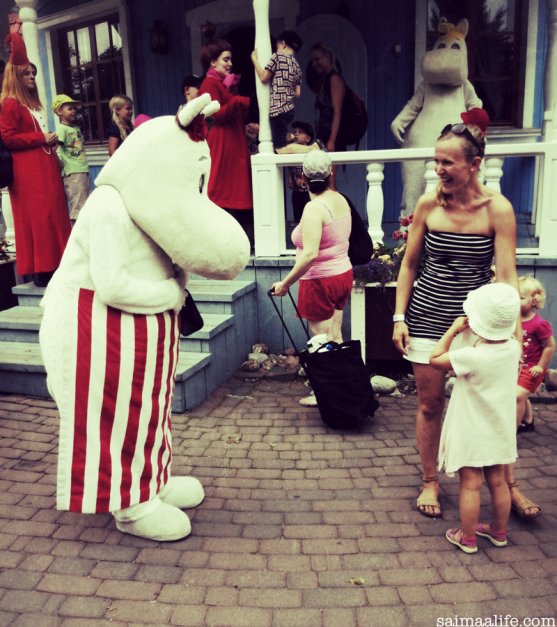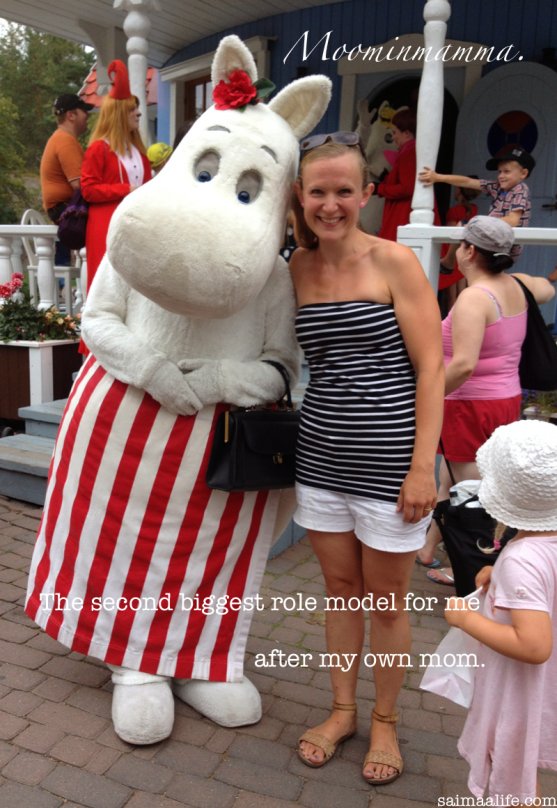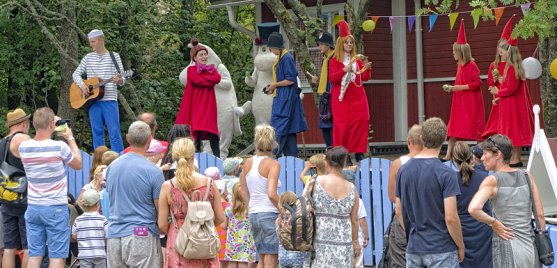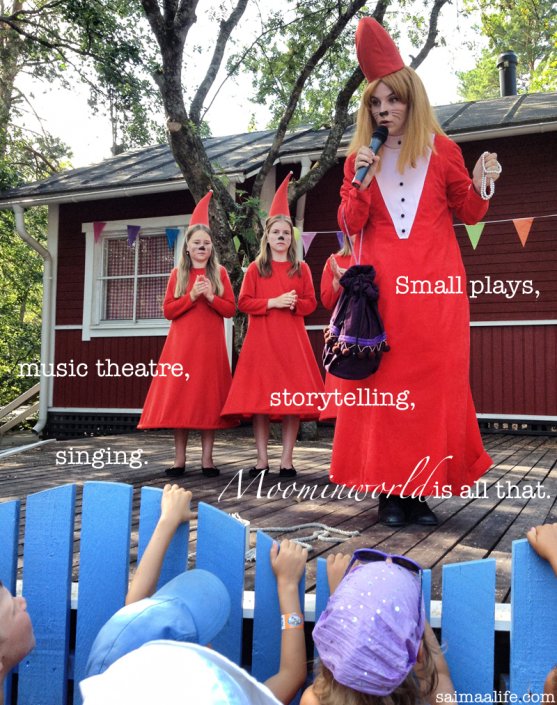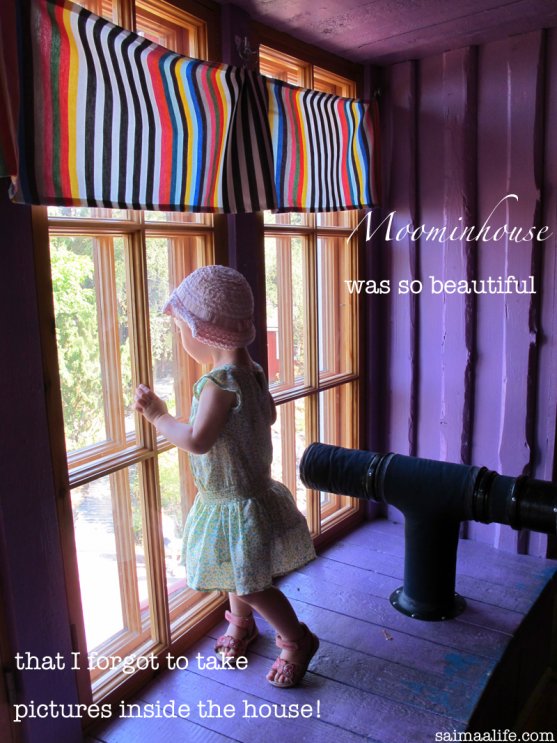 2. Visiting Moominworld is about time outdoors and in nature
I get really stressed in loud amusements parks that are just full of asphalt and fast moving equipments. Moominworld is not that kind of a park. It´s quite the opposite. Moominworld is full of greenness, beautiful sea views and places to relax. The kind of places and views that are good for our natural wellbeing.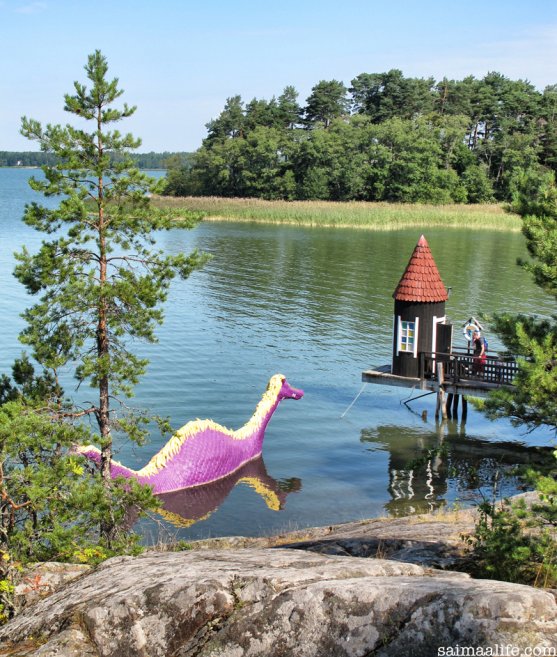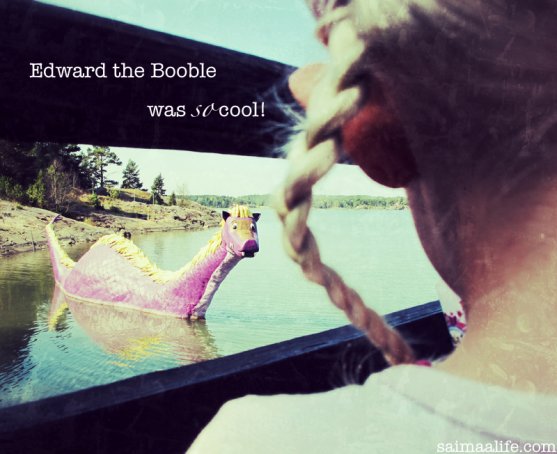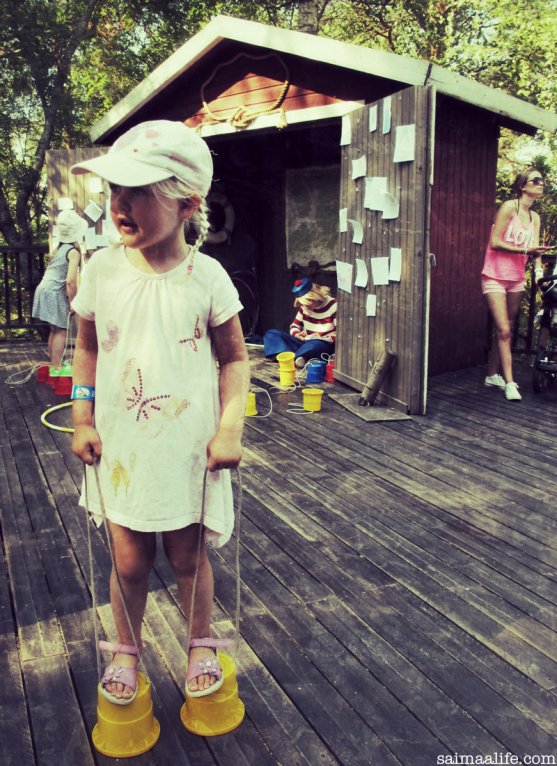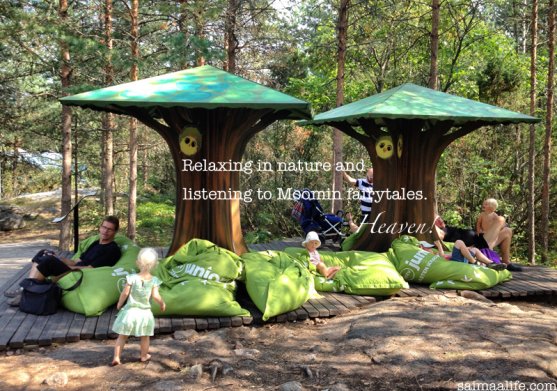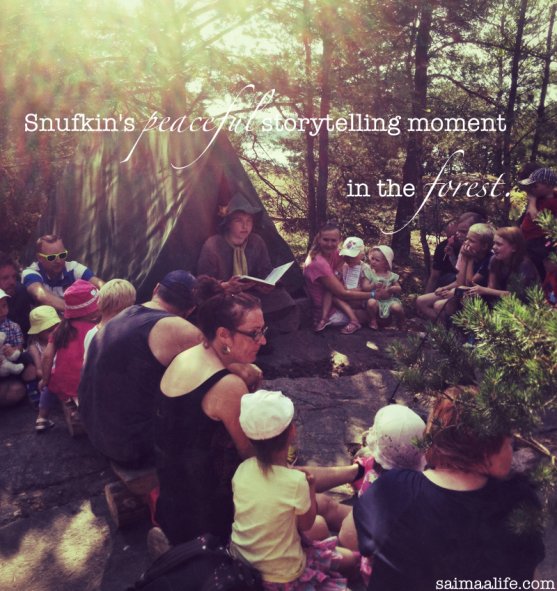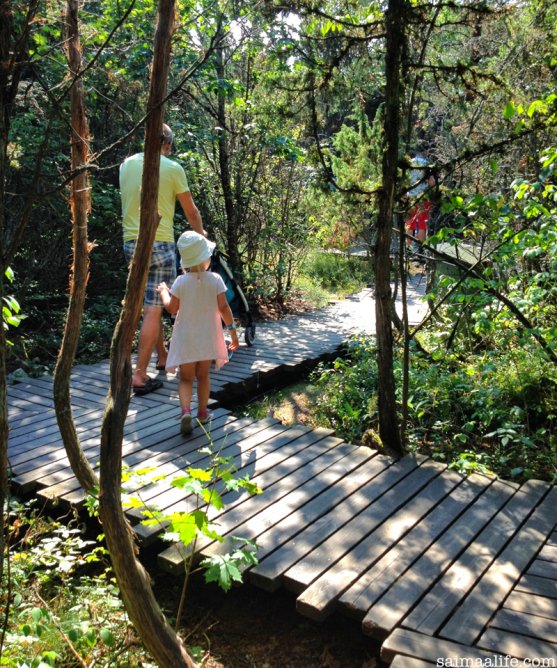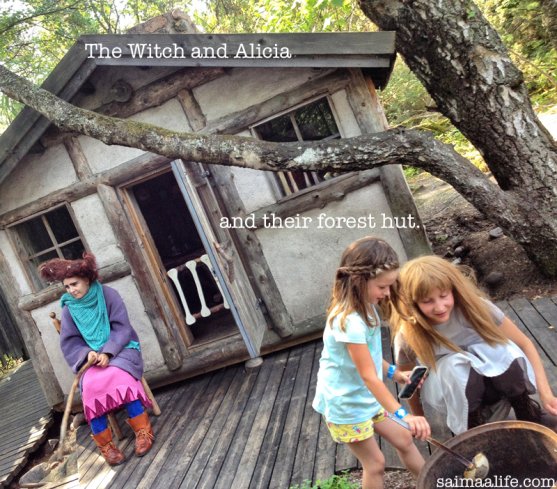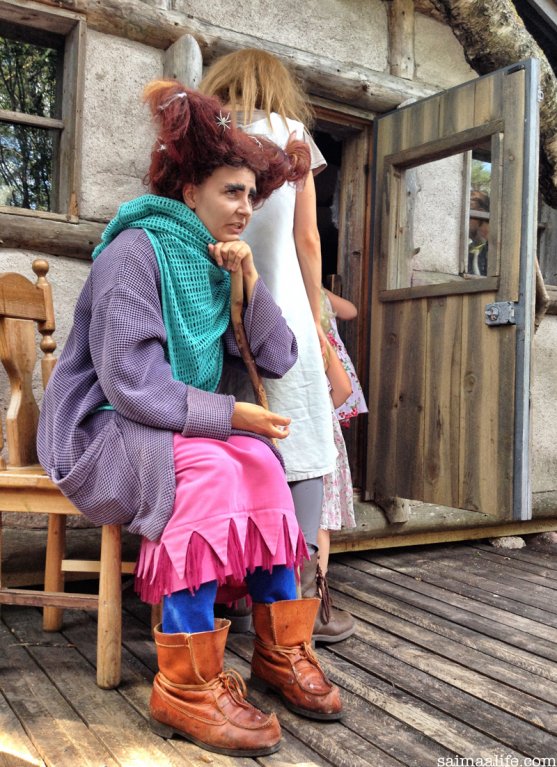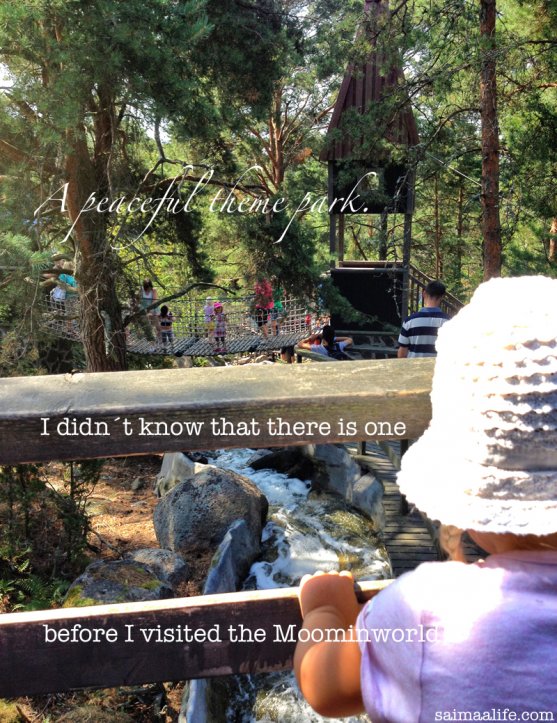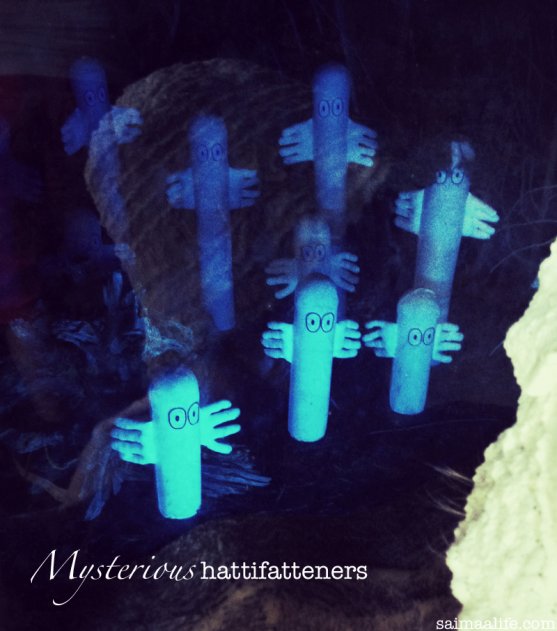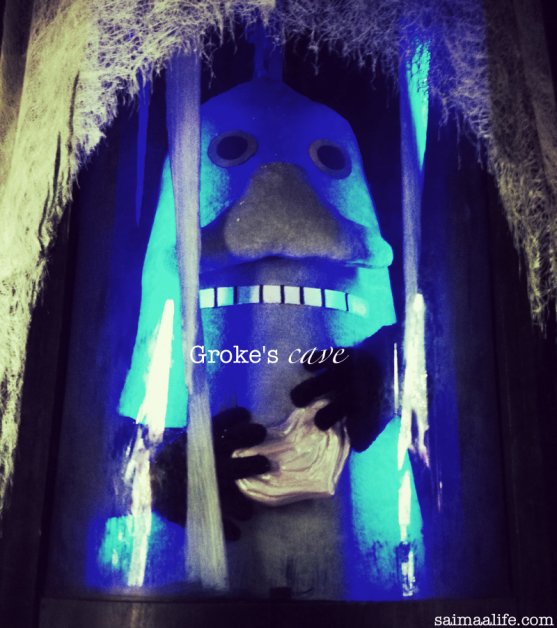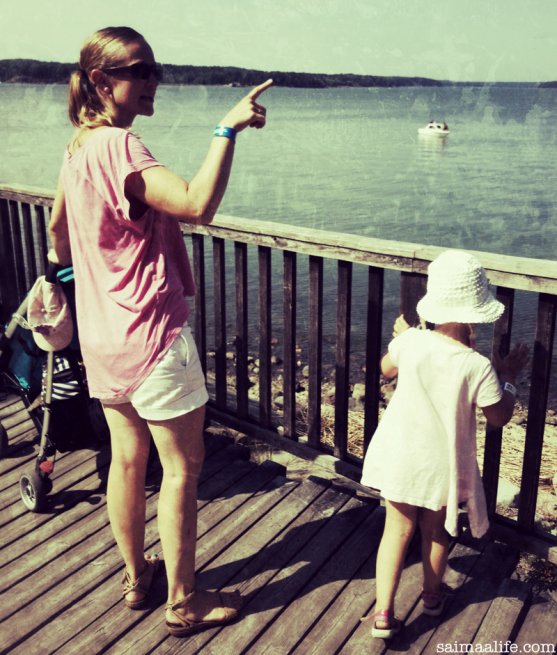 3. Visiting Moominworld is fun for the whole family
Me and my husband´s opinion about Moominworld: Everything was well thought off and worked perfectly – traffic arrangements, restaurants, toilets. Friendly workers, no long queues, lots of places to rest, relax or eat your own snacks. And aesthetics…the whole park and all the details were so beautiful! Absolutely nothing bad to say!
Child´s opinion: When we´re going to visit the Moomins again?!?
I used to think that the days with children in amusement and theme parks are just pure pain and stress, but luckily I got it wrong. These kind of places can also be enjoyable and fun for both parents and children. You just need to find the right kind of theme/amusement parks! Moominworld is a quality theme park where the whole family enjoys themselves. That kind of a time together is so important for your family's wellbeing!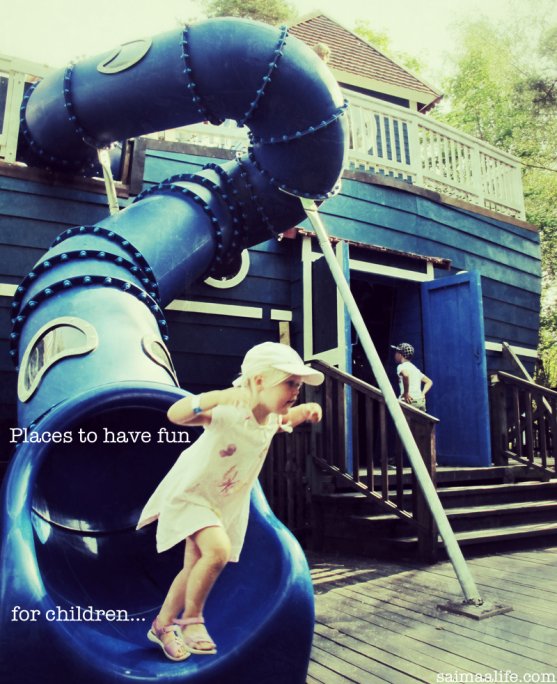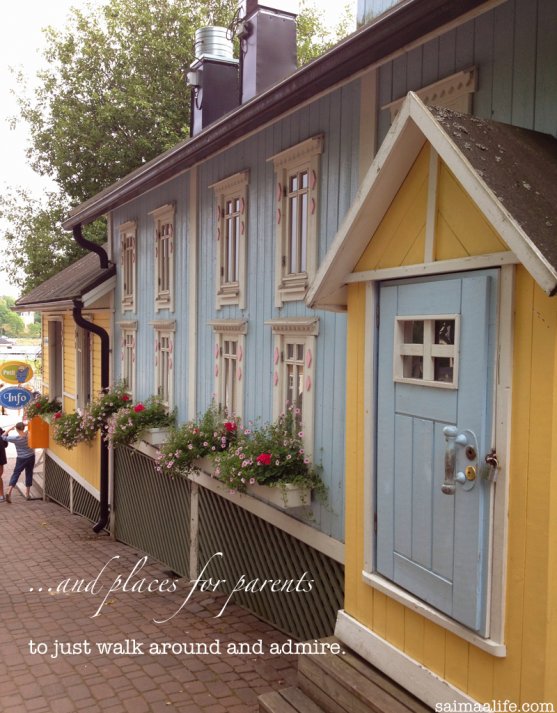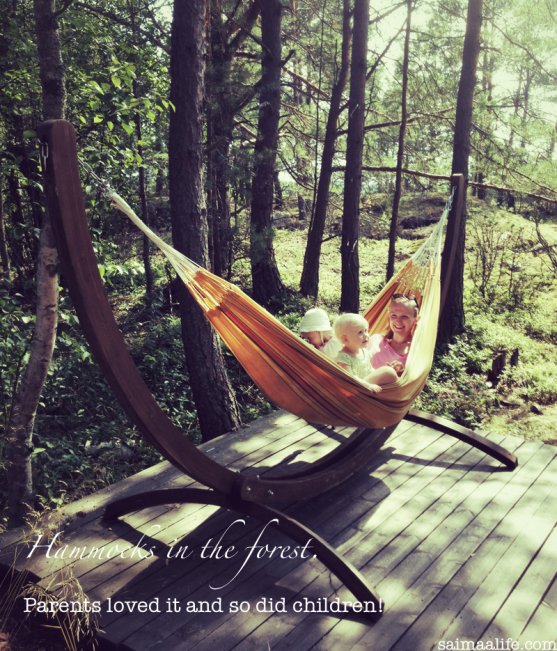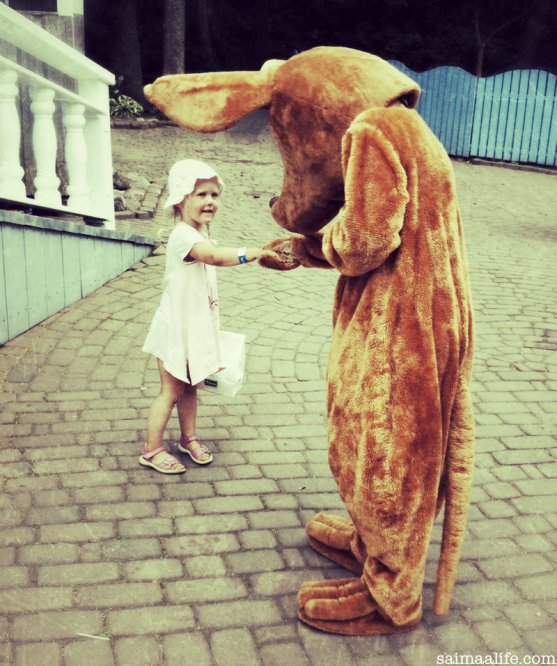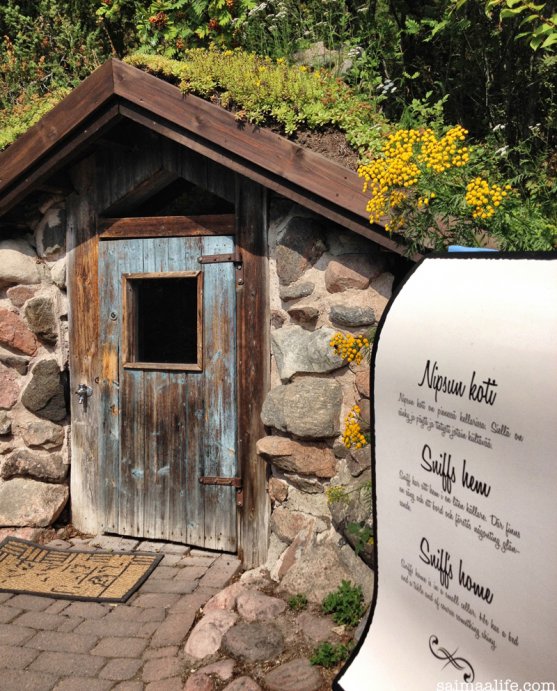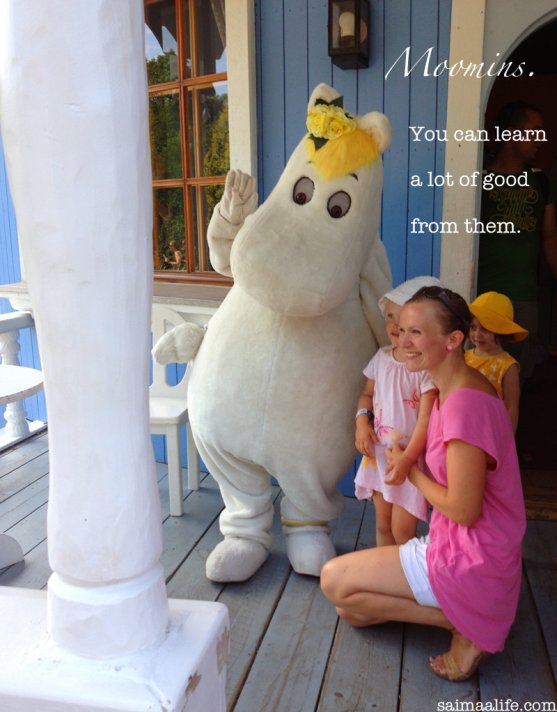 Start your adventure in the beautiful world of Moomins!
Moominworld has closed its doors for this summer now. (They will actually be open during the winter for couple of weeks). As I´ve said, it´s always good to dream and have something fun to wait for. Visiting Moominworld is definitely something that I can warmly recommend for the summer 2015.  Before that, perhaps you can read some of the Moomin books to get to know better what will be waiting you in the Moominworld.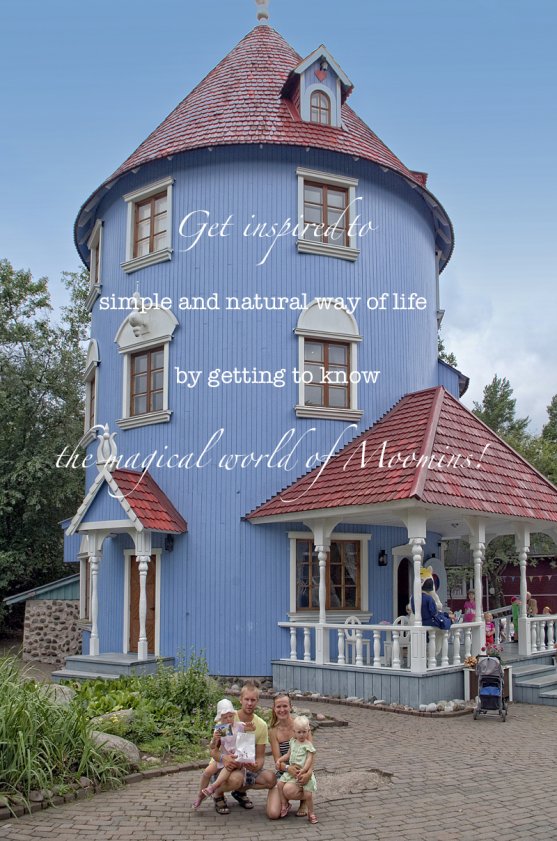 Me personally have started to dream about the visit to Klovharu. It´s the island in the Gulf of Finland where Tove Jansson had her tiny cottage by the sea. It was her remote retreat and a source of her inspiration and creativeness. Kate Simon, the journalist of The Independent visited that cottage and published a great article "Finland: It´s Moomin marvellous" about her visit.
By visiting Moominworld one of my (and Unna´s)  dream came true. Visiting Tove Jansson´s cottage is another one. I don´t know when I get a chance to visit there but I already know that some day I will. Just because I´ve noticed that it´s good for your wellbeing to pursue your dreams and prevent life getting too serious!
Mari ❤ SaimaaLife