Acknowledge your ego
"A Native American wisdom story tells of an old Cherokee who is teaching his grandson about life. "A fight is going on inside me." he said to the boy. "It is terrible fight and it is between two wolves. One is evil – he is anger, envy, sorrow, regret, greed, arrogance, self-pity, guilt, resentment, inferiority, lies, false pride, superiority, ego. The other is good – he is joy, peace, love, hope, serenity, humility, kindness, benevolence, empathy, generosity, truth, compassion, and faith. The same fight is going on inside you – and inside every other person, too." The grandson thought about it for a minute and then asked his grandfather, "Which wolf will win?" The old Cherokee simply replied, "The one you feed".
-Kristin Neff, Self-compassion-
One day in September I sent the following text message to my husband: "You never guess what I realized about ego and pure conscious in both of us this morning!! This is so great! I think not until now I have a chance to grow. I can´t wait to talk with you more about it and hear your comments! This is a good thing for me, for you and for both of us!! I´m so excited!"
That was a day when I understood what ego is all about. How ego works in every one of us, how incredibly powerful and sneaky it is and what kind of personal tragedies, family tragedies and nation-wide tragedies it may cause.
This day I thought about that day in September. I realized that my enthusiasm then was justified. By acknowledging my ego that day I got the grip on it for the first time. I got my ego under my control for a minute and that´s a big thing! A thing that is definitely worth of being one of the most important wellbeing ways in my Wellbeing Challenge!
Our egos cause a lot of troubles in our everyday life and prevent us from achieving wellbeing and happiness. The ego is not the easiest concept to understand. I really don't understand it yet very well myself either. But there's a lot of literature about it that is helping me out. I really recommend you to start the journey to understanding your ego. I've just started and it will probably be a life long project to take it under my control in a long lasting way. But I see some development already and that gives me hope.
Acknowledge your ego and learn to take it under your control – It's the key element for growth and long lasting wellbeing!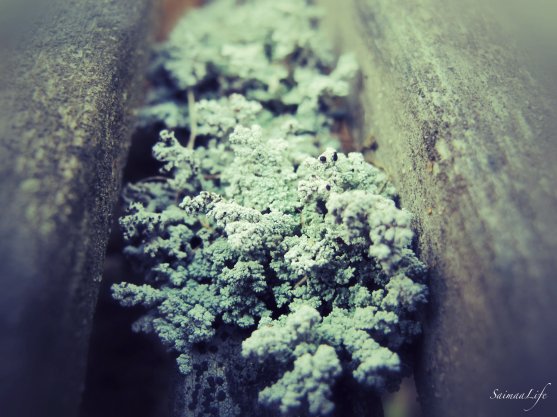 Read more about my "Wellbeing Challenge 2013 – 365 ways to wellbeing".
Mari ❤ SaimaaLife
Understand the effects of your nation's history on you
I've thought a lot about myself this year. Why I am who I am and what makes me… well, me. There are countless of things that affects how a person and personality is constructed but one of them is quite easily forgotten. Our nation's history.
This day you can see blue and white all over Finland. Flags, candles, flowers, candies – you name it. That is because this day we celebrate our Independency Day. My home country turns 96

A good day to write about the realizations that I´ve got lately about my relationship to my country.  All things are not easy and fun but realizing all of it has helped me to understand myself better. And as I´ve said – the better you´re able to understand ALL the causes and conditions that construct you, the better chance you have to feel better in the future.
After World War II families were broken and basically also the whole generation of men too. Almost every man participated in the War here in Finland. As we all know, war is inhumanly cruel and damage people in a very profound way. After the War there were no recourses for mental health care and Finnish men basically kept their traumas for themselves. They suffered. To survive and stand the mental or/and physical pain many drank alcohol and acted violently. Majority of people lived in the countryside where people lived quite far from each others. Every family kept problems for themselves. That made it very hard to get over the traumas of the War.
I've wondered why I'm not so good at expressing my feelings verbally or emotionally. I see the pattern here.
Traumas of the War were carried on to wifes of the soldiers and from their children too. Our grandparents that is. They continued the behavior of their parents to some extend. Like we all do. They did their best as mothers and fathers trying to raise their children in a very difficult circumstances. They managed to offer their children something better than they had got. However, some things continued to cause suffering also for the next generation. Maybe it wasn't the domestic violence anymore, but the way of being that was carried on. People couldn't talk about the horrors of their childhood. So they stayed silence. It really didn't allow the skill of speech to develop. It was still culturally valued to stay strong and keep problems out of sight. It's quite obvious that this kind of way of being and personality traits move on in the family in some way or another. Children often are like their parents.
I've also wondered why this way of being survived.
Cultural norms change slowly. Even if the world around changes fast, it doesn't mean that what lies behind changes at the same pace. Thinking about my history here in the countryside and my childhood home region, I see many factors that have kept up the way of being I just told you about. Long, dark winters and cold weather most of the year keep people inside a lot. Finland is sparsely populated country; Not a lot of neighbors nearby. People are busy working at farms all the time. So being social and talkative is really not the most important thing to do.
After the War people had to work hard because they had to rebuild the country. Over time standard of living got better but development was slow. The next generation, like my parents, still needed to work very hard to earn their living. Higher education, abundance of free time and possibility to decide what to do are privileges that only my generation have gained. Privileges that my ancestors have given to us with their hard work.
Human being is the result of complicated web of interconnected and interdependent events. Different causes and conditions as I said. The history of every nation reveals itself in its offsprings. I´m not the child of the War but the history is in me. Some pieces and features of it. Realization HOW, IN A GOOD WAY, AND HOW IN A BAD WAY Finland´s history is in me has been one of the most significant things during this autumn. I´m so grateful for that!
And as I said it's not all bad. My nation´s history has given a lot to many people.
Through the struggles of every woman and man after the War years the certain strength has been passed on me too. In other words that famous Finnish perseverance, "sisu" in finnish. A will to tolerate hard times and try my best at every circumstance. In Finland we have always lived close to nature. I see that it has given us some understanding of life, how it changes and how time passes on. And maybe in that helped us to see what´s important and what not.
Compassion and gratitude. Those are the strongest feelings that I have towards my parents, my grandparents and my great-grandparents. Their life has not been easy, and they have been forced to give up a lot so that the future has been better for us. The only thing I can do is to do my part in passing on the history and all that has been learned during those hard decades. To develop my weaknesses and preserve those good aspects of my history.
One way to do that was to join the Martha Organization of my home region with my mother and my little sister!  It's main activity is home economics. It passes on the knowledge and culture (of the women) before us.Nowadays it has grown into a huge organization with all kinds of development projects but for me it's a way of getting to know my roots, culture and the history of women before me. And I´m also hoping to get good old tips to get our vegetable garden flourishing

Happy Indepence Day Finland!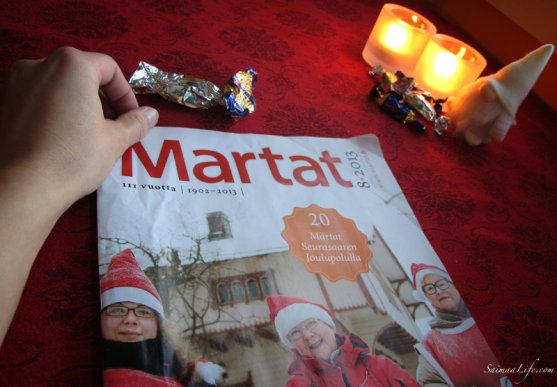 Read more about my "Wellbeing Challenge 2013 – 365 ways to wellbeing".
Mari ❤ SaimaaLife
Give yourself a possibility to be creative
"Creativity requires the courage to let go of certainties." - Erich Fromm-
Some time ago I told you about the struggling with my blog. I told you how I had got stuck in the original plan for my blog. It was such a big relief when after realizing the reason behind my struggling I was able to let go of my old plan and goals. And embrace my new plans. My wellbeing got better instantly

When one door closes another door opens. This day I thought about that old saying. I thought how true it really is.
After I had been able to let go of my previous thoughts concerning my blog, I started to get new thoughts. I got ideas that I had never had before. It was so exciting and inspiring!
"Clean out a corner of your mind and creativity will instantly fill it." – Dee Hock-
This day, when I was cleaning, I had a new thought about my blog again.  Quite an creative idea I would say say

 It's the combination of intuition and common sense and may come true some time in the future. At the same time I realized that if I hadn´t give up my old thoughts, I just couldn´t have been open to new plans and ideas. My creativity started to blossom when I gave it a chance to breathe freely for a while. It made me smile this day

"You must not for one instant give up the effort to build new lives for yourselves. Creativity means to push open the heavy, groaning doorway to life." – Daisaku Ikeda-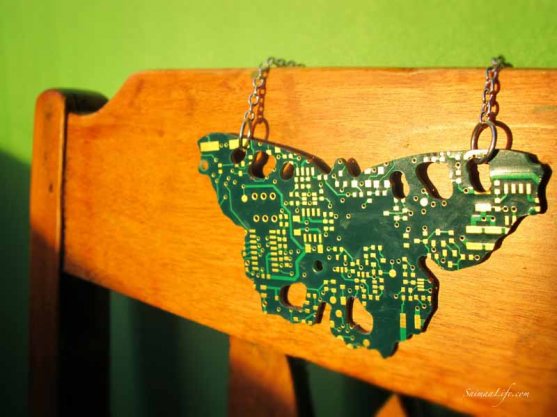 Read more about my "Wellbeing Challenge 2013 – 365 ways to wellbeing".
Mari ❤ SaimaaLife
Take all elements of wellbeing into account
If you search wellbeing wheel or wellness wheel from Google you´ll get this kind of photos in front of you. Wheels that describe different elements of wellbeing. Elements may differ a little bit depending on what purpose the wheel has been made for. But basically they all describe the same; holistic wellbeing of human being.
I think wellbeing wheel (and figures like Maslow´s hierarchy of needs) helps us to realize how broad the concept wellbeing is. They help us to see for example, that physical wellbeing is really only one element of wellbeing.
This day I went through all my wellbeing ways so far (Can´t believe what kind of posts I´ve made…). I realized that by trying to think up 365 different ways to wellbeing I had actually learnt and taught myself some very valuable lessons. With the help of my Wellbeing Challenge…
I have proved to myself in real life WHY all the elements of wellbeing are important for holistic wellbeing (like if you can´t sleep enough, you can´t be well no matter how well all the other things would be in your life). Realizing it motivates me to remember all the elements also in the future.
I have concrete examples and experience about the ways how I can improve  my social, emotional, spiritual, intellectual, financial, environmental and physical wellbeing.  IN PRACTICE  that is.
And what's more important, I have some experience  and KNOW-HOW HOW TO APPLY these different ways to my life as a working mother so that me and my family can all be well.
It's good to continue from here! That´s what I said to myself this day

Many of us are already thinking about the next year. My advice for that is of course to plan it in a way that allows you to be well! And while planning, remember to take into account all your needs and elements of wellbeing – body, mind and soul!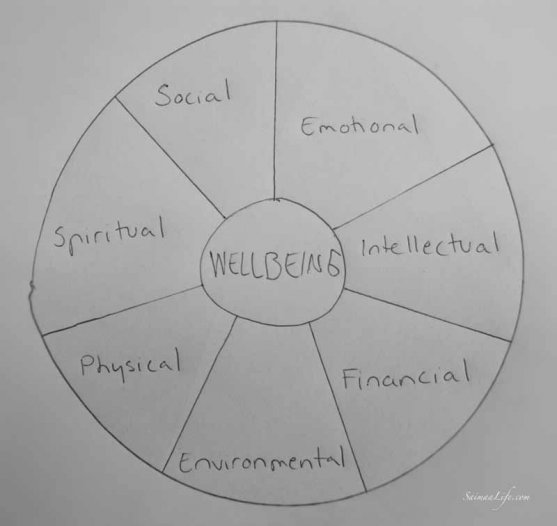 Read more about my "Wellbeing Challenge 2013 – 365 ways to wellbeing".
Mari ❤ SaimaaLife
Favor local products and small entrepreneurs
It´s time for Christmas shopping! Many of us are thinking at the moment what to buy for Christmas and where to buy it.
My advice for Christmas shopping is: Favor local products and small entrepreneurs! Why? Because it's sustainable choice, and sustainable choices make you feel good

It also supports local economy and reduces the ecological footprint of products.
This autumn in my home town Savonlinna two woman entrepreneurs moved under the same roof. Their companies are Nopsupopsu and Lapsille.com (Links only in Finnish). I was happy about it because I had visited both of them to buy presents for our girls and godchildren already for a couple of years .
You see the yellow hat that I´m wearing in this photo? IT'S GORGEOUS! It´s handmade by Nopsupopsu company´s entrepreneur Sofia, who is in the photo too. This day I visited Sofia because she is also going to make yellow tube scarf for me (I have an idea for my blog´s cover photo for the winter 2014-15…)
My new hat makes me smile every time I put it on. One reason for that is that it´s just so beautiful and makes me feel myself beautiful. Another reason is that I know where it's made and who made it. Both reasons that make me feel good about my purchase.
SUOMALAISILLE LUKIJOILLE JOULUVINKKI! NOPSUPOPSULLA JA LAPSILLE.COM ON KUMMALLAKIN VERKKOKAUPPA, JOSTA EHTII VIELÄ TILATA  JOULUKSI LAHJAKSI LAADUKKAITA JA EKOLOGISIA LASTENVAATTEITA, KESTÄVIÄ PUULELUJA JA MUITA IHANUUKSIA!
Read more about my "Wellbeing Challenge 2013 – 365 ways to wellbeing".
Mari ❤ SaimaaLife