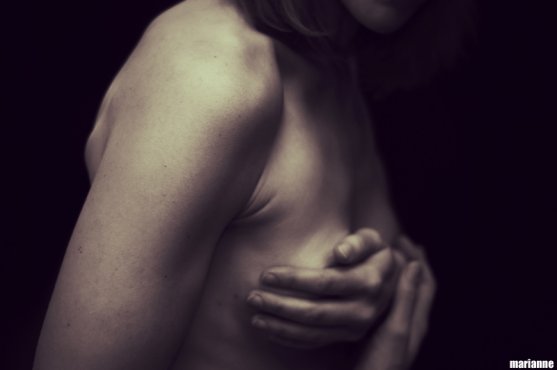 Lahjoita rintaliivisi, tuet rintasyöpään sairastuneita
Se voi kohdata ketä tahansa meistä. Suomessa siihen sairastuu joka kahdeksas nainen jossain elämänsä vaiheessa. Rintasyöpään.
Jos emme itse ole sitä vastaan taistelleet, monien meidän tuttavapiirissä on heitä, jotka ovat sen joutuneet tekemään. Niin minunkin. Siksi vastaukseni oli selvä, kun sain pyynnön osallistua Kanssasi-kampanjaan rintasyöpää vastaan ja kannustaa myös lukijoitani tekemään samoin kirjoittamalla aiheesta.
Luulen, että jatkuva stressi ja väsymys sai aikaan rintasyöpäni. Lauseen lausui entinen työtoverini vuosia sitten minulle.
Jotkut lauseet pysäyttävät, pistävät sinut miettimään elämää pintaa syvemmin. Toimivat alkuna muutokselle. Kyseinen lause on omassa elämässäni yksi sellainen. Työtoverini lause herätti minut miettimään syvemmin omaa sen hetkistä työstressiäni. Se sai minut myös ottamaan selvää jatkuvan stressin ja väsymyksen kielteisistä terveysvaikutuksista ihmisen hyvinvointiin. Ja etsimään pois tietä elämäntavasta, jossa kehoni ja mieleni elivät jatkuvan stressin ja väsymyksen alaisina.
Työtoverini selvisi ensimmäisen taistelunsa, mutta hänen voimansa uupuivat vuosia myöhemmin seuraavassa.
Pidän omasta hyvinvoinnistani huolta. Sen lupauksen antamista itselleni työtoverini edisti, ja siitä olen hänelle kiitollinen. Sen lupauksen toivon myös mahdollisimman monen naisen tekevän itselleen. Ja myös pitävän.
Muista siis rintojesi säännöllisen tarkkailun tärkeys ja osallistu rintasyöpäseulontoihin, kun sinulle tarjotaan siihen mahdollisuus!
Autetaan ja tuetaan toisiamme. Ja pidetään huolta niin rintojemme kuin koko muun ruumiimme ja mielemme hyvinvoinnista!
Ohjeet Kanssasi-kampanjaan osallistumiseen
Vuosittain lähes 5 000 naista saa Suomessa rintasyöpädiagnoosin, joka pysäyttää elämän. Hoidon rinnalle rintasyöpään sairastunut tarvitsee myös muuta tukea. Tieto sairaudesta luo alakuloa ja saattaa masentaa. Vakava sairaus voi tuoda mukanaan myös taloudellisia huolia. Sairastunut kaipaa apua, ymmärrystä ja tukea.
Kanssasi-kampanjan avulla tukesi antaminen rintasyöpään sairastuneille on helppoa ja maksutonta; Sinun tarvitsee vain lähettää rintaliivisi postin kautta Kanssasi-keräykseen.
Rintaliivit lähetetään postin vastauslähetyksenä. Lähetys on maksuton.Kuoreen merkintä:
Roche Oy
INFO KANSS
TUNNUS 5006103
00003 VASTAUSLÄHETYS
Itse lähetin omat rintaliivini tänään, tee sinä samoin huomenna!
Kerätyistä liiveistä syntyy tilataideteos, jolle luovat muodon rintasyöpään sairastuneet naiset. Tilataideteos kiertää Suomea kesän ja alkusyksyn ajan.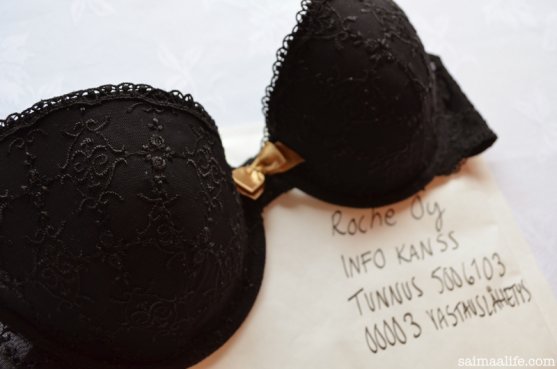 Saimaalife.com encourages Finnish women to participate in breast cancer campaign
There's a good reason why I'm writing this post also in Finnish.
I got an invitation to participate in campaign against breast cancer called "Kanssasi" ("With You" in English). Now I'm encouraging my finnish readers to do the same by writing about the subject in my blog. I'm more than happy to do this. Eventhough I haven't been forced to fight against breast cancer myself, I know many who have.
"I think constant stress caused my breast cancer", my former colleague said to me years ago.
Some things stop you and make you think. They function as a catalyst for change. That sentence was a wake up call for me. It made me to really think about my stressfull job. It also made me to seek up more information about the negative impacts of a constant tiredness and stress on wellbeing. I begun searching the way out of the lifestyle that was making my mind and body ill.
My colleague won her first fight. She didn't survive the second.
I will take care of my wellbeing is a promise I've made to myself. I'm gratefull for my late colleague for encouraging me to make that promise. I hope that all woman will make that promise to themselves. And also keep it.
There's a chance that any one of us is going to have breast cancer some day. In Finland about eight of the women will be diagnosed in some part of their lives. Annually that means nearly 5000 women. Breast cancer puts your life on hold. It may cause depression and financial troubles too. That's why treatments only are not enough. Women with the disease need also mental support – comfort, care and understanding.
"Kanssasi" campaign challenges all finnish women to support women with breast cancer by sending one of their bras to campaign organizers. Later, women with breast cancer are going to create an artwork out of all the bras collected. That piece of art will be visiting cities all around Finland for the next summer and autumn.
Remember to feel your breasts and consult a doctor in case of any worrying changes.
Let's help and support each other! And take care of the wellbeing of our breasts!
Mari ❤ SaimaaLife
I told you earlier how I bought Dr. Hauschka´s test package because I got interested in their holistic philosophy for natural skin care. I didn´t use the test package right away because I first wanted to use up my other skin care products. That´s one of my ways to limit the amount of cosmetics in my bathroom.
Now I´ve tried Dr. Hauschka´s test package. And the result is that I WANT SOME MORE!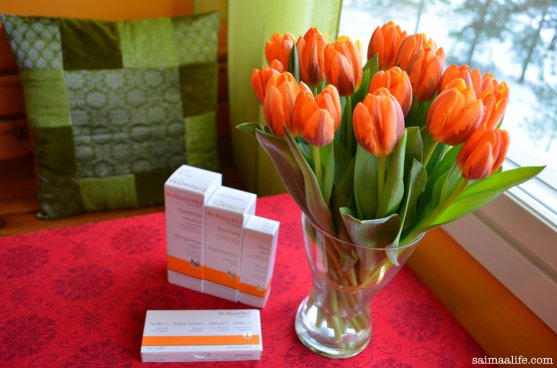 So far, SO GOOD!
1. A shock on my skin 
After starting to use Dr. Hauschka skin care products my skin went into a shock. It was screaming for more moisturizing. Dr. Hauschka´s facial toner gave some help but still my skin felt really dry and it was a little bit of red. Should I stop, I thought. I decided to continue.
The biggest reason to continue was Dr. Hauschka´s Rose cream. I had fallen in love with it after the first day like many other women worldwide. (The rose cream is their bestselling product). My skin felt SO good after that! I had also liked Dr. Hauschka´s Facial Toner before. After using it my skin felt well nourished and fresh.
The scent of natural cosmetics is often quite strong to my nose. I had the same experience also with Dr. Hauschka´s products first. However, after couple of days it didn´t bother me anymore and I actually started to like their natural scent.
2. More information, more understanding and interest to continue
After the first shock I started to read more about Dr. Hauschka´s holistic philosophy for skin care and user experiences too. I understood that if my skin is used to get a thick layer of moisturizer on it every evening for years, it´s quite normal that  it reacts when it doesn´t get it anymore. I also read that it takes 28 days for skin to renew, so there´s no point to end my testing just after first experiences.
I got more fascinated by the idea that maybe I could achieve a balanced skin that is able to perform its natural functions without being dependent of a huge amount of different products. Just the way Dr. Hauschka promises.
3. My skin calms down
For a transition period Dr. Hauschka recommends to use their Rhythmic Conditioners. So I bought some rhythmic conditioners for a sensitive skin. I was amazed how they helped. First my skin tingled a while, but then it calmed down. I felt that Rhythmic Conditioners really nourished my skin but yet in a deeper way than Dr. Hauschka´s Facial Toner.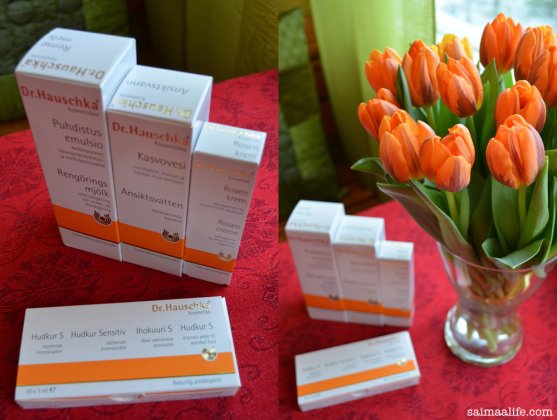 4. Getting the basic products for longer testing
After my skin had calmed down, I decided to buy bigger bottles of some basic Dr. Hauschka´s products that I thought would be good for my sensitive skin. So I bought Dr. Hauschka´s Cleansing Milk that cleans your skin and works also as a make-up remover. Then I bought Dr. Hauschka Facial Toner I already told you about and Dr. Hauschka Rose Day cream.
5. My skin is renewing but it feels already lighter
After first experiences my skin feels still dry and is a bit red but it doesn´t bother me much because at the same time my skin feels somehow lighter too. 28 days is not  up yet so I believe this is normal part of skin renewal process.
I like the feeling that Dr. Hauschka´s products leave on my skin. Or actually the thing is that they're absorbing so well into your skin so that you don´t feel like using anything else for a while. It´s obvious that my skin has not yet gotten used to these new products but I like the feeling I'm having now. My skin is able to breathe better and it´s not covered with different kind of moisturizer creams all day around anymore.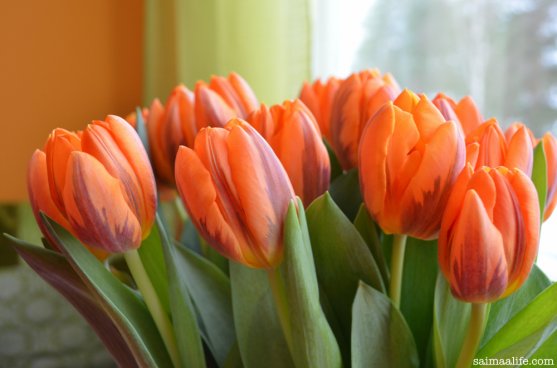 So, if some of you are thinking about tryng out Dr. Hauschka, my advice after the first experiences is go for it BUT be patient! The test package is a good way to start but it´s still too little to form an opinion about this 100 % natural skin care product series. Dr. Hauschka´s skin care philosophy is so different compared to other brands. It takes time for your skin (and you) to get use to this new way of skin care.
Test, read and test more. That´s the way to find out the right natural skin care products for your skin! There are two kind of Dr. Hauschka test packages; Dr. Hauschka Daily Face Care Kit for Normal, Dry or Sensitive skin and  Dr. Hauschka Daily Face Care Kit for Oily or Blemished skin.
I personally think that the cost-effectiveness of Dr. Hauschka skin care products is the best so far among the natural cosmetics that I´ve tested. That´s why I´ll continue my testing with Dr. Hauschka. You´ll hear more about it in the future…
Btw, if some of you is using Dr. Hauschka I´m more than happy to hear about your experiences!
Mari ❤ SaimaaLife
It´s almost a year since I took my first steps in the world of eco fashion. That is when I started co-operation with the Finnish eco fashion company Globe Hope. One of my dreams came true when I got the first pieces of fashion made from recycled, leftover and environmentally friendly material.
What have I learned during the year? Here´s TOP 3 lessons I've had after starting my journey towards more sustainable wardrobe.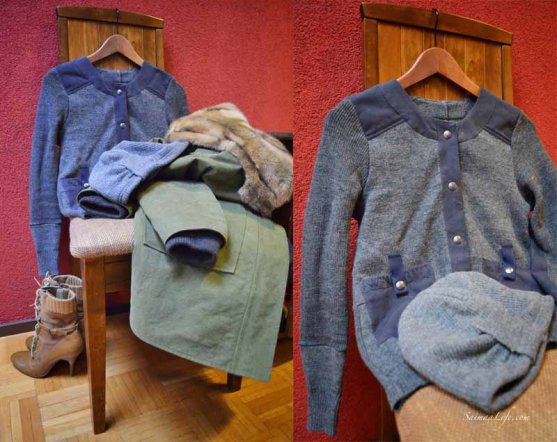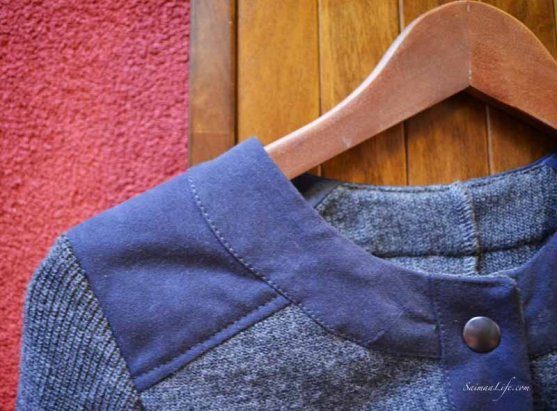 1. When you buy good quality products, you'll need less of them
The price and look used to be the main criteria for my shopping. Not anymore. Not after I got fed up noticing that low price very often means low quality and bad durability in one way or another.
I´ve learned to pay more attention to multi-functionality and cost-effectiveness. They are nowadays my main criteria in a clothing store.
It´s worth to pay a little bit more if you know that you can use your new piece of clothing both at work and at home, and/or both in a city and in nature. That´s good because then you need to own less clothes altogether. On the other hand it´s worth to pay a little bit more if you know that you´ll get better quality and durability. In other words, it´s wiser to buy one good shirt per year, than 3 bad ones.
Eco fashion supports simple living. Simplicity is sustainability!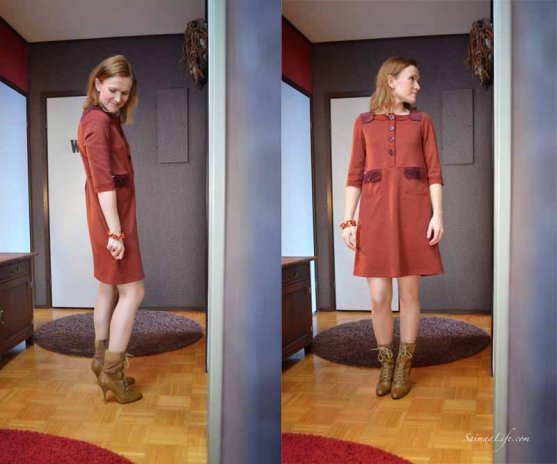 2. When you favor green beauty, you make your inner beauty more visible
Beautiful clothes makes you look beautiful from outside. But there´s also inner beauty in all of us. Beauty of our personality, and the beauty of our thoughts and values.
I´ve learned that better quality goes hand in hand with good fitting clothes. When your clothes fits you perfectly, your personality can come out more freely. That´s because then you don´t need to think about your clothes when they're on you. You can just be and concentrate on something more important.
I´ve also learned that eco fashion is a choice that makes your green thoughts and values visible.  If you happen to appreciate those values there's a big chance that your inner beauty shows out too. You can be proud of your clothes and of yourself at the same time and show that there´s more beauty in you than just your outer beauty!
Eco fashion highlights both your inner and outer beauty. Green beauty is one way to show that you care.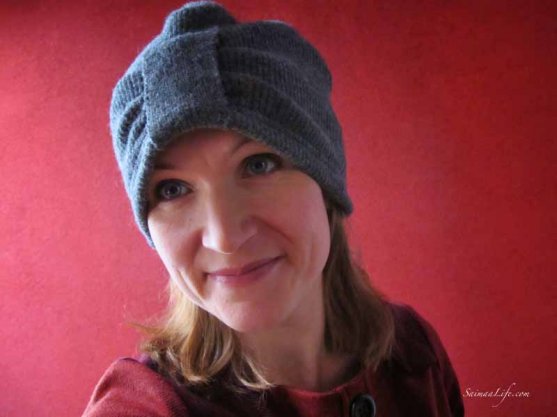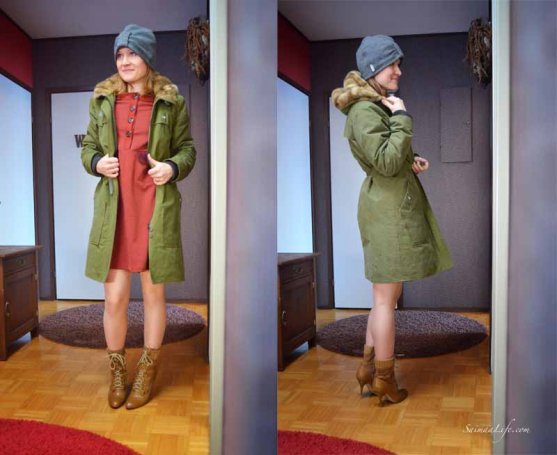 3. When you step into the eco fashion world, your entire relationship with consumption starts to change
We all need clothes. Everyday. From morning till the evening. From the day we are born till the day we die. The amount of clothes that every one of us is using during our lives is huge! Thinking about all this I´ve learned that it does matter what we keep against our skin 24/7, and especially how much clothes goes through our wardrobe during our lives.
I´ve always tried to make green choices in my life. However, thanks to Globe Hope, it is this, my first year in eco fashion world when I´ve really started to think about the amount of all my consumption. So thinking about the meaning of how I use fashion has also made me to think the amount of food, cosmetics and electricity I use during my life. I´ve learned that yes, it´s good to favor green but it's the best if I consume less and try to use everything as long as possible. 
Eco fashion is a big and meaningful choice for more sustainable wellbeing – of yourself and the world.  Considering more carefully what you wear is a good way to start living according to motto LESS IS MORE!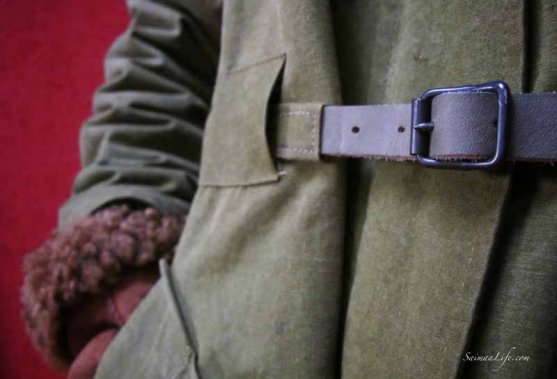 Btw, there´s WINTER SALE up to -40% in Globe Hope´s webstore! For example these clothes in my photos are on sale there. If you´re interested in Koskela winter jacket, Viikki hat, Villinki jumper or Eira vintage dress go and check if there´s your size still left!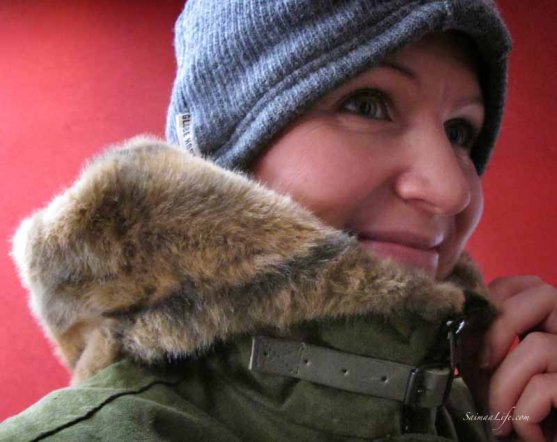 Mari ❤ SaimaaLife
Recognize the things that are meaningful to you
Before buying something, think about is it NEED or DESIRE that makes you want to buy it.
I think that´s a great rule of thumb for consumption! On my way to simplier life this has helped me to avoid unnecessary buying.
But the more I´ve thought about it, the more I´ve realized that it's not that simple to say what kind of shopping is "right" and what is "wrong".  That´s why I published Zen Habits`s thought "…not that you have as little as humanly possible, but that every thing you do have counts."  That is at the moment  what I think about consumption too.
Different things have different meaning for people. A thing that is totally useless for one, can bring a lot of joy and benefit for another. The better you´re able to recognize the material and immaterial things that are meaningful for YOU, the better chance you have to build a life that feels good for you. A life that supports your wellbeing and happiness the best.  
This day I went to Nopsupopsu again because my tube scarf was ready. I have a habit to have a little Christmas present also for myself every Christmas. This year it was this yellow rose hat and tube scarf. I love them!! I didn't actually need a new hat and scarf but these things count to me. Theyhave a positive and symbolic meaning for me and I'm so happy that I was able to fulfill this desire of mine this day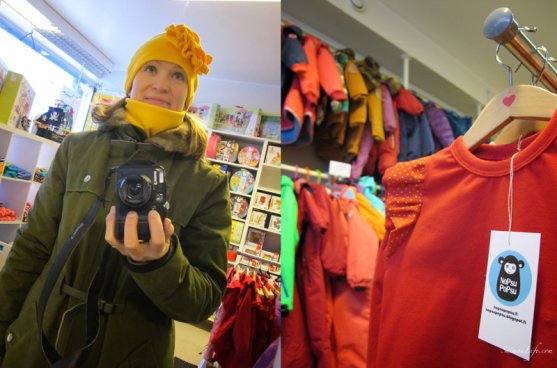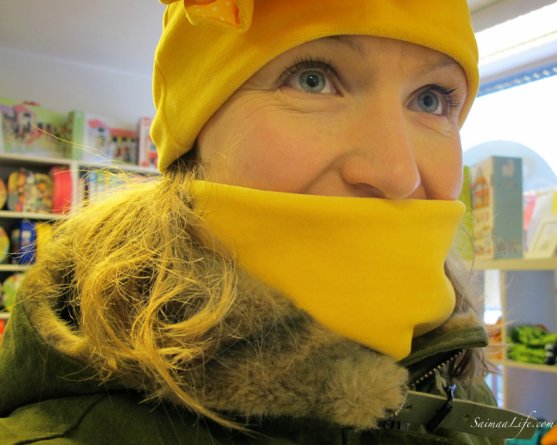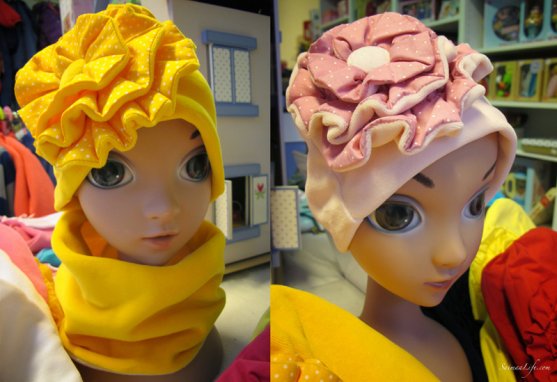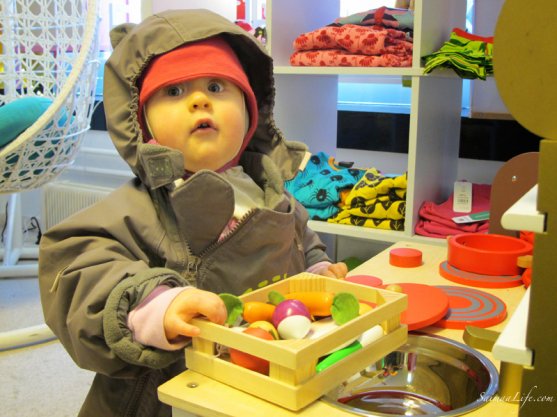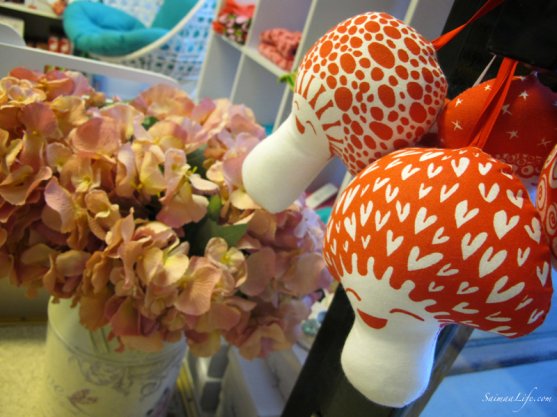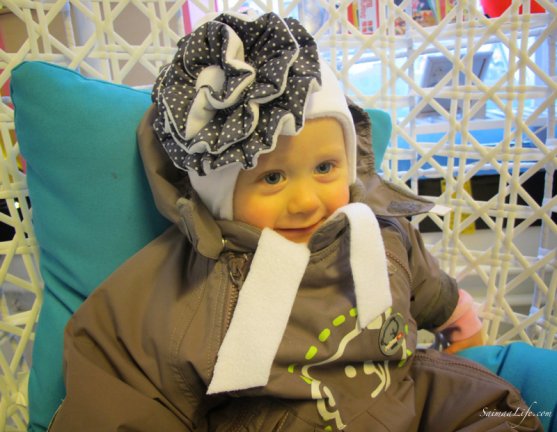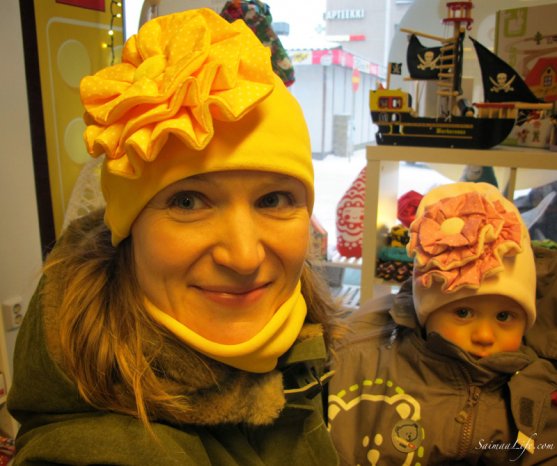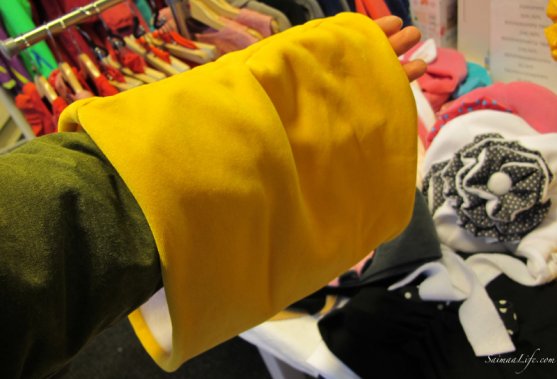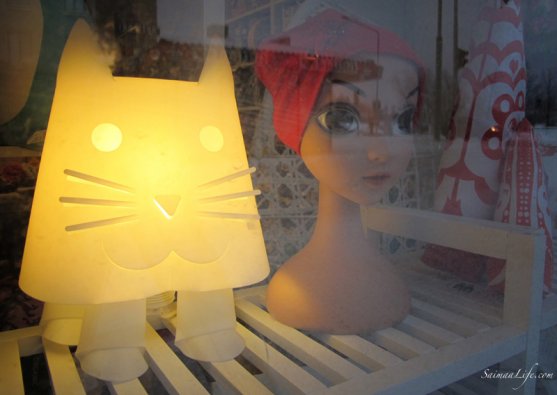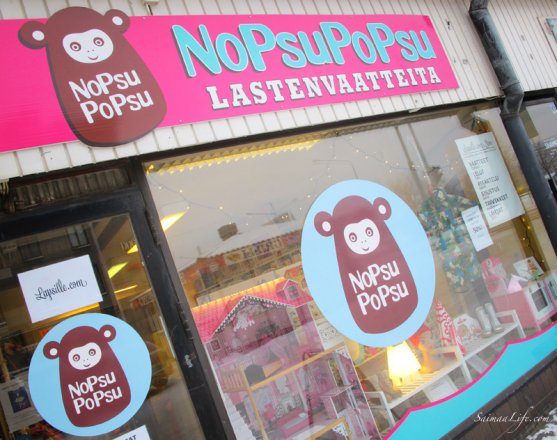 Read more about my "Wellbeing Challenge 2013 – 365 ways to wellbeing".
Mari ❤ SaimaaLife
Favor local products and small entrepreneurs
It´s time for Christmas shopping! Many of us are thinking at the moment what to buy for Christmas and where to buy it.
My advice for Christmas shopping is: Favor local products and small entrepreneurs! Why? Because it's sustainable choice, and sustainable choices make you feel good

It also supports local economy and reduces the ecological footprint of products.
This autumn in my home town Savonlinna two woman entrepreneurs moved under the same roof. Their companies are Nopsupopsu and Lapsille.com (Links only in Finnish). I was happy about it because I had visited both of them to buy presents for our girls and godchildren already for a couple of years .
You see the yellow hat that I´m wearing in this photo? IT'S GORGEOUS! It´s handmade by Nopsupopsu company´s entrepreneur Sofia, who is in the photo too. This day I visited Sofia because she is also going to make yellow tube scarf for me (I have an idea for my blog´s cover photo for the winter 2014-15…)
My new hat makes me smile every time I put it on. One reason for that is that it´s just so beautiful and makes me feel myself beautiful. Another reason is that I know where it's made and who made it. Both reasons that make me feel good about my purchase.
SUOMALAISILLE LUKIJOILLE JOULUVINKKI! NOPSUPOPSULLA JA LAPSILLE.COM ON KUMMALLAKIN VERKKOKAUPPA, JOSTA EHTII VIELÄ TILATA  JOULUKSI LAHJAKSI LAADUKKAITA JA EKOLOGISIA LASTENVAATTEITA, KESTÄVIÄ PUULELUJA JA MUITA IHANUUKSIA!
Read more about my "Wellbeing Challenge 2013 – 365 ways to wellbeing".
Mari ❤ SaimaaLife